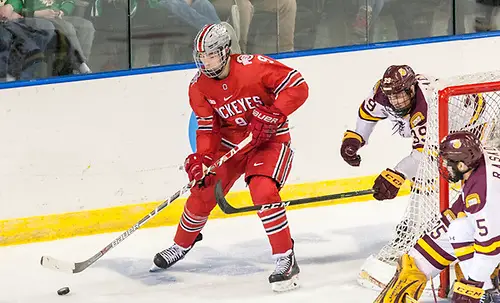 A week after two home ties against Rensselaer, Ohio State got things back on track with two road victories at Massachusetts.
Buckeyes coach Steve Rohlik said he was happy with the team's road effort.
"If you win a game, you've done something right," he said. "To go on the road and win two, it certainly felt good."
Rohlik, however, didn't gush over his team's 3-1-2 start to the season.
"We're average right now; you want to win games and you want to compete," he said. "I would say we got a lot of room for improvement. We certainly haven't come close to playing our best hockey and we got a long way to go."
The 1-1 tie against RPI on Oct. 13 was a tough one. The Buckeyes outshot the Engineers 57-24, but the lead they took two and a half minutes into the second period only lasted seven minutes.
The two teams tied by the same score the next night.
"We felt we had pretty good jump on Friday," Rohlik said. "Sometimes, shots can be deceiving, but I certainly think we had enough quality ones when you get 57 on the net. We felt like we let one get away."
A bright spot that can be easily spotted in Ohio State's first six games is the number of goals allowed. Ohio State has only given up more than two goals once, a 3-2 loss to Wisconsin.
Rohlik gave credit to the entire team, not just the defensive corps and goaltender, for the stingy defense.
"We've talked a lot about five-man defense [and] I think that helps overall," he said. "If you play good solid defense, it's going to give you opportunities in the other end."
Junior Sean Romeo has started every game in goal for the Buckeyes. The Maine transfer, who sat out last season due to transfer rules, has a 1.30 GAA this season. He got his first shutout of the season last time out against UMass.
"I give him all kinds of credit," said Rohlik. "He came here and he had to sit out a year, but I've never seen a kid as focused as he is and structured of what he does every day. I really truly believe that he took advantage of last year and certainly he's come into this year and been solid. He's given us a chance every night. It comes back to work ethic and focus and he certainly has that."
The Ohio State offense that was held at bay against RPI showed signs of coming to life against UMass. Sophomore Tanner Laczynski had the primary assist on each of the three goals that Ohio State scored in Saturday's 3-0 win. That took Laczynski's season point total from one to four; he had 32 points last season as a freshman.
"He certainly went through some ups and downs his freshman year," Rohlik said of Laczynski. "It hasn't been for lack of work ethic, he's certainly putting the work into it, and it was nice to finally see him get rewarded a little bit on Saturday. He's a kid that's pretty focused and I think he's elevated his practice habits and I think that's elevated his game."
Junior Mason Jobst scored two goals during Friday's 3-1 win over UMass. He has four goals and two assists this season. Going into the season, Jobst was the leading candidate to fill the scoring void left by Nick Schilkey, who scored 69 goals over the four years he was on campus.
Rohlik said that he didn't think Jobst felt any more pressure heading into this season.
"I think (Jobst) has always kind of been himself, even his first two years," he said. "I don't anything's really changed, I don't think the guys look at it any differently, he just goes out and does his thing and plays his game.
"His weekends are all about his Monday through Thursday; he's a pretty focused kid," Rohlik added. "I try to preach to our team that it's what you do Monday through Thursday that wins or loses you the hockey game, and (Jobst) is a prime example of bringing those habits and details to his practice and it pays off for him."
Ohio State will play a home-and-home series with Robert Morris this weekend. The Buckeyes lost their home game and tied at Pittsburgh when the two teams played a similar series last season.
"It's a small rink and the people are on top of you there," Rohlik said of playing at Robert Morris. "They feed off that and take advantage of their home ice. That's just a sign of a good hockey team and Derek (Schooley) has done a tremendous job with their program and that's shown year in and year out. Obviously, every time you show up at their barn or they come to your barn, you better be ready to play."
Wisconsin, Hayton, welcome St. Lawrence to town
One of the reasons Wisconsin has gotten off to a great start has been goaltending.
Jack Berry picked up a shutout victory in his first game of the season last Saturday, but the main man between the pipes has been graduate transfer Kyle Hayton.
This weekend, Hayton and the Badgers will welcome the team that he played for during the first three years of his college career to Madison in St. Lawrence. Hayton went 54-37-13 during his three years with the Saints.
The Saints appear to be missing him, considering they're off to an 0-6 start to this season.
Tony Granato said during his Monday press conference that he was sure Hayton would be excited for the weekend, but that he didn't think it would be a distraction.
"St. Lawrence coming into town, as soon as (Hayton) knew he was coming here, he looked at the schedule and saw that; he's been prepared for it," Granato said. "He had three great years at that university, so he's got a lot of emotions attached to the weekend. He's been looking forward to this one for the right reasons. He's a very mature kid.
"He knows the importance of the games for us. It's not going to be Kyle versus St. Lawrence, it's the Badgers versus St. Lawrence."
Granato also touched on the Badgers establishing a home-ice advantage at Kohl Center, where they will play 10 of the remaining 14 games during the first half of the season.
"Last year, for us, the home record wasn't what we wanted it to be," he said. "There was a lot of discussion over the summer and start of the year on our focus of making sure we were a better home team this year."
Wisconsin went 8-9-1 at home last season.
"We've got some great teams coming in, North Dakota is coming in after St. Lawrence and then get back into Big Ten play after that," Granato said. "So lots of good hockey in front of us, and fun hockey."
Three stars of the week
First star — Michigan State freshman forward Mitchell Lewandowski: Lewandowskit posted four points last weekend when the Spartans split with Western Michigan. He had one goals and three assists during Friday's victory over the Broncos. This is his first career Big Ten award.
Second star — Michigan sophomore forward Jake Slaker: Slaker had two goals and one assist last weekend when the Wolverines swept Vermont. He had an assist on the game-winning goal in Friday's 4-1 victory and netted two goals in Saturday's 3-2 win. This is his second Big Ten weekly award.
Third star — Ohio State junior goaltender Sean Romeo: Romeo picked up two victories at UMass last weekend, including the first shutout of his college career. He stopped 47 of the 48 shots he faced over the two games. This is his first Big Ten weekly award.
B1G in the poll
No. 5 Wisconsin, No. 7 Minnesota, No. 8 Notre Dame and No. 15 Penn State represent the Big Ten in this week's USCHO.com Division I Men's Poll. Ohio State and Michigan were the top two unranked teams receiving votes.
This week's games
Notre Dame vs. Omaha (Thursday and Friday, Compton Family Ice Arena)
Michigan at Penn State (Friday and Saturday, Pegula Ice Arena)
Michigan State vs./at Lake Superior (Friday at Munn Ice Arena, Saturday at Taffy Abel Arena)
Ohio State vs./at Robert Morris (Friday at Value City Arena, Saturday at 84 Lumber Arena)
Minnesota vs. Clarkson (Friday and Saturday, 3M Arena at Mariucci)
Wisconsin vs. St. Lawrence (Friday and Saturday, Kohl Center)