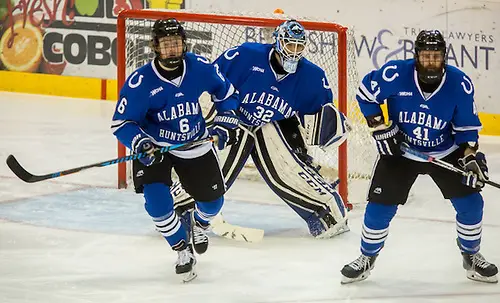 Alabama Huntsville has one of the most difficult travel schedules in college hockey.
Starting with a season-opening series against Notre Dame, a top-10 ranked team, the Chargers travel to Indiana, Michigan's upper peninsula, upstate New York and Arizona before they play their first home game on Nov. 10.
After returning home, the Chargers get a bit of a reprieve from the road, spending all of November in Alabama, before hitting the road again on Dec. 1 for a 12-game road swing, including back-to-back weekends in Alaska.
It can be a physically draining schedule and for a team with low outside expectations, it only builds a bigger hill to climb inside the WCHA.
But that schedule also provides building blocks for success, and the Chargers proved that this weekend as they split with Michigan Tech up in Houghton.
"This is how we have to be able to build our program," Chargers coach Mike Corbett said. "Every win we have had the past two years, we have to make it hard on ourselves because we [try] to find a way to lose rather than find a way to win."
Heading into Saturday's finale, the Chargers were 0-3 on the season and had never beaten Michigan Tech in program history.
After spotting Michigan Tech a 1-0 lead, the Chargers forged back with three straight goals and scored what proved to be the game-winning goal when defenseman John Teets scored on a shorthanded breakaway.
From there, UAH goalie Jordan Uhelski sealed the victory with 41 saves on 43 shots.
"When your goalie is your best penalty killer, you are going to have a good night," Corbett said. "He was our best penalty killer. He wants to be the No. 1 goalie, so he has to win here."
With confidence in both their play and their goaltender, the Chargers continue their road trip with a stop in Ithaca, N.Y., this weekend against Cornell.
Cornell poses an interesting test for Huntsville. The Big Red are making their season debut and it will be opening night, so a strong start on the road will be key for the Chargers as they try to build confidence before finally returning home next month.
Kossoff comes up big for LSSU
It was a long night for Nick Kossoff and Lake Superior State on Friday night in Denver — and that was before the game had started.
The Lakers had to wait a little longer in the pregame as Denver, the defending national champions, raised their title banner before Friday's game at Magness Arena.
The game itself turned out to be a pretty long one, too — but in the best way for Kossoff and the Lakers.
Kossoff saw nearly 70 shots in almost 70 minutes of hockey as the Lakers tied the top-ranked Pioneers 3-3. In case you were curious — yes, that's a career high for the junior netminder.
"We're playing the No. 1 team in the country with a ton of talent, so we knew our goaltending would have to be good and Nick has that ability to do it," Lake Superior State coach Damon Whitten told USCHO after the game. "So I thought he did a great job. Obviously, he gave us a chance to build that lead and hold on to that lead and fight and scrape for a win, so an outstanding performance by him and really critical. He needed that, and we needed that."
It should be noted that Kossoff only officially faced 66 shots, making 33 saves — the Pioneers had three more shots in the 3-on-3 exhibition double overtime period that they wound up winning.
Still, it was an impressive showing by Kossoff, who managed to give the Lakers a chance to win.
And although LSSU managed just 17 shots on goal, the Lakers made the most of those shots. Brayden Gelsinger and Max Humitz gave LSSU a 2-0 lead early in the second period. The Pioneers tied it at 2-all in the third before Jake Hand gave LSSU a 3-2 lead.
LSSU hasn't scored nearly as many goals through six games this season (just 15) as they did at this point last year (31). If they can find some more scoring and Kossoff can keep playing like he did Friday, the Lakers could find a winning combination after starting 1-3-2.
Ice Chips
– Alaska got a pair of firsts last weekend in their sweep of rivals Alaska Anchorage. Bench boss Lance West earned his first-career win as a head coach following the 6-2 win. Sophomore goaltender Anton Martinsson also got his first career collegiate victory. The Nanooks finished off the Seawolves Saturday, taking that game 3-2. They've won five straight against their rivals to the south dating back to last season.
– Bemidji State's penalty kill unit continues to impress. Through four games, the Beavers have killed off 14 straight penalties to start the season — a perfect 100 percent clip. It's a continuation of their solid 2016-17 season, when they were No. 2 in the country at 88 percent. Their power play is also doing OK — 4-for-16 (25 percent), which is 16th overall.
– Michigan Tech's offense is currently sixth in the nation, scoring 3.57 goals per game. The power play is 10th overall at 11-of-37 (29.7 percent). Tech scored three power play goals on Friday night against Alabama Huntsville — a 5-4 win. Dane Birks, Joel L'Esperance and Justin Misiak all lit the lamp on the man-advantage as Tech split with UAH.
– Minnesota State senior forward Brad McClure has played in 99 consecutive games for the Mavericks and can make it 100 this weekend when the Mavs host Michigan Tech. Last weekend, McClure had a pair of assists as the Mavericks split with Bowling Green.
Players Of The Week
This week's WCHA players of the week were Alaska sophomore forward Colton Leiter (offensive), Alabama Huntsville junior defenseman Kurt Gosselin (defensive), Lake Superior State junior goaltender Nick Kossoff (goaltender) and Alaska freshman forward Steven Jandric (rookie).