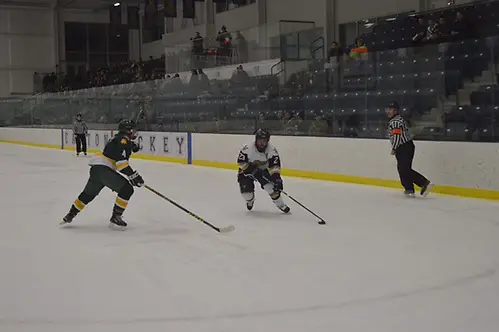 For SUNY-Canton coach Alex Boak, life is really focused on one thing: getting better as a program and building the culture for his team to be able to compete hard against all competitors every time his team takes the ice. The second-year coach is building the foundation for what he hopes and expects will be a strong and nationally competitive D-III program, whether they live on as an independent or if they join a conference.
"Of course, we would like to be part of a conference," stated Boak. "As coaches and players, we don't control that process, so all we can do is focus on being the best hockey team we can be and improve our level of play and results each year to be a program that would be very competitive in any of the conferences we play against today. Last season, we beat some big-name programs like Middlebury and Geneseo and certainly last weekend's win over Plattsburgh at their rink was one of the biggest we have had as a program. I tell our recruits they can be part of building the ice hockey program here at Canton, and that has certainly been the focus of our kids and coaching staff."
Last Saturday night, the Kangaroos, yes, the Kangaroos, won their season opener on the road against nationally ranked Plattsburgh by a score of 4-3. Even though they were outshot by a 47-27 margin for the game, Canton continued to play hard and challenge the Cardinals for every loose puck and tried to limit time and space for the home team. Goaltender Michael Cerasuolo was immense, making 44 saves on the night, and senior Josh Sova scored two critical goals for Canton to maintain two-goal leads in the second and third period while continuing the uphill battle for Plattsburgh.
"Josh was so big for us Saturday night," noted Boak. "Not only did he score some key goals for us while playing shorthanded and on the power play, he and the rest of the senior class have really stepped up in their leadership responsibilities in the room and with the younger guys on keeping focus and continually building that culture of the kind of hockey team we want to be. The past two seasons we had just three and two seniors respectively. This year, we have nine seniors who are important in the messaging to the team beyond what the coaches provide. They have done a great job with the freshmen and sophomores, whether they have been in the lineup or not. It is all part of the maturation process on and off the ice and has certainly impacted how we played last weekend. We want to be difficult to play against. We are not big or very physical, but we have speed and make it difficult for teams to move the puck easily. A couple of years ago we might have focused on just hanging in there and keeping it close, but now these guys want more. The win last weekend was big, but it won't mean as much if we don't continue to build off it and seize momentum this week against Potsdam, whom they face in a home-and-home series."
So, what about the mascot? How does a team in upstate New York carry the kangaroo moniker?
"The kangaroo is really relevant to our program," commented Boak. "Kangaroos can't physically go backwards. They are always moving forwards. That is just like we want this team and program to be here at Canton and how the school envisions the environment for the students — always moving forward!"
New Lions focused on getting better — day by day and minute by minute
Way down the road in Bryn Athyn, Pennsylvania, another independent team, Bryn Athyn College, has joined the ranks of D-III for their first season as an NCAA program. Coach Andrew Burke leads a team new from the Frozen Four at the AHCA club level into their first season of play with a solid recipe for advancing the program and building the culture for success.
"We have a great situation here at the school for our program," noted Burke. "Everyone from the student body to the faculty is so engaged with the hockey program, and it is great for our team. The class sizes here are small, and that same English teacher you just had earlier in the day in a small discussion class is probably the same one at the rink wearing the school colors and cheering from behind the glass or complimenting the kids on the actions from the past weekend. It really is a community environment as well as a teaching one for me and my staff."
When you have a roster largely made up of incoming freshmen, 23 to be exact, teaching is an ongoing process and fundamental to the way that coach Burke and his staff keep the hockey learning consistent for their student-athletes.
"We have a motto and focus: 'to be better every day,'" said Burke. "We do a lot of film sessions and skill development with the kids, in addition to our practices and systems work. The goalies have individualized sessions to focus on skill improvement and fundamentals. If all our kids individually can get a little bit better every day, then the whole level of the team improves, and that is the progression we want to see. In games, we break the 60 minutes down into five-minute segments. We want the kids to focus on just that amount of time and win their shift and that segment. It keeps the focus on the now and breaks down the game into manageable sections."
This past weekend, the Lions opened their regular season with a road trip to New Hampshire, where they dropped a pair of close games at St. Anselm and New England College by 4-2 and 2-0 scores respectively. The games were close and hard-fought, and the coach found a lot of positives in the first real action for his young Lions.
"We did a lot of good things in the games this weekend, and there are a lot of positives for the team coming out of playing two strong and established programs like St. A's and NEC," stated Burke. "We were able to check a lot of first-time boxes as a group last weekend: first road trip; first bad movies on the bus; first two team meals featuring chicken parm; scoring our first goal; playing with the lead; playing on the power play; and so many more. These things are just building our depth of experience and familiarity for the team of playing at the collegiate level. The next big thing will be to get a win, and that will certainly get everyone excited, not only all the players and staff who have been working so hard, but the school as well that supports us so well. We aren't putting pressure on getting the wins or focused on the results right now — we are focused on getting better every day and each five-minute segment of our games. Doing that we will see the results come."
This weekend, Bryn Athyn hits the road again with two games against fellow independent Post in Connecticut, where they will be looking for that first win.