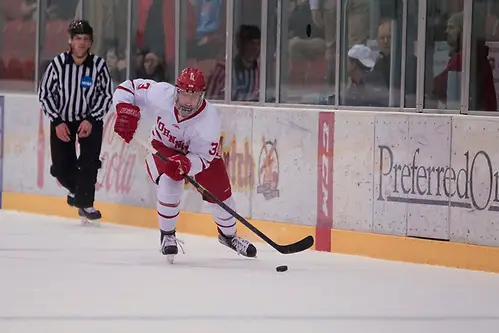 Kyle Wagner is playing offense full-time this season at Saint John's. And it's safe to say he made quite the impression in his new role.
Wagner finished with five points on the opening night of the season, propelling the Johnnies to a 5-1 win over Bethel. He scored a goal and dished out four assists.
"You have to be happy with five points in a game," the talented sophomore forward said. "I hope to be consistent throughout the season and keep producing for the team."
If Friday night was any indication, he will continue to be an integral part of the offense. He's already seven points shy of matching last season's point total.
Wagner has embraced the new opportunity in front of him after playing defense last year, and he notes he couldn't have done it without the help of Brady Heppner and Joe Chitwood.
"I have linemates I work really well with," Wagner said. "We have great chemistry."
Wagner said he just wants to do what he can to contribute, especially with a year of experience under his belt.
"Being a sophomore, I want to put a little more of the load on my shoulders," Wagner said. "I want to pull my weight and help my team accomplish our goals of winning the MIAC and getting to the national tournament."
Wagner graduated from high school in 2014 and played three years of junior hockey before arriving on campus to suit up for the Johnnies.
Like all athletes, there is an adjustment period at the next level. He pointed to the maturity of the players he was facing on a nightly basis and the challenge of learning the systems. He's adapted well, though, and aims to capitalize on the opportunities he sees on the ice.
"I try to play fundamental in the D-zone and help get the puck north and south, and also find the soft areas in the offensive zone," Wagner said. "That was one of my specialties growing up. It's played a big part in my success."
Saint John's has a tradition of success, but finished just 12-10-3 a year ago. The Johnnies were 7-7-2 in the conference and came up two points short of qualifying for the MIAC playoffs.
"We came off a tough season last year; we had higher hopes, and we are playing with a chip on our shoulder," Wagner said.
Wagner said the Johnnies are certainly loaded with talent, and they are good enough to make a run at the conference crown, but that won't be easy in a league that is one of the most competitive in NCAA Division III hockey.
"Every game is like a playoff game," Wagner said. "We didn't miss the playoffs by much, and it shows you how much one off night can keep you from the playoffs. We have to focus on taking every game as a playoff game and make sure we are running on all cylinders every night."
NCHA
St. Scholastica is on the verge of a milestone after sweeping Northland over the weekend to start off the year 2-0. The Saints are just two wins shy of 500 in the history of the program, and the mark can be reached this weekend when the Saints play host to Aurora and Lake Forest. St. Scholastica finished 13-13-1 a year ago and is off to a great start behind the play of Seth Chumley, who has scored two goals. Chumley played in 23 games his first two seasons, but did not score, and he is on track to be one of the Saints' top threats this season.
WIAC
Tanner Karty, Willem Nong-Lambert, and Colin Raver are all at the four-point mark after helping Wisconsin-Stevens Point start off the season 2-0. Karty has had most of his success scoring goals, punching in three, while Nong-Lambert and Raver have tallied three assists apiece. Karty and Nong-Lambert are looking to build off what they accomplished a year ago when they finished with 27 and 25 points, respectively. Raver is just a freshman, and comes to Wis.-Stevens Point after three seasons with the Aberdeen Wings of the NAHL.