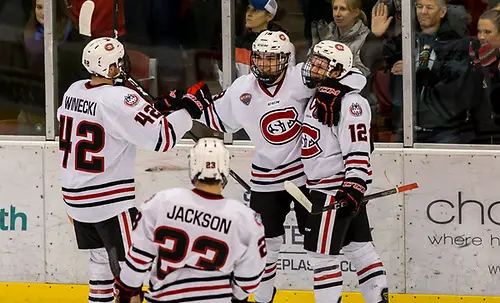 No one in college hockey, certainly not even the St. Cloud State Huskies themselves, probably thought that after back-to-back weekends against No. 13 Boston College and No. 8 Minnesota Duluth, the team would be undefeated through the first month of the season.
The Huskies are currently one of the most balanced teams in the country. Their 7-0 start can be attributed to a prolific offense that leads the country with 4.71 goals per game, a defense that is sixth in the country, allowing just 1.86 goals per game, and outstanding special teams play, with a power play ranked third with a 32.35 percent success rate and a penalty kill ranked 11th with an 88 percent success rate.
"We've seen a lot of returning offense from a year ago, so we always felt we had a team that could take strides from an offensive standpoint, and also we've got offensive defensemen with a proven track record now becoming upperclassmen," said St. Cloud coach Bob Motzko. "And then with a handful of young guys, there's good balance in there, so we're off to a good start, and a little bit deceiving I think in the numbers because some of our top guys are just starting to get going.
"So I think that's a good sign."
Coming into the season, Motzo was expecting big things from sophomore goaltender Jeff Smith, who had a strong second half his rookie campaign. Smith has a .930 save percentage and 2.00 GAA so far this year. Rookie David Hrenák has been just as good, and posted his first collegiate shutout Saturday in a 5-0 win over Minnesota Duluth.
"Well, it's made a huge difference to us," said Motzko of the goaltending. "You know a year ago, the first half of the year we were at an 87 save percentage, and now we're in the 93-94 range, and that's the biggest difference in our team right now. We're getting goaltending, and that shows in our penalty kill, it shows in our goals-against, and it's giving us a chance. And young David, your first start you always have to throw out to me. He really battled to get a win, but he was very nervous. And you're going to see that, and what I liked is we threw him back in there last weekend and he was much more subtle, much calmer. He's learning, you know. He is gaining confidence, he's getting better in practice, and is really getting more comfortable."
In addition to the goaltending, the defense has been crucial to St. Cloud's early success. Junior defenseman Jimmy Schuldt leads the team in scoring with 12 points, sophomore Jack Ahcan is fourth on the team in scoring with seven points, and junior Will Borgen has six points.
"Well, they're upperclassmen now, Jimmy and Borgen and (Jon) Lizotte, then Ahcan coming back his second year, boy, that experience has just paid off," said Motzko. "When they were freshmen they were part of a 30-win team, and what they gained, and then last year the experience of how we had to battle to try to get back into the hunt, they're just in a great spot. They come in with great confidence. And then when you get off to a good start it just feeds. I don't know if that can continue at that pace, but as a group there's a strong track record of offense; from a confidence standpoint and our depth with our forwards, I think it's something that could continue."
St. Cloud's series against ranked teams the last two weekends came at home. This weekend, the Huskies have a stout test when they travel to Colorado to face No. 3 Denver, which will be hungry for a victory after two losses last weekend in games where they led.
"Well first, we're ready to get on the road, and we need to get on the road and we need this challenge to play Denver," said Motzko. "And I just think we're not going to look any further than that. They are a tremendous hockey team; they're an extremely well-coached hockey team with high-end talent, and we need this challenge right now. We've got to be able to defend, and we've got to be able to put pressure on them, and this comes at a great time for us to move our season forward This weekend is not a make-or-break weekend for our team, but it's a big weekend for us to kind of test where we're at."
Western Michigan posts impressive sweep of top-ranked Denver
After a relatively slow start in which the Western Michigan Broncos went 2-3-1, they have reeled off three straight wins, with last weekend's series being the most impressive.
In their previous outing against a ranked team, Western lost and tied Clarkson. Last weekend, the Broncos hosted No. 1 Denver, and though they trailed in both games, emerged with a sweep.
Friday, Denver had leads of 1-0, 2-1, 4-2, and 5-4, but Colt Conrad scored an extra-attacker goal at 18:48 of the third period, and Dawson DiPietro scored the game winner just 15 seconds later. Saturday, Denver was up 3-0 and 4-2 before Western scored three goals in a 43-seconds span near the midway point of the third period to take a 5-4 lead en route to a 7-4 victory.
"We just had to be ready to play," said Broncos coach Andy Murray. "You talk about the type of games; we were down 3-0 on Saturday, but I actually thought we were playing very well. Our game was good. We made a couple mistakes, and we ended up changing our goalies again on Saturday, so our game on Saturday, I thought we were good right from the get-go even though we were down 3-0. It was a strange game; it wasn't a matter of challenging the guys to be better; we just needed to continue to play the way we were playing."
Murray feels that though he had some good offensive players coming into this year despite the losses to early departure, some have emerged as stronger players. One of those is DiPietro, who played only a single game in his first year at Western Michigan. Through nine games this season, he has 11 points.
"I think his commitment level through the year last year, physically even though he played junior hockey he had to physically mature," said Murray. "He needed that year to enhance his overall physical power and strength. He worked extremely hard, so he's getting a return on what he invested. He stayed here the whole summer and trained and just got a lot stronger, more explosive. The other thing is Dawson played with about four different junior teams in the North American League, a couple of different midget teams, and I think he just had to develop his hockey culture a little bit and his understanding of the game, and I think he has done that as well.
"He's off to a very solid start; as I told him he's earned everything he's gotten so far, but his college career is basically a 10-game career right now. I can't give him anything but credit for sticking with it. He knew last year that it was going to be a development year for him, and he approached it the right way."
One of the keys to Western's sweep of Denver was the play of junior defenseman Corey Schueneman, who leads a very young blue line corps. Schueneman notched five points in the two games, and is providing a steady presence for the younger players.
"I think the big thing with Corey is he has great self-analysis," said Murray. "He knows when he's playing well what he needs to do, and when he's not playing well he knows that as well. He's been a good player for us here, and we need him to take it to the next level and be a guy who is a leader every night, which he is capable of."
This weekend, Western Michigan goes on the road to face Minnesota Duluth. So far, the Broncos are 0-2 on the road, after a season in which they went 6-6-2 away from Lawson Ice Arena and then lost their last three games away from home, two in the NCHC Frozen Faceoff and one in the NCAA tournament.
"You know, we just played the team that won the national championship, and we're going to play the team that they beat in the finals," said Murray. "Our games against Duluth every year have been battles, and Scott Sandelin's teams always play the game the right way. It's going to be honest, hard, get-after-it hockey, and we know that. It's such a great facility. We love going up there to play in it. We played hard last weekend, but we parked it. To be quite honest with you, I've been on them pretty hard in practice here the first couple of days. We're so young, so inexperienced and so on. We don't want to have to restart things; we want to keep it rolling and keep playing well."
NCHC Players of the Week
Offensive Player of the Week ⸺ Wade Allison, Western Michigan: Allison tallied five points in Western Michigan's sweep of top-ranked Denver. In Friday's 6-5 comeback win, he scored the Broncos' first goal in the first period and assisted on the game-winner with under a minute to go. In Saturday's come-from-behind 7-4 win, he posted his first hat track, getting Western's rally from a 3-0 deficit started with two goals in a 1:13 span in the second period, and got his third goal to make it 6-4 Western while being named the game's first star. He finished plus-2 on the weekend.
Defensive Player of the Week ⸺ Corey Schueneman, Western Michigan: Schueneman helped Western Michigan sweep previously undefeated Denver. Friday, he posted three assists, including on the game-tying, extra-attacker goal with 1:12 left in the game, and helped the penalty kill go a perfect 8-for-8. Saturday, he had two more assists, the first of which came in the third period and jump-started Western's comeback. He went plus-2 on the weekend and blocked three shots.
Rookie of the Week ⸺ Dávid Hrenák, St. Cloud State: Hrenák earned his first collegiate shutout in a 5-0 win over No. 8 Minnesota Duluth, stopping 29 shots, including 13 in the second period, and helped St. Cloud go 6-for-6 on the penalty kill. He earned the game's first star and improved his season save percentage to .946 with a 1.65 goals-against average.
Goaltender of the Week ⸺ Peter Thome, North Dakota: Thome started after an injury during morning skate knocked Cam Johnson out of the lineup, and made 36 saves Friday, including 19 in the third period, helping North Dakota hold on for a 3-2 win over No. 7 Wisconsin. The next night, he made 22 saves in a 2-2 tie, finishing the weekend with 58 saves and a .935 save percentage.