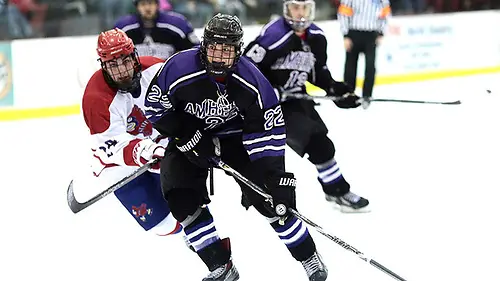 For Amherst College, the recent change in school mascots has conjured up an image of the ice age. The Mammoths of Amherst College usher in a new era with a unique mascot, but one whose attributes do fit the ice hockey players wearing the purple and white school colors.
"They aren't really known for their speed," joked coach Jack Arena. "They are tough, durable, and defend themselves well against predators, which are all things our team can relate to. I think the strength of our team is from the crease out. It starts with Connor [Girard] in goal and then our very good and experienced D-corps. I really like the group on the blue line and think we will be very good in our end while we look for more scoring depth up front."
Senior netminder Connor Girard enters the season as the number one goaltender and has solid stats in his 41 career appearances for Amherst. He has a 2.47 goals-against average and a .913 save percentage and has started 36 games entering the season. Supporting him is an able cast of defensemen led by seniors Tyler Granara and Patrick Mooney, as well as juniors Noah Gilreath and Phil Johansson. Gilreath and Johansson were also offensive threats for Amherst last season, as they combined for 23 points last season.
"I really expect we will defend well and that includes our penalty kill," noted Arena. "Special teams have always been a big part of our success, and if we can limit our opponents' scoring and chances, we have a good shot being in position to get the results we want."
Offensively, the Mammoths (it is going to take some time to get used to typing that name) do have some key contributors returning, including Thomas Lindstrom, David White, and last year's freshman sensation Patrick Daly. Last year's team scored just 73 goals in 24 games, with 25 coming with the man advantage. This year, the coach is hoping for more secondary scoring and less dependence upon a power play that clicked 27 percent of the time a year ago.
"We have some guys back that have put up some numbers," said Arena. "Absolutely we would like to see more five-on-five scoring and more balance. We have some new players coming in that we think will help us there, and we will have to see how things evolve with some of the combinations of lines."
Last weekend, Amherst hosted travel partner Hamilton to open the 2017-18 campaign. The Continentals and last year's player of the year, Evan Buitenhuis, were expected to provide a great opening night challenge for Amherst — especially in the scoring goals category.
"Last season, goals came at a premium in the two games we played against Hamilton," noted Arena just prior to Friday night's game. "The first game was a 1-1 tie, and we won the second one 2-1 in overtime. In both games, we scored on the power play. This season, I expect the same kind of low-scoring game and maybe right into overtime."
The coach was prophetic in his statements, as Friday's game finished in a 2-2 overtime tie with freshman Nick Bondra and senior Thomas Lindstrom scoring on the power play to earn the draw with Hamilton. The Mammoths were also resilient on defense, where they held Hamilton to 0-for-7 on the power play.
Other than the Binghamton Devils Tournament over Thanksgiving weekend, Amherst plays seven of its first nine games on home ice. That gives the team the opportunity to build some success in familiar surroundings before becoming road warriors to open the new year.
"It is just a vagary of the new NESCAC schedule that every other year we have a bunch of home games or away games," stated Arena. "With our two nonconference games at New England College and Babson also on the road, we are away the entire month of January. One of the reasons we are playing in the Binghamton Tournament is get our team comfortable in other environments. We have always played against teams like Utica on the road, and I think that helps your teams get used to playing in hostile conditions as the visitors. I think the tournament over Thanksgiving is another opportunity to play in a big arena and hopefully help us compete better as a road team."
Amherst picked up its first win of the season on Tuesday night, downing a tough St. Michael's squad, 4-1. Joey Lupo, Lindstrom, and Johansson each had two points as the Mammoths again connected on the power play and held the Purple Knights scoreless on their four man-up opportunities.
The winning formula continues for Amherst, which will try to leverage it on the road this weekend in Binghamton.