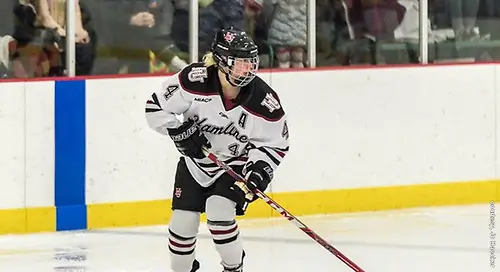 When Natalie Darwitz took over the helm at Hamline University, the Pipers had just finished with a 6-17-2 record. There have been signs of potential from the Pipers in the past, but for the most part, Hamline had a reputation and it wasn't one Darwitz wants to see repeated. She and her staff have been fighting a two-pronged attack, she said — building a program and fighting perceptions — and neither is easy.
"When you've been known as the Bad News Bears for so long, even though you improve, some people still look at you that way," said Darwitz. "So we still fight that stigma (especially with recruiting). I want to come in and set the bar high. If no one's going to set it high, being mediocre is going to be OK. And that's not OK with us. We're slowly starting to gain attention and respect from our opponents … I think we're really on the right track, and I think people are finally starting to take us seriously."
It's been just three years for the new staff, who took over just before the 2015-16 season started, and it's just her second year with players that they recruited, but the new structure appears to be working for Hamline. In the time she's been at Hamline, the Pipers have won three more games each year, finishing 2016-17 at 12-13-1. Already this year, they've got wins over Wisconsin-Superior and, just last week, upset no. 5 Gustavus Adolphus.
More than the win, Darwitz loved that her team was still upset about losing the second game to the Gusties in practice on Monday. They were edgy and wanting to improve. That, she said, was a major sign that Hamline is heading in the right direction.
Neither coaching nor moving from high school to college was on Darwitz's radar, but she's very happy having settled with Hamline. The prospect of being able to put down roots, share her knowledge, and create something meaningful appealed to her. As with any program rebuild, the process has been a slow but steady one. Changing the status quo and getting buy-in — from the players, from the university, and from the fans — can be difficult.
Hiring Darwitz was a big sign the university is invested in improving the program, as are yet unfinalized talks with the Minnesota Wild to be able to use their new practice facility for both men's and women's Hamline hockey games. The facility would be a significant improvement over the Ramsey County Rink they use now.
Improved coaching, improved facilities — that just leaves improvement on the ice. In order to create an environment where players are invested in the program and interested in being a part of the turnaround — whether or not they'll be around to benefit from the work they put in — means creating a completely new culture for Hamline women's hockey.
"It's all about team culture," Darwitz said." Darwitz said. "We want them to see the fruits of their labor. We think we have a group this year to make a run at things. We're flying under the radar right now. We want to keep progressing every single game."
The coaching staff has put almost all the emphasis on the players and their experience and very little emphasis on the final results. As a staff, they are challenging the players to be their best on and off the ice, giving them a positive and meaningful experience and believing in them enough to push them and ask for more than the players thought they were capable of. That support from the staff creates not only better players, but better people. And the results come naturally after that.
It's a short season and it's broken up quite a bit by holidays and exams, so Darwitz makes comparisons to the student-athletes' academic lives. Monday through Thursday is where they study. They put in the time and do the learning so that they are ready for the exams — Friday and Saturday's games. It's time to show off the work they're putting in during the week and how much they've improved.
Darwitz tends to shy away from anything she thinks might be too much of a hockey or coaching cliché. She's not interested in painting a team motto on the wall or having her team subscribe to pillars of behavior. Instead, she wants to create a situation where the locker room comes first, where it's a full team mentality and that mentality is second nature, and where there's an authenticity to the beliefs and actions.
"If I genuinely care about every single one of my 25 players and my staff and every player can go around the locker room and say the exact same thing, that I genuinely care about you and have the best interest for you, it's not about me, it's about us, then we're going to be successful," she said. "If they're all supporting each other, if they're all buying in, we're going to be a better product on the ice. If we have some egos and we don't have leadership, I think it's going to be a long season. … It's grasping that, though. It's easy to say it, but grasping it makes a huge difference."