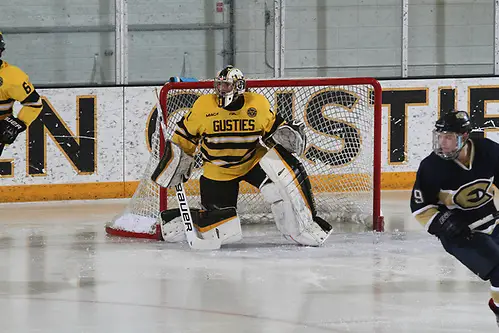 "Be Prepared" is the motto of the Boy Scouts. It's also something goaltenders must be if they are to have success at the college level.
Gustavus Adolphus' Chris Amsden definitely seems to be week in and week out, and he already has nearly as many wins as he did in his first two seasons, winning twice in four starts. He won three games in his first two seasons with the Gusties.
"Day in and day out you have to make sure you are prepared and ready to go," Amsden said. "I'm always constantly thinking about the week ahead. My level of preparation has come up a bit, and that has definitely paid off for me."
Amsden arrived on campus with a lot of potential, and he made an immediate impact as a rookie, ranking first among freshmen in the league in goals-against average and save percentage. He earned a spot on the MIAC All-Rookie team.
He owns a 2.70 GAA this year and has racked up 112 saves. He has a save percentage of just over 91 percent.
"It's been going well for me," Amsden said. "I feel with another year of experience, I feel more comfortable, and I just go out there and play hard every week,"
The native of Minnesota noted that his confidence has risen significantly as well compared to where he was a year ago when he won only one game.
"From a confidence standpoint, I'm a lot better," Amsden said. "I knew coming into the year I'd be a player the coaches would count on to carry some minutes, and I do what I can to help the team win games."
So far, the wins have outnumbered the losses. Gustavus is 4-3-1 through eight games. It's not the flashiest record, but it's one that has the Gusties a win away from matching last year's win total.
For Amsden, the biggest adjustment for him coming into college was getting used to the step up in level of play.
"Junior hockey is a pretty high level of hockey, and this was another step up," Amsden said. "I had to get acclimated to the difference in skill and to the new environment. It's been good for me. A lot more is asked of you at this level, and any mistake you make is going to be magnified. It's important to be ready for every game."
Gustavus is hoping to have a bounce back year after a two-year stretch where it  won only 11 games. The Gusties seemed poised to be a playoff team in the MIAC, having scored 23 goals already, including three goals apiece from Caleb Anderson and Evan Erickson.
Amsden has split time in goal with Robbie Goor, who has two wins in three starts.
"We have a big, physical team and just need to continue to play our style of hockey, which is getting into the dirty areas and winning the battles," Amsden said. "We have to continue to get better day-by-day. We know our conference games are important, and we want to be ready for them. Not having the level of success they are used to here the past two years, we are determined to get back to the playoffs."
MIAC
Concordia pushed itself over the .500 mark with a 2-1 win over Bethel Saturday. The win was the first of the year in conference play for the Cobbers, who are 3-2-2 overall and 1-1 in the MIAC.
Jacob Stephan played a key role, as did special teams. Stephan stopped 22 shots for his second win of the year, and the Cobbers also killed off a five-on-three power play in the third period.
Stephan is 2-0-2 in four starts this year and owns a 1.68 GAA, good enough for the third-best average in the league. His save percentage (92.7) ranks fifth in the league.
Offensively, the Cobbers have gotten a huge lift from Zach Doerring, who scored his third goal of the year in Saturday's win. Doerring leads the team in both goals scored and points (six). Doerring has scored at least one point in six of the team's seven games this season.
NCHA
Derek Thorogood has earned back-to-back NCHA offensive player of the week honors after having a hand in all five goals in weekend games against Saint John's and Bethel.
Marian defeated the Johnnies 3-3 and beat Bethel 2-0. He scored twice against Saint John's and assisted on the other goal, while scoring a goal and dishing out an assist against the Royals.
Thorogood is the second-leading goal scorer in the conference with seven goals, and he leads his team in points with 12. He is just three goals shy of matching last season's total for goals.
The Sabres are unbeaten in their last five games, pushing their record to 5-2-1, including a 2-2 mark in conference play.
WIAC
Wisconsin-Stout is hopeful it can get back on track this week after dropping three consecutive games. The Blue Devils are 3-6-1 on the season.
Wis.-Stout has scored 23 goals as a team, and Mathias Ahman has paved the way with three goals and five assists. Conner Valesano has also stepped up, tallying two goals and dishing out six assists. Five others have scored at least two goals, including Hunter Anderson, who has come through with four assists as well and ranks third on the team in points. Wis-Stout has an opportunity to turn things around over the next month as its next six games are at home. The Blue Devils won't go back on the road until Jan. 12 when they travel to Minnesota to play Hamline.
In the Poll
The West region is the home of the top three teams in the country, with St. Norbert, Adrian, and Augsburg holding down the top three spots. Wisconsin-Stevens Point is 10th, the Milwaukee School of Engineering is 11th, and Wisconsin-Eau Claire is 15th.