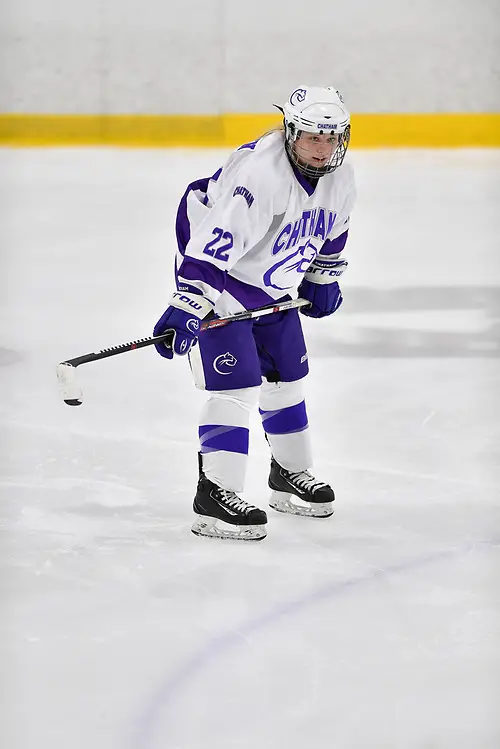 Chatham senior Kasandra Petersen feels more comfortable on the ice through the first eight games of the season than she has the rest of her time as a Cougar.
It's been a hectic off season for Chatham, as it joined the newly formed UCHC, brought in a new head coach and saw former star Erika Martin transition to serve as the team's strength and conditioning coach.
There have been shake-ups, but they've all been positive, said Petersen, who said the need to impress new coach Jessica Newstrom was on the minds of the upperclassmen this past summer. When she first put the team on the ice in preseason, Newstrom had no preconceived notions about who should be on what lines or how players should pair. Petersen said the early weeks with Newstrom featured a bit of chaos as she challenged the status quo and shook things up by trying different pairings and line combinations.
Whether it was conscious or not, Petersen admitted that the Cougars had likely gotten a bit comfortable and complacent, something she said isn't happening on Newstrom's watch. Add in the constant supervision in the weight room from Martin, and there's just a different air around Chatham this season.
"There's a lot more accountability, which I think has pushed all of us to want to be better both individually and as a team. … We're in much better shape this year. There's a higher expectation from each other as well as the coaches," she said.
For Petersen, the changes are small, but significant. She struggled to put into words exactly why playing for Chatham this season felt different, but kept returning to the fact that all the players feel comfortable around each other, both on and off the ice.
"Controlled chaos would be a good way to explain our team right now." she said. "At this point, now that we're a little bit into the season we're all getting a little bit more comfortable with each other, I feel like it's still chaos, but it's a little more controlled."
There's a trust among her teammates that's translated incredibly well on the ice. She knows when a teammate calls for the puck, they're open — they wouldn't be asking for it otherwise. Petersen leads the team with six goals and 10 assists as a defenseman. One reason she's been able to be so prolific, she said, is that her team is enabling her to press in offensively with confidence.
Whereas in years past a blue liner heading deeper into the offensive zone could lead to turnovers, now the Cougars are covering for each other, keeping their shape and establishing the defense on the point. Knowing that she can count on her teammates has had an incredible impact on how comfortable — and prolific — Petersen can be on the ice.
"From a defensive perspective, I feel very confident in my team that if I were to skate the puck, I know someone is going to cover for me," she said. "A forward drops back and we know that we always have two at the point. And that hasn't always been the case in the past. It's been hit or miss and then we'd have odd man rushes and get scored on. This year, we've had a lot more support. Forwards are staying high in the zone, feeding us pucks at the point, and that's been helpful in creating chances and creating opportunities down low."
Petersen's 16 points are tied for fifth best in the country. She has also tied her own career record for points in a season just eight games in and is a single assist away from tying Chatham's all-time assist record. With only a month of this season in the record books, senior Cassidy Colhoun has tied Chatham's career goals mark and senior goalie Sydney Isbell set a new mark for career wins for the Cougars. With more than half the season to go, Petersen sees all these career benchmark accomplishments as proof of the progress Chatham has made.
Though they won't show up in any record book as successes, Petersen pointed to two recent Chatham losses as examples of how the Cougars are growing and improving this season. The biggest surprise about Chatham, she said, is their will and the want to finish games.
"In the past, we've gone down by a goal and then our team, the bench would shut down, the energy would just be gone; we've turned that around completely," she said, pointing to a very active third period against Utica where the teams were tied after the second before quickly finding themselves down 4-2 less than six minutes into the final frame. The Cougars clawed back to a close 5-4 loss.
"We've never really been a third period finishing team, but we're definitely seeing that turnaround this year," Petersen said. "We've been able to come out strong in the third period and stay in games."
Less obvious, though probably more significant, was Chatham's final period against William Smith on Nov. 19. The Herons had a 7-1 lead after two, and Petersen said it was not where the Cougars wanted to be at all, but Chatham did not allow any additional scoring in the third period and held William Smith to just eight shots.
Those are the kind of victories Newstrom has her players focusing on, and she thinks it's been effective.
"Instead of looking at the big picture, at the big 60-minute game, breaking it down into three 20-minute games and making sure we're doing everything we can to win each 20 minute game has definitely helped us as a team," she said.