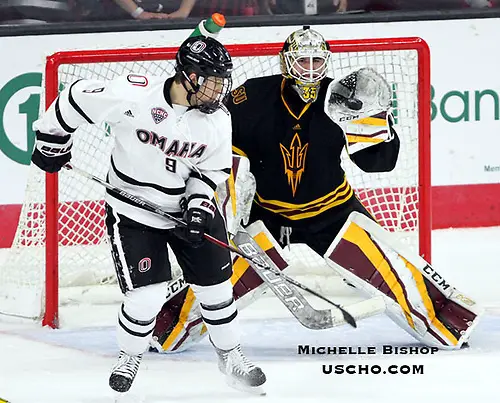 Less than a year after finishing four games under .500 at home, Omaha and its first-year coach are working to make Baxter Arena a tougher place to play.
Four games in, at least, the Mavericks are making progress.
Eight of their first 10 games this season were on the road, but they're now 3-0-1 at home after sweeping Northern Michigan last weekend. Three consecutive goals in Friday's second period helped UNO over the top in a 4-3 win over the Wildcats before the Mavericks trounced NMU 4-1 Saturday.
Four different UNO players scored in the rematch, and goaltender Evan Weninger stopped 25 shots while killing all five of NMU's power plays.
The Wildcats finished the weekend 0-for-11 when playing a man up.
Not a bad way to get readjusted to life at Baxter after six consecutive road games. UNO's only other home outings this season were a win and tie against Arizona State over a month ago.
"It was nice, first off, just to be back home," Mavericks coach Mike Gabinet said. "I think the guys were excited to be back at home and gaining some time kind of getting back to school and getting back in your home locker room and home arena, things like that, so then to follow it up with two big wins against a good opponent with Northern Michigan was really a successful weekend for us looking back."
UNO went 6-10-2 last season at home before finishing 17-17-5 overall. The Mavericks are already close to matching their home win total from 2016-17, but matching that in the next few weeks won't be easy. Second-ranked St. Cloud State visits this weekend, and No. 16 Minnesota Duluth and No. 19 Union will arrive later in December.
Naturally, Gabinet hopes the Baxter atmosphere matches his team's play against those and other foes.
"With our players, we talk about it all the time," Gabinet said. "We've got to make sure this is a hard place to play, that our compete's at an extremely high level, our effort level is high on both nights, and I think the people of Nebraska, I don't know if everybody knows how tough some of the competition is that comes in here, but I think they appreciate a solid effort, so we want to make sure that we're competing high, our effort's high and that we're making it a challenging place.
"We always talk to our guys about, 'How do we want opponents to think about us at the end of the game?' and hopefully they're saying, 'Man, those guys are tough to play against,' so that's something we've got to continue to get better at. We've got to be heavier on our sticks, we've got to have a higher compete level, but guys are working really hard every day to work at that."
They'll need to this weekend against a St. Cloud team that has started the season hot (9-2), with the Huskies' only losses coming at top-ranked Denver.
"They move really well, they play as five-man units, they've got very mobile defensemen," Gabinet said of SCSU. "I think they've only got two losses this year to the No. 1 defending national championship team, so that speaks to their strengths, but also I think we can play with them if we play well, so it's up to us to make sure we're prepared and the guys are prepared, and get ready to go."
_________________________
Tenth-ranked Western Michigan has done a lot of the right things so far this season, and where scoring is concerned, it's very much an organized effort.
The Broncos' top five point-producers are forwards, but in getting goals from 14 different players so far, Western's defensemen haven't been shy about getting in on the act.
So far, eight of WMU's nine blueliners that have seen ice time have contributed 38 points, which has them on pace to surpass the 90 that the Broncos' defensemen posted last season en route to grabbing a NCAA tournament spot.
WMU coach Andy Murray indicated during his weekly press conference Tuesday that the Broncos are scoring by committee this season. Getting that done requires forward-thinking involvement at all points on the ice.
"I think we have a great deal of team speed," Murray said. "We've always been known as a gritty, hard-working team, but I'd like to think this is the most team speed we've had on the Bronco hockey team since I've been here.
"Our defensemen are getting back quicker, they're moving the puck and they're putting the puck in the hands of our forwards, and we're getting up the ice with a lot of pace and tempo and we're challenging the other team's goalie."
It's paying off, too.
Western is fourth in the country in team offense at 3.67 points per game.
"Most of our goals have been scored within three feet of the net, where we get the initial shot going there, we get there for rebounds and we've been quick and elusive down low in the zone, and our forwards have been doing a good job of getting it up to the blue line and our defensemen are moving quickly and getting pucks to the net," Murray said.
"it's a combination of our forwards coming back hard defensively so that when there is a turnover and we get it, we're in a good position to get going the other direction and we've got some separation between our attack and their defenders."
There's still room to grow, however, and particularly on special teams as Western has Division I's 41st-best power play production (13 of 81). Still, for a Broncos team that's already 5-1 in NCHC play, there's a lot to like going forward.
Players of the week
Offensive: Zach Jordan, Omaha. The sophomore forward scored two goals last weekend in a home sweep against Northern Michigan, marking the first time Jordan had scored in back-to-back games for UNO.
Defensive: Louie Belpedio, Miami. The senior RedHawks defenseman had a goal and three assists in a win and tie against former CCHA rival Bowling Green. Belpedio worked in a Miami penalty-killing corps that went 7-for-7 against the Falcons.
Rookie: Ben Lown, Miami. Lown scored his first collegiate goal Friday in Miami's 6-3 win over BGSU, picked up an assist later in the weekend series and also blocked three shots.
Goaltender: Hunter Shepard, Minnesota Duluth. In his 10th consecutive start, Shepard made a season-high 33 saves in the Bulldogs' 3-1 victory Saturday against Minnesota State. Thirteen saves came in the game's third period.