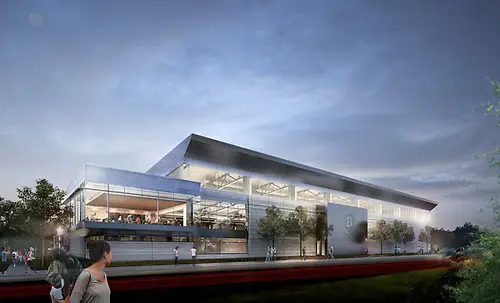 There's no questioning the explosion happening around college hockey.
The sport's undergone an unprecedented era of growth through expansion and realignment. The ultimate demise of College Hockey America and the folding of the CCHA contrast with the creation of "power conferences" in the NCHC and Big Ten hockey.
Unlike power leagues, who often have large, built-in infrastructure surrounding programs, smaller leagues need to look inwards to develop themselves. Instead of taking on the freight of new programs, teams in leagues like Atlantic Hockey needed to grow from within to strengthen the current numbers. For the AHC specifically, that meant a two-pronged approach.
On one hand, the league increased its scholarship limit. On the other, it began addressing facilities.
"It's all part of when we did our first strategic plan," AHC commissioner Bob Degregorio said. "We were very candid and honest with everyone who participated, and everyone who participated was very honest about their facilities and what had to be improved, both short term and longer term. Even those people who had a facility said they needed to improve lighting or sound systems or scoreboards or media centers. Everyone wanted to improve and upgrade to become better."
Atlantic Hockey is now starting to reap the benefits of that commitment. The league unveiled new arenas out in the West, but saw Eastern schools continue playing in small, municipally-owned rinks. That became something of the final frontier, and it began breaking last season.
Both American International and Sacred Heart moved to new arenas, signing five-year deals to share space in American Hockey League buildings. AIC moved from the Olympia Ice Center to the MassMutual Center, while Sacred Heart moved from the Milford Ice Pavilion into Webster Bank Arena. It became an instant upgrade, and it toppled two of Atlantic Hockey's remaining dominoes.
"If you look at AIC and Sacred Heart, they played at two publicly-owned arenas," Degregorio said. "Both signed five-year deals with the MassMutual Center and Webster Bank Arena. They've gone from publicly-owned facilities with lots of youth hockey games that left a lot to be desired in terms of a Division I facility. They've gone into new arenas which are minor league facilities and are clearly good for Division I hockey."
That left one last, but arguably the largest, domino. AIC and Sacred Heart left for minor league arenas after Bentley had already announced an evaluation for its own building. Almost three years later, the Falcons will now move out of the John A. Ryan Arena when they open the on-campus Bentley Arena on Feb. 16 against Army West Point.
"Our players will now be provided with an elite environment for their development," Bentley coach Ryan Soderquist said. "We will have a weight room, training room with hot and cold tubs, players' lounge, refueling station, dry room and locker room. Everything is first class."
It's a game-changing day for both Bentley and Atlantic Hockey. The Falcons played at the JAR since the program's inception in the 1970s, calling it home through five decades and three NCAA divisions. Bentley now becomes the third program to christen a brand-new building in Atlantic Hockey in the last decade, joining RIT and Canisius, and becoming the first team to move from off campus to a home within its own footprint.
"I think it's a matter of pride for Bentley and the league as a whole," Degregorio said. "The league is getting better, and there's been a gradual but planned improvement within the league from scholarships to enhancing facilities. (But) Bentley's hit the grand slam. They're on campus, and it's going to be as good as any facility in Division I. It's going to be a great place to watch a game, and I think that's the ultimate goal."
It's a commitment that began long before construction hit the ground.
For Soderquist, it began as a Bentley hockey player in 1996. He witnessed the Falcons' reclassification firsthand, first in 1998 to Division II independent status, then to Division I the next year. By his senior year, Bentley was a member of the Metro Atlantic Athletic Conference, the lineal predecessor to Atlantic Hockey. He subsequently never left campus, becoming an assistant coach under Jim McAdam before elevating to the head coach's role.
"I am extremely grateful to the leadership team at Bentley for their commitment to making this first class facility a reality," he said. "Being part of the Bentley community for over 20 years now, it's emotional for me every time I walk through the construction site."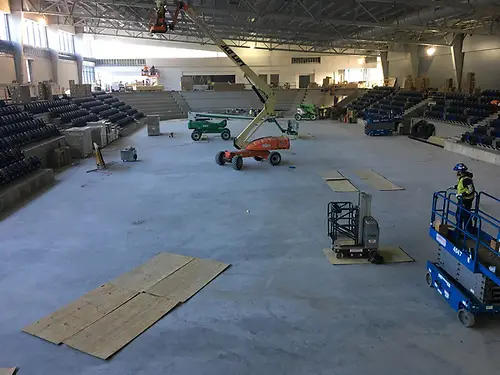 "You have give Bentley and (athletic director) Bob DeFelice a lot of credit because he pushed for a facility for quite a long time," Degregorio said. "There's a sense of pride that comes from seeing Bentley take the intiative to commit to Division I hockey. They said they wanted the program to grow, and they've demonstrated by making a commitment to the program. That speaks to the strength of the league getting better. We've made the commitment (as a whole) to get better."
Bentley is one of the centerpieces of a movement that began with RIT in the early part of the decade. The Tigers reclassified to Division I in 2005 and immediately joined Atlantic Hockey. Within five years, RIT won Atlantic Hockey's postseason tournament, advancing to the national tournament where it shocked the college hockey world by winning the NCAA East Regional.
Canisius, meanwhile, played Buffalo State, a Division III school in the SUNYAC, when it won the 2013 Atlantic Hockey championship. Two seasons later, the Golden Griffins moved into HarborCenter, a brand-new building attached to the Buffalo Sabres' KeyBank Center.
"RIT came into the league with Ritter Arena and took off," Degregorio said. "And then (in their fifth year) they go to the national semifinals in Detroit. There was a groundswell to the program, and it helped get them a new facility (at the Polisseni Center). It's a new, beautiful, great facility.
"For people that have facilities, it's a matter of pride to maintain and upkeep whatever they can do to improve. I know that both AIC and Sacred Heart have thought of and have done some studies in regards to potentially building arenas on campus. That helps the hockey program on the ice with recruiting and atmosphere. When you open those doors at Bentley, the enthusiasm in the crowds that will come will be greatly enhanced."
It's part of a manifest destiny designed to improve Atlantic Hockey's infrastructure on the ice. The goal remains to grow the league from within, a collective campaign built around 11 teams working as one. Few leagues match the overall competitiveness within Atlantic Hockey, but it's all designed to improve the core and move forward as one cohesive unit.
"Having one of the best undergraduate business programs in the country, combined with a first class arena, will make for a very attractive opportunity for future recruits," Soderquist said. "I'm excited for the school, the alumni and the community to share this arena together."
"All 10 coaches root for that coach and team to win that nonleague game," Degregorio added. "They know how important it is and what it represents not only for the school that wins, but also for Atlantic Hockey. We've made the commitment to get better, and it starts when we can get a second team in the tournament regularly. When that happens, we'll know we've arrived as a league and that's when we'll get our national champion. I firmly believe that."