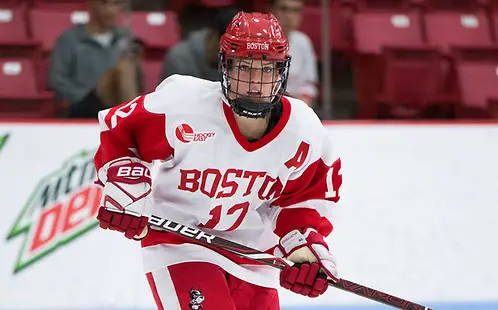 Much ado was made over the first half about the scoring prowess of Boston College's Daryl Watts and Caitrin Lonergan and Boston University's Victoria Bach. It has been a particularly productive, high-volume first half of the season, but how does their output compare, historically?
Bach leads the nation with 23 goals and her 40 points over 19 games have her averaging 2.11 points per game. Watts, a freshman, is second in goals with 22 and second in assists with 25. Her 47 points over 19 games average to 2.47 points per game. Lonergan has 19 goals and leads the nation with 26 assists as she averages 2.37 points per game.
Bach has been the focus of late as most of her scoring happened over the final six or so weeks of the season. In November, she out-scored several teams on both the men's and women's side as she racked up a torrent of points. Watts was averaging three points per game into November before tapering off a bit over the final few weeks of the first half.
Though the numbers aren't quite as gaudy as they were early on, these three are poised and on pace to put up statistics that we haven't seen in college hockey outside of Amanda Kessel in more than a decade. Kessel ended the 2012-13 season with 101 points and averaged 2.66 points per game. You have to go back to the first four seasons of NCAA play to find another 100-point season. If Watt and Lonergan continue at their current pace, they'll outscore every player with the exception of Kessel, dating back to the 2004-2005 season, when Natalie Darwitz finished with 114 points. Anything more than 88 points would be good for the fourth most-prolific season in NCAA D-I women's hockey history.
In women's college hockey, as a general rule, Olympic year seasons tend to be less prolific then others. This year is proving to be the exception.
The 2016-17 season was an outlier when looking at scoring across the 16-year history of women's D-I hockey — Lara Stalder led the country with 1.60 points per game, meaning there were no players who averaged more than two points per game. That has only happened three other times, and each of the other three were in Olympic years.
While it is abnormal to have no two-point-plus scorers over the course of the season, overall, they are the exception, rather than the rule. The cream of the crop — the very best women to play college hockey — are the players who achieve that feat, and the most recent list reads like a who's who of current U.S. and Canadian national team stars – Kendall Coyne, Alex Carpenter, Amanda Kessel, Jocelyne Lamoureux, Meghan Duggan, Meghan Agosta, and Hilary Knight.
Just three players have finished the season with a points-per-game average above 2.00 in the past four years. Only 15 players have done it in the past 10 seasons. The record, which at this point seems literally untouchable, is 3.50 points per game by Harvard's Jennifer Botterill during the 2002-03 season.
Watts and Lonergan are also on pace to smash Hockey East records set by Coyne and Carpenter during the 2015-16 season. The HE single-season points and goals records belong to Coyne, who tallied 55 points and 30 goals that season over 23 games, good for 2.39 points per game and 1.30 goals per game. Carpenter was just behind her with 51 points that season over 24 games and led HE with 32 assists, good for 1.33 assists per game.
Through 12 Hockey East games, Watts has 17 goals and 13 assists, for 30 points. She's averaging 2.50 points per game and 1.42 goals per game. Lonergan has 12 goals and 17 assists for 29 points, good for 2.42 points per game and 1.42 assists per game.
Though the numbers speak for themselves, they're made all that more impressive by the fact that Watts is a rookie and Lonergan is just a sophomore. While their early success was a combined effort playing together on the same line, during the final weeks of the first half, BC coach Katie Crowley had them on separate lines, and they were still finding the net at an alarming rate.
Watts and Lonergan are certainly the front runners, but Bach's output is all that more impressive when you remember she had just five goals through BU's first 10 games. She's averaging a torrid two-goals-per-game over the last nine games, and that includes two games where she was kept off the scoreboard. When she's hot, it's difficult for anyone to stop her, and though she's got ground to make up on her foes at BC, she's certainly well deserving to be in this conversation.
The pressure will be on all three of these players to continue to deliver in the second half. Boston College has struggled on defense with its three best blue-liners helping Team USA en route to the Olympics. Watts and Lonergan's prolific offense is particularly poignant for the Eagles this season as it gives them so much breathing room to grow and adjust on defense. BC is looking to break through for its elusive first national championship after three straight Frozen Four appearances.
Boston University has gained ground in Hockey East thanks to Bach, but the Terriers are still sitting near the bottom of conference standings and would currently be on the road for the first round of the conference tournament. For a team that returned as much talent as the Terriers did this year, not making a prolonged postseason run would be a disappointment and a waste of the talent and experience of their upperclassmen. There's still time for them to turn things around, but the pressure on BU is to win every single conference point they contest. There is no margin for error for the Terriers, but with Bach and Rebecca Leslie, there's still hope for a much more successful second half.