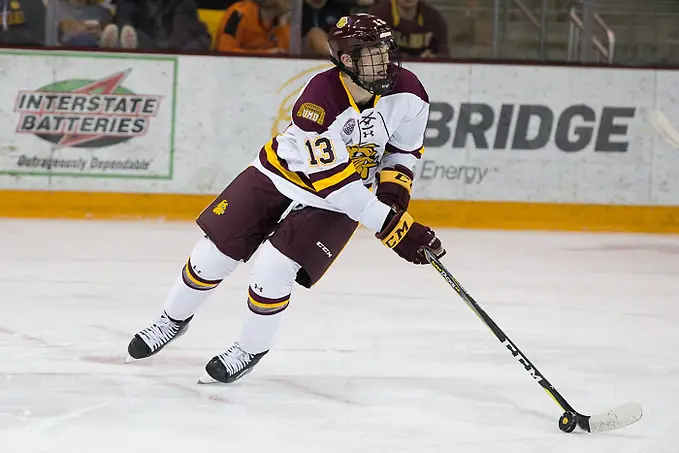 BUFFALO, N.Y. — In the fourth and final game of the World Junior Championship preliminary round, Team USA captain and Minnesota Duluth standout Joey Anderson broke out.
All thanks to a line of perfection.
In a tournament like the World Junior Championship where teams are put together on short notice, lines are typically juggled often in the first few games before coaches are satisfied.
Many factors are considered before the lines can gel — chemistry, proper roles, personalities, and teamwork.
And even then, injuries will force the hands of a coach, for better or worse.
For Team USA early in the tournament, wingers Brady Tkachuk and Joey Anderson were centered by Ryan Poehling. However, when Poehling was injured in the third game against Canada, Casey Mittelstadt took over the center role.
At that point, the line checked off all the requirements for perfection. Even when Poehling returned, coach Bob Motzko did not touch it.
Each player performed a role that complemented each other.
Mittelstadt with "insane skill level" as Anderson describes him; Tkachuk who "goes to the dirty areas" as Mittelstadt describes him; and Anderson who's "always smart, in the right spot" as Mittelstadt describes him.
Anderson, a third-round draft pick of the New Jersey Devils, scored two power-play goals in the second period against Finland, a key factor in USA's thrilling 5-4 win.
To the uninitiated, the goals would appear to be "lucky." A thought based on Anderson "merely" picking up rebounds and shooting them into open nets because the goalie was out of position. But, in reality, they were the result of the work of a perfect line which led up to that moment.
Tkachuk said, "He just keeps it so simple. You know where he's at all over the ice. Great communication out there. He's sneaky good. He doesn't light your day up with some really tricky plays, but every shift, he brings it."
It's the combination of each player on the line performing their role that puts everybody in the right spot which makes the final play appear to be easy.
As Anderson himself describes it, "Mittelstadt's so good at drawing players to him and he finds ways to create space for me. Like tonight I was able to get goals on the back side. His skill level is insane. Anyone that plays with him becomes better."
Mittelstadt draws players to him, Tkachuk drives to the net and bounces a shot off the goalie's pads, and Anderson, like always, is in the right spot to bang home the rebound. The exact description of the first power-play goal.
The exact description of a perfect line.
Motzko was hoping that was exactly what was going to happen.
"We made a switch," said Motzko. "We put Anderson on Casey's line. One, to get him going. And we put him on that power play, and it worked."
Typically, Anderson is in the right position to make the pass. In a year and a half at Duluth, Anderson only has 16 goals in 52 games, but also has 30 assists for a total of 46 points.
"He's a great passer," Mittelstadt said.
Anderson also has the unique experience of playing with his younger brother, Mikey, a defenseman, not only on this Team USA squad, but at Duluth where Mikey is a freshman.
"It's awesome," the elder Anderson said. "I love having him around me. He's someone I look up to a lot, and I know he looks up to me as well. We feed off each other. It's really nice having him here with me at the tournament. I think he helps me improve myself."
All together, there are five Duluth players in Buffalo.
When asked what the experience of this tournament can help with when they return to Northern Minnesota, Anderson said, "Winning tight games especially in the league I play in at Duluth in the NCHC. We have close games almost every night and you have to find ways to win those games, especially with having five guys off this team from there. It's big experience trying to win those tight games."
As Team USA heads into the playoff round, the line of perfection and Joey Anderson will play a pivotal role. They have the right chemistry. They play the proper roles. Their teamwork is impeccable. What about the personalities?
"He's an awesome guy," Tkachuk said of Anderson. "I feel really lucky to be playing with him."
Mittelstadt said: "We played together when we were seven to about 12 in the summers, and now we finally got back together. It was fun to be out there with him. It felt like old times. Obviously, I love playing with him."
Final box checked.