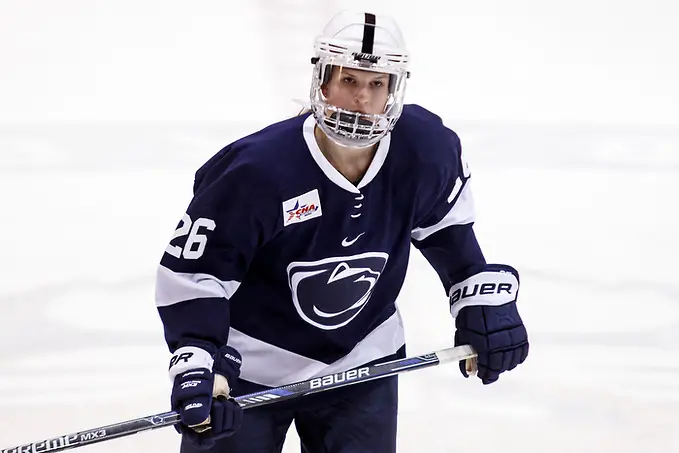 No. 2 Boston College vs. New Hampshire
Freshman Daryl Watts scored four goals and added an assist while Makenna Newkirk had four assists and a goal. Watts scored two short-handed tallies in the game to lead BC to a 6-0 win at home. On Saturday, the teams were tied after the first frame thanks to goals from BC's Kenzie Kent and New Hampshire's Nicole Dunbar. BC pulled away in the second thanks to a shorty from Kent, a power-play goal from Caitrin Lonergan, and an even-strength goal from Watts. Lonergan added an unassisted goal in the third to finish off the 5-1 win at New Hampshire and the home-and-home series win.
No. 4 Colgate at Quinnipiac
Raquel Pennoyer put Quinnipiac up 1-0 late in the first period and that held up until Malia Schneider scored a power-play goal with just more than nine minutes to go in the game. Megan Sullivan scored just 20 seconds into overtime to earn the 2-1 win for Colgate.
No. 4 Colgate at Princeton
Colgate had a 2-0 lead heading into the third thanks to goals from Megan Sullivan and Breanne Wilson-Bennett. Princeton responded to tie the game before the midway point of the final frame on goals from Stephanie Sucharda and Sharon Frankel. Jessie Eldridge scored the game-winning goals for Colgate with less than four minutes left in the game to earn the 3-2 win for the Raiders.
No. 5 Cornell at Princeton
Cornell outshot Princeton, 32-25, but it was Princeton that took the 5-2 win. Carly Bullock opened the scoring for the Tigers before Cornell responded with goals from Joie Phelps and Sarah Knee. From there, it was all Princeton. Stephanie Sucharda, Amanda Harris, Karlie Lund, and Keiko DeClerk scored four unanswered for the Tigers to earn them the win.
No. 5 Cornell at Quinnipiac
This game was all Quinnipiac from start to finish thanks to a stellar game from MacKenzie Lancaster, who scored twice and added an assist for the Bobcats. Melissa Samoskevich had two assists in the 4-0 Quinnipiac win.
Penn State at No. 7 Ohio State
On Friday, Penn State scored early in each period and had a 3-0 lead before Julianna Iafallo got Ohio State on the board. The Nittany Lions quickly shut down any comeback with two more third-period goals to earn the 5-1 upset win. Katie Ranklin led Penn State with two goals. The Buckeyes responded on Saturday, outshooting Penn State 41-24. Liz Schepers and Grace Zarzecki each scored for the Buckeyes in the 2-0 win.
No. 8 Providence at New Hampshire
Whitney Dove scored late in the second Friday, but otherwise this was a game decided in the third period. Kristina Shanahan tied it for Vermont just a few minutes into the final frame, but two goals and an assist from Brooke Boquist helped lead Providence to the 4-1 win on Saturday. On Sunday, Saana Valkama gave Vermont the lead into the third period, but Maureen Murphy tied it for Providence to earn a 1-1 tie.
Syracuse at No. 9 Robert Morris
Robert Morris got second-period goals from Maggie Lague, Caitlyn Sadowy, and Amber Rennie that helped power them to a 5-3 win over Syracuse on Friday. Alysha Burriss scored both goals for the Orange, while Natalie Marcuzzi and Rennie each had a goal and an assist in the win. On Saturday, Syracuse used two power-play goals to power them to a 4-2 win. Stephanie Grossi scored twice, and Brooke Avery had a goal and an assist for the Orange, while Sarah Lecavalier and Emily Curlett were the goal scorers for RMU.
Lindenwood at No. 10 St. Lawrence
On Friday, Nadine Edney has St. Lawrence up 1-0 after the first period. Lindenwood responded with goals from Hannah Alt and Megan Wagner before St. Lawrence reclaimed the lead before the end of the second with goals from Kayla Nielsen and Justine Reyes. It was a three-goal outburst from Lindenwood what would decide the come-from-behind upset win for Lindenwood. Cierra Paisley, Lilliam Marchant and Taylor Girard gave the Lions a 5-3 lead. Nielsen tried to close the gap, but it was not enough as Lindenwood won 5-4. Saturday's game was 1-1 until nearly midway through the third. Amanda McClure scored for St. Lawrence and Carla Goodwin tied it for Lindenwood in the first and that score lasted until Alt put Lindenwood ahead 2-1 with 12:18 to go in the game. Skylar Podvey tied it up for St. Lawrence with 2:39 and Justine Reyes earned the Saints the win in overtime.