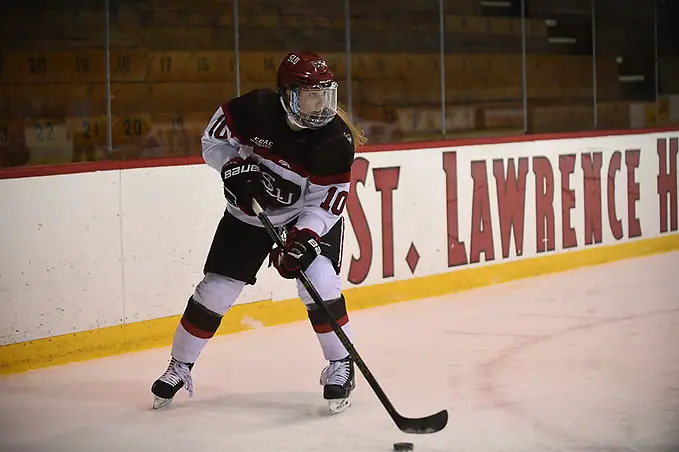 Candace: Well Nicole, the first full weekend of action saw a lot of surprises. Cornell dropped in the polls after losing to Quinnipiac and Princeton, No. 10 St. Lawrence fell out after losing to Lindenwood, and Ohio State continues its fall to Earth with a loss to Penn State.
Before delving into those topics, the big news in women's hockey came just before Christmas, when it was leaked that coach Robb Stauber had decided to cut Alex Carpenter and Megan Bozek from the U.S. Olympic team. Carpenter, a former Patty Kazmaier Award winner, led the team in goals at the Olympics in 2014, and Bozek was the leading scorer among blueliners. The U.S. had swept Canada in the Four Nations in November; right after that, Stauber tinkered with the roster, adding Sidney Morin and Haley Skarupa, and since then the U.S. hasn't beaten its rival. Stauber insists that the additions have added something missing to the team, but unless I'm missing something, consistently losing to the team you need to beat in the Olympics isn't what you should add.
Prior to cutting Bozek and Carpenter, Stauber had also released Annie Pankowski. I was very surprised by that move, but the cuts of Bozek and Carpenter are frankly stunning, and make no sense. It almost seams like Stauber and USA Hockey are trying to sabotage the team. USA Hockey is not known for being progressive when it comes to women's hockey, and in fact sometimes seems downright hostile.
What was your reaction to those cuts, and what does it mean for the team heading into the Olympics next month?
Nicole: Before I even delve into my personal feelings on the cuts and choices being made, I have to say that no matter what the real reason is for any of the things happening with the U.S. Women's Team right now, the optics of it are bad. The decisions have been contradictory, baffling, poorly timed, leaked, and generally confusing. No matter how much Stauber backpedals and insists that the team that was initially named wasn't ever meant to be "the team," it was heavily implied. The adding and cutting of players was unexpected and as you mentioned, doesn't seem to have equated to a better team. Frankly, if Morin, Skarupa, and Barnes are good enough to make this team, Stauber et. al are just showing how poor their initial choices were by not including them in the first place.
We're at the point where their fanbase is so unsure about the decisions being made that they're considering conspiracy theories and trying to find any explanation for what USA Hockey, Stauber, and Regan Carey are doing. Frankly, USAH didn't come out of the March boycotts with a great reputation. Their press releases and responses were laughable and half-assed, and they clearly thought they had the upper hand. Between that and this baffling lead in to Pyeongchang, I'm just so put off by pretty much anything attached to USA Hockey, and that's a damn shame.
When the rumors went to press a few weeks ago, I enumerated on Twitter the many, many reasons why excluding Carpenter is unfathomable. This staff never seemed to be able to find a spot for Carpenter, which says a lot more about them then it does about her. To be even in our critiques, I have a lot of questions about the decisions Hockey Canada made in regards to defense, and the reason I bring that up has to do with why Bozek likely could and should be crucial to the Americans. Bozek was literally clocked as having the hardest shot in the NWHL. Her blue line presence and her role on the power play are something no other player can provide. She and Lee Stecklein together provided a lot of physicality in front of the net, especially in front of a younger goaltending corps.
I could probably go on and on about this. You and I have thrown around all kinds of ideas in trying to wrap our heads around this. I'm probably too jaded at this point, but I have yet to come up with one that paints Stauber and USAH in a positive light. Am I just tilting at windmills? Do you have any advice for fans who are struggling to be optimistic with the games just a few weeks out?
Candace: Perhaps just to be hopeful? Honestly though, this is starting to feel like 2006 redux, when Ben Smith cut Cammi Granato and the U.S. then skated to its worst finish, losing to Sweden and earning a bronze. Granato was the heart of that team, and you could clearly see that without her, the U.S. squad struggled. Even if you bought Smith's rationale that she had gotten slow and was too old, Granato was still scoring, and her leadership alone was worth her presence in the locker room. When Granato was cut, Sue Merz, her former teammate, said, "This says to me that women's hockey means nothing to USA Hockey." These recent decisions seem to indicate that 12 years later, it's much of the same.
I will cop to being one of those who has questioned whether ulterior motivations are at play. Regardless, the way the U.S. squad has been treated this year has been abysmal. USA Hockey did everything in its power to break the boycott in the lead-up to the World Championships in April, and when it failed, the organization did not look good. These further decisions seem to reflect a pattern. Even if you could somehow rationalize cutting Carpenter, one of the top offensive players in the game, cutting Bozek and her strengths on the blue line makes no sense. The U.S. hasn't beaten Canada since Stauber started his moves. There is enough leadership in the locker room that the U.S. still could pull together, but if they do and beat Canada in the Olympics, it will be in spite of Stauber and USA Hockey, not because of them.
Let's move on to something else. I think the biggest surprise of the weekend was Cornell getting swept by Princeton and Quinnipiac. The Big Red looked awful, giving up five goals to the Tigers and four to the Bobcats. Going into the break, the Big Red had split with Colgate, but this past weekend could have put a dent in Cornell's march to the NCAA tournament. Do you think it's just a post-break letdown, or a sign of something more?
Nicole: Cornell has really struggled in ECAC play — at this moment, they're in the bottom half of the conference standings, which seems kind of unfathomable. Lucky for them, there's just four points separating them from the top of the table. I feel like a broken record, but it really underscores how really every point matters in a couple of these conferences for the final few weeks. There are a good half-dozen or so teams that I'd say can't afford to lose a conference game if they have their eye on the postseason, and Cornell is one of them.
Those losses underscore how important Marlene Boissonnault is to the Big Red's success. Freshman Lindsey Browning was in net for both of this weekend's losses, and her inexperience showed. Boissonnault was on Canada's roster for the U-22 Nations Cup to start the year and would have just returned from Fussen, Germany. We don't have any information about her status, but if she's unavailable for Cornell, I think we saw this weekend that the outlook for their season will look very different than it did.
Staying in the ECAC, I was shocked at St. Lawrence's weekend results against Lindenwood. The Lions took one of the games, and St. Lawrence needed overtime to win the other. Similar to the question you asked me about Cornell, do you think this was just a letdown, or a sign of something more?
Candace: I don't know if something more is right way to look at it. Perhaps it just points to the overall depth in the women's game. No longer can you have 1-2 stars and then a bunch of solid players and expect to have success. St. Lawrence has two legitimate top scorers in Kennedy Marchment and Hannah Miller, both seniors, and Justin Reyes has emerged as a scoring threat in her junior year, but after that line, the scoring drops off fairly precipitously. St. Lawrence is also struggling with a very young defense, with only one senior in Amanda McClure. Lydia Grauer is the only other upperclassman on the blue line; the rest are sophomores and freshmen. I think that inexperience is also reflected in the numbers of the goaltenders. Grace Harrison is having the worst year of her career, with a save percentage under .900. Goalies can't do everything; I think we are seeing that with Boston College as well, where Katie Burt's numbers in her senior year are the worst she's ever had, but BC is missing three starting defensemen to the Team USA roster for the Olympics.
St. Lawrence I think is still a dangerous team though; the Saints have wins over No. 5 Colgate and No. 2 Boston College. Like Cornell, St. Lawrence's next two weekends are against teams it should beat, and that could provide some momentum for the critical end-of-the-month series with Colgate and Cornell. To have any hope of returning to the NCAA tournament, St. Lawrence needs to win both of those games.
Still, I think a return to the NCAA tournament is a tall order at this point. The Saints are 11th in the PairWise and need to rise up to at least seventh to have a shot. I think they would need to make the ECAC tournament final to have a shot at that happening, and also not suffer any losses in the regular season, which is possible, but will be extremely difficult.
Speaking of the PairWise, Ohio State is still riding high because of its early-season results against Minnesota, but the Buckeyes have not looked like a top team in their last few outings. They got blasted by Penn State this past weekend, and prior to that had lost to Mercyhurst and had two ties against St. Cloud State. It's still hard for me to believe Ohio State is sitting at sixth in the PairWise, but if they keep splitting, they probably won't be. Freshmen Emma Maltais and Tatum Skaggs are still around the point-per-game mark in scoring, but Maddy Field's production has tailed off some. More critical is that the defense is giving up goals in bunches in some of its losses: six to Mercyhurst and five to Penn State. What's your take on the state of the Buckeyes?
Nicole: I'm with you in being a bit boggled by how the Buckeyes are still sitting so high up. Their season really does feel like a tale of two different teams. The one that's hitting the ice now doesn't really resemble the crew that was so dominant and confident early on. All the pieces seem to be there, but their inability to gel and work together seems to be frustrating coach Nadine Muzerall, whose post-game interviews often have her admitting she doesn't understand why the team isn't performing better.
We've seen they can be tough and successful, so it does seem like intangible pieces are missing, and that can be hard to diagnose or correct. Maybe it's just youth and inexperience. They made a splash this season, but hopefully what is happening in Columbus is more about building a new program than having a single outstanding season. You mentioned all their offensive tools, but it's defense where the Buckeyes are struggling. They have such a good goalie in Kassidy Sauve, but she's unable to do it all for them, even though she's looked like she could in years past. Even minimal improvement on D would make a big difference for OSU, I think. They've struggled with actually clearing the puck and with giving opponents multiple chances in front of the net. If they can tighten that up even just a little bit, I think it would make a difference for them.
Two teams currently sitting on the outside looking in on the PairWise are Maine and Providence, and both, I think, have the opportunity to move up. Maine finished with just 10 wins each of the last two seasons, but has already surpassed that. The Black Bears have lost just one game since November 4. Their upcoming schedule looks very winnable, but they finish the season with weekends at Providence and home against BC. Providence has been a bit more up and down, but really seems to be picking up steam.
Do you think either of these teams is more likely than the other to make a push for an at-large bid?
Candace: I think both have the potential. I liked what I saw of Providence when I saw them play BC. They play a fast, up-tempo game. Moving up though will likely be very difficult for the Friars because they lost twice to Cornell, so unless Ohio State falls farther, and/or Cornell loses enough to offeset its two wins over Providence, it will be extremely hard for the Friars to leap-frog Cornell into at-large position.
I liked what I saw of the Black Bears in sweeping Boston University on the road last weekend, and they have haven't lost in eight games, dating back to Nov. 18 against Northeastern, but Maine also has some results that hurt in PairWise comparisons, especially the loss to Dartmouth. The ties with Union and Vermont are also problematic. While much of their next few weeks look winnable, beating Merrimack three times and Connecticut and New Hampshire twice each, if they can pull it off, won't do much for their PairWise ranking. I'm also far from convinced that Maine can run the table in those seven games before the final weekend, when the Black Bears face Providence and BC for two each.
Ultimately, as I pointed out earlier this season, when Hockey East sends two teams to the NCAA tournament, it's more often than not because Boston College falters in the Hockey East tournament and someone else wins it and gets the concurrent autobid. I don't think either Providence or Maine is strong enough to beat the Eagles; both gave up a touchdown to the high-flying BC offense, and if BC can clamp down defensively the rest of the way as they did this weekend against New Hampshire, the Eagles will likely win the Hockey East tournament again.
Like Ohio State, Maine also has a split with Robert Morris. I thought the Colonials would build off last season, but that loss to Mercyhurst early in December may have made their path more difficult. The Colonials split with Syracuse over the weekend, and suddenly look vulnerable I think to all CHA teams. Given that Robert Morris is 10th in the PairWise, they need to win the CHA tournament to get into the NCAA tournament again, and that's not looking like a sure thing. What's your opinion on the Colonials right now?
Nicole: I'm a bit perplexed by Robert Morris at this point. Much like Ohio State, they had a strong early part of the season and had me convinced that not only were they going to coast through the CHA season, but that they might be able to make some waves in the postseason. They appeared stronger, more confident, and ready to try to take the next step after losing to Wisconsin in the first round last year. Now here we are and they aren't winning the series they should be winning, and Mercyhurst is just three points back with two games in hand. If Robert Morris wasn't already very concerned about Mercyhurst, they should be now.
The Colonials just frankly should be better than this right now. They have all the talent, they're putting shots on net, scoring, and defending. It leads me to believe this might be down to mental lapses, and that's just something they couldn't afford this year. Last year, they had the excuse of not having been there before, but this is a team that is largely returned after last season and knows what the stretch run takes. That they're stumbling here is confusing and a little disappointing.
Looking ahead, RMU heads to Ohio State, and that series should tell us quite a bit about the future of both of those teams that we've dissected here a bit. In Hockey East, BC has a pair with Northeastern, and Providence plays BU. Those look to be the most intriguing games this weekend. What will you be watching?
Candace: I'll definitely be look a the Hockey East series to see if a rival series with Northeastern can throw off Boston College, and whether Providence can continue to stay strong by beating what will be a desperate Boston University squad. I'm also curious to see whether Minnesota can start its second half with a strong performance. The Gophers host Vermont, so they should take that series. What are you interested in for this weekend and also going forward?
Nicole: I'll be interested in Harvard's two games this weekend against Colgate and Cornell to tell us a bit about how that program has rebounded this year. They're actually higher in ECAC standings right now than Cornell and are tied with St. Lawrence. They're sitting fourth, just three points out of the top spot. It's not that I think that the Crimson are going to make a run, but seeing how they've responded and how well they've done in conference compared to last year is nothing but a good sign for that program.
Next weekend we have Ohio State heading to Minnesota, and you can bet the Gophers will be up for that. The following week, Clarkson heads to Colgate and Cornell and BC faces Providence.