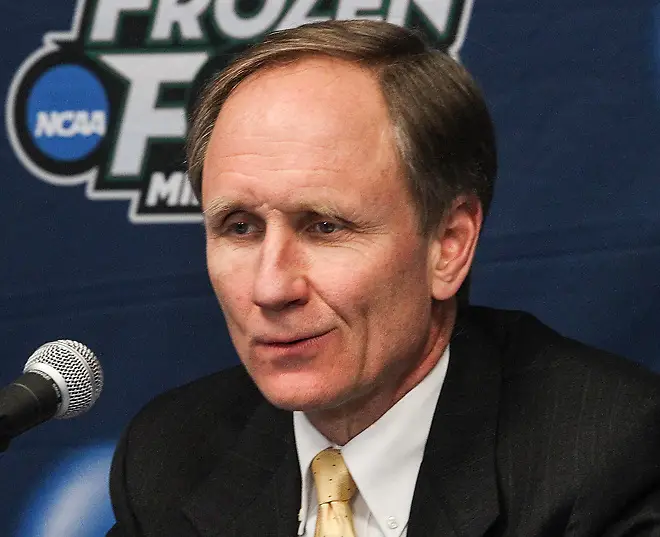 Brian Durocher has signed a long-term contract extension to remain as head coach of the Boston University women's team.
Durocher has been at the helm of the program since its inaugural season in 2005-06.
Currently in his 13th season behind the Terrier bench, Durocher has won more than 250 games and has averaged over 20 wins per season at BU. He has guided the Terriers to six NCAA tournament appearances, five Hockey East tournament titles, two league regular-season crowns and a trip to the national title game in 2011 and 2013.
In addition, Durocher has won a record 22 Hockey East playoff games.
"I am excited that Brian has agreed to continue leading our women's ice hockey program for many years to come," said BU assistant VP and director of athletics Drew Marrochello in a statement. "He has been not only an outstanding coach but also a terrific mentor to so many student-athletes. If you know Brian — and pretty much everyone affiliated with BU does because of how connected and devoted he is to our school — then it's no surprise that his players have been successful on the ice and in the classroom, and that success continues upon graduation. Brian's passion for his alma mater is second-to-none, and he remains an outstanding ambassador for our university."
"I am most thankful and appreciative that director of athletics Drew Marrochello and senior vice president Todd Klipp continue to believe in myself and the direction of our program," Durocher added. "The support over the past 14 years has paralleled the top women's ice hockey programs in the country. I also want to thank the outstanding coaches and support staff who have been instrumental in our success.
"Last and certainly not least, I want to thank the wonderful young ladies who have worn the scarlet and white for the Terriers. They are true ambassadors for this institution and the proud tradition of hockey at Boston University."
A 1978 graduate of BU, Durocher was inducted into the university's Scarlet Key Honor Society last September. The Scarlet Key is one of the most prestigious awards that the university can bestow upon someone.