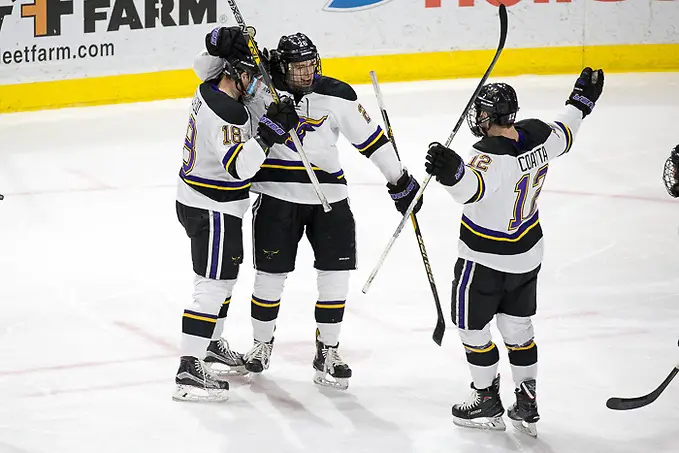 Each week during the season, we look at the big events and big games around Division I men's college hockey in Tuesday Morning Quarterback.
Paula: There's a new No. 1 this week, and even though the voters remain divided, 40 votes for Notre Dame is pretty solid.
Jimmy, I think this week it came down to two things. First, voters felt as though they can't ignore the 15-game win streak that the Fighting Irish have put together. Second, St. Cloud lost to Minnesota.
As you know, I've been voting the Irish at the top of my ballot for a while now. I have a healthy respect for winning streaks, no matter the team or the league. There was I think a correct perception that Notre Dame benefited from the move to the Big Ten as B1G hockey is not considered as consistently competitive top to bottom as is Hockey East. At some point, though, when a team puts together as many wins as has Notre Dame, there are other factors to consider.
Having seen the Irish play, I can say with confidence that Cale Morris is pretty amazing. while Michigan is still rebuilding, the Wolverines have some offense and really challenged him in Yost. Notre Dame doesn't play flashy hockey, but getting it done matters.
It's interesting that one loss to Minnesota, though, was the other deciding factor for poll voters regarding St. Cloud State – and speaks, again, to the perception of league strength.
Jim: As you kind of point out here, I think the vote to push Notre Dame to No. 1 says more about the 15-game winning streak than it does about a loss for St. Cloud State to Minnesota.
The reality is that Notre Dame's streak has gotten too impressive to ignore. The Irish remain perfect in the Big Ten and haven't dropped a game since before Halloween. One could gripe that many of their wins – including both against Michigan this weekend – have come with razor-thin margins. But that tells me this is a confident Notre Dame team that is learning how to win hockey games.
The only point of differentiation where St. Cloud State has the upper hand is the PairWise. While Notre Dame wins the "common opponents" criteria, St. Cloud State's RPI is still fractionally higher. Using the RPI to break the tie in criteria, the Huskies remain tops in the PairWise.
But right now, on the ice, Notre Dame's performances simply can't be overlooked and in the USCHO.com poll, it seems the voters are at the point where the majority agree.
On the other end of the poll is a team that has bumped its way in for the first time in a long time – Maine. The Black Bears have won six in a row and are riding an eight-game unbeaten streak. I see a lot of Hockey East games and will admit, I simply didn't see this one coming.
Paula: As I said, I respect a streak and I voted Maine into the poll last week as well, as the Black Bears haven't lost since their opening game of the Friendship Four.
I haven't seen them play at all, but I share your surprise as I've heard no buzz about them at all this season.
The bottom of the poll is really intriguing to me this week. For one thing, we have Maine and Miami tied for No. 20 and neither in the poll last week. Also, we have 21 teams in the poll with that tie. And there's the poll versus PairWise at play, something you've already mentioned and that we've discussed many times. As I've said, I see the poll as a snapshot of how teams and the overall field are faring right now, where the PWR gives us data of a different nature.
So you have Maine, a team riding a streak into the poll, and Miami, a team with wins over ranked teams in four of its five last series. There are seven teams in Hockey East with overall win percentages above .500, which is impressive. Then there's the NCHC, where every team in the league is above .500 overall. Granted, there are fewer teams in the NCHC than there are in Hockey East, but that alone is an interesting statistic. If the season ended at this very moment, going by the PWR, only Miami and Colorado College from the NCHC would miss the NCAA tournament – and Miami only because of Atlantic Hockey's playoff auto-bid. The strength of that league is hard for me to wrap my head around.
One more thing before I leave behind the discussion of streaks, too. Bemidji State has a sneaky little WCHA streak going, with six straight wins and an unbeaten streak of nine. I'm not the only one who noticed and threw the Beavers a vote this week.
Jim: Bemidji State is a pretty interesting team. Other than a tough middle of November where the Beavers were playing some of the WCHA's better opponents, this has been a good year top to bottom. They began 3-1-2 with a win and tie over Minnesota Duluth and a split with then-ranked Air Force. The only real lost weekend for Bemidji was against Minnesota State, a road sweep featuring losses by scores of 5-2 and 8-6.
That brings me to Minnesota State. I've tried to watch from a far to see if the Mavericks had staying power and thus far they seem to. They've risen to seventh in the PairWise and feature the second-best offense (behind only Penn State) and the seventh-best defense. Each year, I think we wonder if there will be a WCHA team that locks themselves up for an NCAA bid without winning their conference tournament and right now, Minnesota State is coming very close to doing just that.
A Tip of the Cap …
Paula: … to the Canadian and U.S. teams that captured medals in the 2018 IIHF World Junior Championship.
Team Canada captured its 17th gold medal and its first since the 2015 tournament, and it did so with three players from the NCAA: defensemen Cale Makar (Massachusetts) and Dante Fabbro (Boston University), and goaltender Colton Point (Colgate).
Team USA captured the bronze medal, earning the team a medal for the third straight year, a first-ever accomplishment by the team. The team's roster featured 19 current NCAA players. For the second year, the coaching staff was led by St. Cloud State coach Bob Motzko with four assistants currently coaching in the NCAA: Greg Brown (Boston College), Grant Potulny (Northern Michigan), Kris Mayotte (Providence) and Steve Miller (Ohio State).
Jim: This certainly was a special World Junior. Obviously with three collegians on Team Canada and taking home gold, it made it fun to pull for those guys. But the emergence of Finland as a tough competitor and the Czechs' strong showing also were enjoyable.
The back-to-back success of the Team USA coaching staff made many take notice and makes me wonder if that might change the structure of how staffs are selected going forward. This staff certainly understands how to succeed in this difficult event.