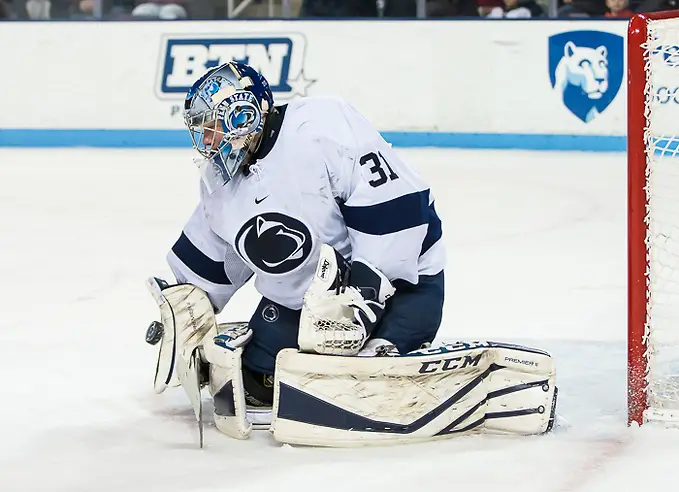 The Big Ten has its fair share of streaks going on right now.
Notre Dame has won 15 games in a row and has risen to the top of the national rankings and Ohio State has won six in a row, but don't forget about Penn State.
The Nittany Lions picked up a win and a tie with a conference-points shootout victory against Wisconsin and have not suffered a defeat in 10 games.
Both Penn State and Ohio State will put their streaks on the line this weekend when they play two games at Pegula Ice Arena.
Penn State coach Guy Gadowsky said the 10-game stretch highlights his team's depth, considering it was without top defenseman Erik Autio for a stretch. Sniper Denis Smirnov has also missed time this season.
"I think through all of this, really, what the coaching staff is really happy about is how well everybody has performed no matter who has been in the lineup," Gadowsky said. "We've had people fill in to score goals and people fill in to play great defense and I think that's been a big part of this."
The streak, which includes two-game sweeps of Arizona State and Robert Morris and a win and a tie against Michigan State, Ohio State and Wisconsin, came at a perfect time for the Nittany Lions. Penn State had started the season with a pedestrian 5-7-0 record and was coming off being swept at Notre Dame.
It wasn't the start a team coming off its first NCAA tournament appearance wanted.
"This is new for us, it's good to go through it once in terms of handling everything in terms of the expectations after coming off the ending that we did last year," Gadowsky said. "I don't think we handled it well, as a coaching staff we learned a lot. We're just getting back to doing what we do."
The head coach included the goaltending position when he was talking about team depth. Peyton Jones has made 19 starts this season and Chris Funkey has made three. Jones has made five starts in a row and seems to have settled down after what could be described as a rocky start. He has an 11-5-2 record and 2.95 GAA.
"Certainly, as of late, Peyton is really settling in and playing excellent hockey," Gadowsky said. "That's a prerequisite for all the teams that are doing well right now, I don't think there's any teams in Division I hockey that can have success without excellent goaltending because Division I hockey is so close and the parity is so good."
Gadowsky has often talked about Jones' even-keeled personality and the calming influence he has on the team.
"Lately, he's been as absolutely calm and poised and rock-solid as you can be," he said. "You never see much out of Peyton either way, but lately he's just been 100 percent calm and focused. Really the way he plays has been a huge part of our success lately, not just the pucks he stops. He's just such a calming influence on the entire team, I really believe that has a big effect on our team and not just the saves he makes."
Getting Autio, who was injured during the Arizona State series, back should help the Nittany Lions going forward. The senior was brought back into the fold for the Wisconsin series. He has two goals and six assists this season.
"The way we play, he just fits us so well," Gadowsky said of Autio. "He's a breakout machine. He just moves pucks as well, I might be a little bias, but better than any (defenseman) in the NCAA. For what we do and how we play and how our forwards want to play, when you have a guy like Erik Autio he makes our forwards' jobs way easier."
Autio was part of a very successful top-defensive pairing with Vince Pedrie last season. With Pedrie lost to the professional ranks this year, the Nittany Lions needed a replacement. That vacancy has been filled by freshman Cole Hults, who has played in all of the team's 22 games and has two goals and 13 assists.
"Vince Pedrie and Erik have a lot of synergy together and were very successful," Gadowsky said. "Obviously, we were trying to replace that and part of our attraction to Cole was he seemed very similar to Vince in the sense that they're a left-hand shot that can get up the ice and shoot really hard.
"He seemed like a really good substitute and now he's totally Cole Hults, he fits with Autio great within his own right. He does a lot of things exceptionally within his own right that has made them an excellent pair."
The Buckeyes started their six-game winning streak after dropping five of six conference points at home to Penn State.
So that means Gadowsky and the Nittany Lions hold the key to defeating Ohio State, right?
"You've got be really good," Gadowksy said with a laugh.
Fans should be in for a good strength-on-strength matchup this weekend. Penn State has the nation's top offense, which is averaging 4.09 goals per game. On the other side of the coin Ohio State has the No. 4 defense and is only giving up 2.05 goals per game.
"The thing about them is I think they're exceptionally coached because they have high-end talent that is playing in a system that is in the top-five in goals against," Gadowsky said. "So they've got the high-end talent that is playing a tremendous team-game right now. It makes they really difficult to play against at both ends of the ice."
Michigan State hopes to 'trust the process'
So far, 2018 has not been kind to Michigan State.
The Spartans lost four games during the first six days of the new year. They lost to Michigan Tech and Michigan at the Great Lakes Invitational and were swept at home by Ohio State last weekend.
Results aside, coach Danton Cole hopes that his players continue to trust the rebuilding process that is happening in East Lansing.
"It's a little bit like you're driving somewhere with your kids and they're in the back seat and they're screaming, 'Are we there yet? Are we there yet?'" Cole said at his weekly press conference. "No, we're not there yet, and we'll get there when we get there. We've tried to get (the players) to focus more on the process and the results will take care of themselves."
There have been some bright spots for Michigan State this season, including a 5-0 trouncing of rival Michigan at home and a 2-0 shutout victory over Wisconsin. The Spartans will travel to Madison for two games against the Badgers this weekend.
"They've had a little taste of success and sometimes when that happens it almost puts more pressure on you," Cole said. "We got done with the Great Lakes (Invitational) and in talking to the guys I said, 'Hey, we scored six goals in two games.' When we get to where we want to be defensively, not only will that be enough to win two games and win the Great Lakes, we're going to score more goals."
Three stars of the week
First star — Minnesota sophomore goaltender Mat Robson: Robson shutout top-ranked St. Cloud State for his second career victory and first career shutout on Sunday evening. He faced 34 shots in the game. This is his second career Big Ten weekly award.
Second star — Notre Dame sophomore goaltender Cale Morris: Morris picked up two wins against Michigan last weekend and helped Notre Dame extend its winning streak to 15 games. He stopped 35 shots in Friday's 2-1 victory and had 33 saves in Sunday's 2-1 win. This is his sixth career Big Ten weekly award.
Third star — Penn State sophomore forward Nate Sucese: Sucese picked up a hat trick in Penn State's 5-1 victory over Wisconsin on Friday. He added an assist during Saturday's 3-3 tie to extend his point streak to four games. This is his third career Big Ten weekly award.
B1G in the poll
No. 1 Notre Dame, No. 6 Ohio State, No. 9 Minnesota, No. 13 Penn State and No. 18 Wisconsin represent the Big Ten in this week's USCHO Division I Men's Poll.
My ballot
1. Notre Dame
2. St. Cloud State
3. Clarkson
4. Cornell
5. Ohio State
6. Denver
7. Minnesota State
8. North Dakota
9. Minnesota
10. Providence
11. Western Michigan
12. Penn State
13. Northeastern
14. Omaha
15. Boston College
16. Bowling Green
17. Minnesota Duluth
18. Wisconsin
19. Colgate
20. Maine
This week's matchups
Ohio State at Penn State (Friday and Saturday, Pegula Ice Arena)
Michigan at Minnesota (Friday and Saturday, 3M Arena at Mariucci)
Michigan State at Wisconsin (Friday and Saturday, Kohl Center)