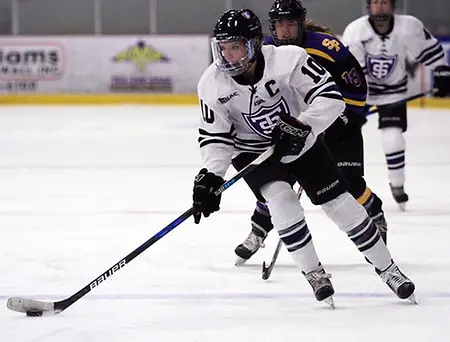 No matter how much planning they do, how diligent they are in recruiting, and how carefully crafted the roster is, there's still plenty that's out of the hands of coaches in terms of how successful a team will be. They can do their best to try and plan for the intangibles that will ultimately decide whether or not their team is successful, but just as often, a coach is surprised by how their team comes together and works cohesively.
Last season, two overtime conference tournament wins helped propel the No. 8 St. Thomas Tommies to their fourth straight NCAA tournament appearance. The Tommies have built a program that's become successful and recognizable on a national level. This year, coach Tom Palkowski knows his team isn't as deep as some he's coached in the past, but he's just as convinced they can be a contender on a national scale.
"The biggest thing I've enjoyed this year is the cohesiveness. Each and every year, the locker room changes. The identity of your team changes every year with who's in a leadership role. I'm really proud that this team really gets along great. With nine freshmen this year, to get everybody come together and get along, it makes life pretty easy, and it's fun to watch."
St. Thomas currently sits tied for second place in the MIAC with nine points, just one point back from Gustavus Adolphus and Hamline, who are currently atop the league standings.
Every conference, coach, and player thinks they play in the most difficult conference, but when Palkowski says the MIAC "is clearly the most competitive top to bottom," the stats seem to back him up.
Both Gustavus and St. Thomas are currently ranked, with Hamline and Augsburg receiving votes. NESCAC has two ranked teams in Connecticut College and Middlebury, with Hamilton receiving votes.
Six of the ten MIAC teams are at or above .500 in conference play. No other conference has more than five teams above that threshold.
As Palkowski put it, in the MIAC, there are "no free bingo spaces."
"With scoring being a premium … you need to battle and compete each and every period, each and every shift of every game. Whether it's a tie or a loss, every point is huge. It's great for our league."
That will be especially true for the Tommies this weekend, as they face one of their biggest tests of the season, a series with rival No. 5 Gustavus Adolphus.
These two have been conference foes for many years, and this will be the 48th all-time meeting between the two, with the Gusties holding an all-time record of 28-14-5 over St. Thomas. However, it's the Tommies who've dominated this rivalry in recent years — they're 6-3-1 over the past 10 meetings spanning the past four seasons. St. Thomas upset Gustavus in the MIAC conference championship last season with a 3-2 overtime win to earn the conference auto-bid to the NCAA tournament. When these two meet, its often a single goal that makes the difference.
"We've got a big series this weekend with Gustavus; hopefully, we can continue to improve a little bit in some areas and continue to be strong in the areas we've been strong in all year," said Palkowski. "It's been a big series for many, many years. For quite a few years, they'd gotten the better of us, and the past few years we've gotten the better of them. It's going to be a battle both nights. The little things tend to add up in games like that. It's going to be kind of a playoff-type atmosphere for a game in the middle of January."
Palkowski will be looking to senior Allie Borgstrom to lead St. Thomas this weekend, but he knows that's a burden she'll handle easily. Aside from being a team leader in the locker room, what Palkowski likes best about Borgstrom is how she leads by example.
Last season, when the Tommies were thin on defense, Borgstrom made the transition to the blue line. This year, a strong rookie defensive class allowed her to move back to her natural position, and she's made the transition smoothly — she leads the Tommies with 12 points. At any given moment, Palkowski believes Borgstrom is the best player on the ice, something he had coaches reinforce to him during the NCAA tournament. Being able to count on her vision and play makes the Tommies prepared for a push toward the postseason, even if they might not be as deep as they've been in the past.
St. Thomas will be focusing on the next shift — especially the first shift after a goal, for or against — to set the tone for the rest of their season. If they can continue to win those, they believe they'll have a good shot at controlling the tempo of the game and the outcome.
It's an interesting thought process and strategy, but one that Palkowski said helps them stay fairly even keel. It's one of his personality traits that he thinks has transferred to his program a bit over the years. Without too many high highs or low lows, the Tommies can focus on winning the small battles. The bigger wins will take care of themselves.