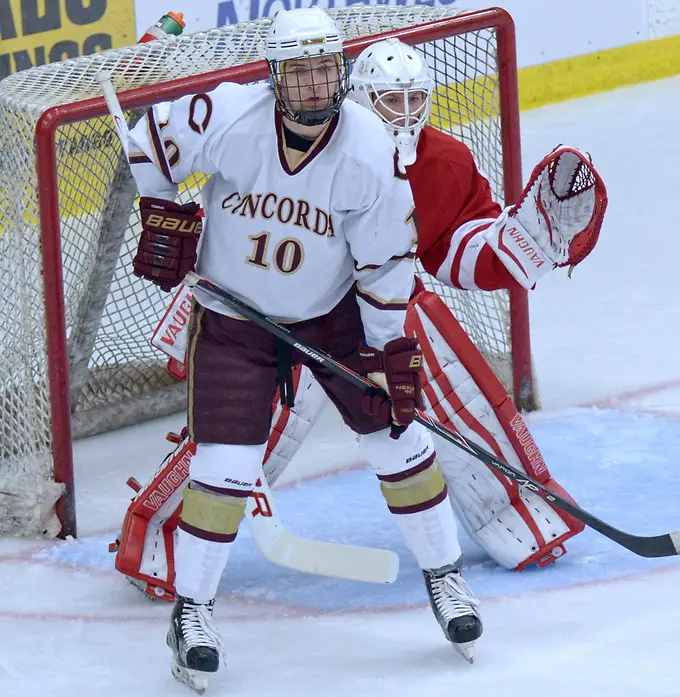 Zach Doerring is a star at Concordia. He leads the team in goals scored.
He's also an internet star after posting a video of him skating down his ice-covered road to the library to study for finals. The eight-second clip attracted more than a million viewers.
It all started when his car was blocked in the driveway by roommate and teammate Dalton Mills. Doerring went into the house to ask Mills to move his car, and the two talked about how the freezing rain left the roads icy. Doerring grabbed some skates. Mills hit record on his phone, and the video was posted to Doering's Twitter account.
Nearly a month after posting it, he still gets attention from it. Even on the ice.
"Some of the games I've been playing in, I'll line up against someone for a faceoff and the player will say, 'Hey man, I love your video,'" Doerring said. "It's funny that others talk about it. It's crazy how much it blew up."
Internet stardom aside, Doerring is tearing it up on the ice for the Cobbers this season. The senior forward has punched in nine goals and has dished out five assists as well. He ranks second on the team in points (14).
Doerring already has two more goals than he did all of last season and a total of 23 in his career.
"I am finding the back of the net more than in previous seasons," Doerring said. "I attribute that to the system and the guys I am playing with. It's been great so far. Our team has had some success, but we would like to have more."
Doerring also credits the fact that he is a veteran as a key to his success.
"I have more poise being a fourth-year player, and the game has definitely slowed down a lot since my freshman season," Doerring said. "I'm making smart decisions with the puck and playing my role on the team."
That includes being a leader for a Cobbers team that is 6-6-3 overall, 3-2-1 in the MIAC and has only six seniors on the roster. Doerring is a captain, along with Jon Grebosky and Bryan Kronberger.
"I'm definitely a lot more vocal," Doerring said. "In previous years, I'd sit back and listen and kind of made comments when needed. This year, I'm using my voice a lot more. I've shown leadership throughout my career on and off the ice, but this year, I'm showing it more."
Doerring is a third-generation legacy and can't say enough about what it's meant to play for the Cobbers while receiving a quality education. He is a physics major and plans to go to grad school for engineering.
"Concordia is a great school, and I've been pushed to be the best I can be in the classroom and on the ice," Doerring said.
Doerring is hoping he and his teammates can be at their best down the final stretch of the regular season and contend for the MIAC crown. The Cobbers are currently fourth in the highly competitive conference.
"We've solidified our lineup and are all playing our roles," Doerring said. "We have to treat our last 10 games like they are playoff games. These last 10 games, we have to treat them like game sevens. This conference is tight, and we have to be ready to play every night."
Quick hits
MIAC
Drew Otto scored an overtime goal to lift St. Olaf to a 6-5 win over Wisconsin-Stout last Friday night. The Oles overcame a 3-0 deficit to tie the score at 3-3 after two periods. The teams went into the OT tied at 5-5. Otto finished his night with a goal and an assist and has come up with five goals and six assists. … Saint Mary's suffered a 6-3 loss to Wisconsin-Superior Friday night. Jay Heinle tallied a goal and an assist. He leads the team in points (11) and assists (seven).
WIAC
Luke McElhenie scored two goals and also dished out two assists for Wisconsin-Stevens Point in its dominating 7-1 win over St. Olaf Tuesday. The win was the fifth in a row for the Pointers on a night when they scored five goals in the opening period. McElhenie is having a solid season, tallying eight goals and seven assists. He sits fourth on the team in points (15). … Zach Dyment made just his third start of the season Saturday night and was impressive in Wisconsin-Eau Claire's 2-1 win over Concordia. Dyment stopped 27 of the Cobbers' shots. The freshman has allowed only four goals in his three games in goal.
NCHA
Marian made program history Saturday night, winning its 10th game of the season with a 3-1 win over the Milwaukee School of Engineering. The Sabres are the fastest team in program history to get to 10 wins. Hunter Stewart was one of three to score a goal for Marian, punching in his ninth of the season. That total leads the team and proved to be the game-winner. The Sabres have won four consecutive games. … Trine continued its hot streak over the weekend, sweeping a series against King. The Thunder won 1-0 and 5-2 and have now won their last four games after an 0-9-2 start to the season. Brett Young recorded his first career shutout in Friday's win, and Corey Robertson was one of five to score on Saturday. Robinson's goal is his team-leading sixth of the year.
In the poll
St. Norbert is still the No. 1 team in the nation, while Wis.-Stevens Point has moved up to no. 3 this week. Adrian is ranked fourth, giving the West three teams in the top five.