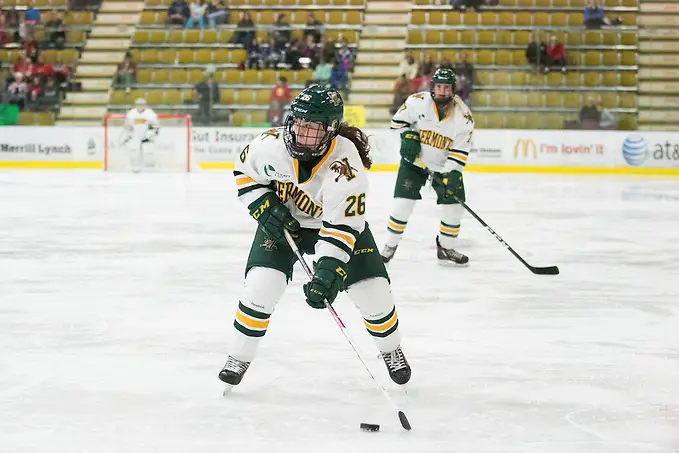 No. 1 Wisconsin vs Minnesota State
Six different Badgers scored for Wisconsin as they extended their home unbeaten streak to 23 games. Sam Cogan opened the scoring with the Badgers' first power-play goal in 25 tries. Abby Roque had two assists in the Badgers' win. On Sunday, Claudia Kepler led the Badgers with two goals as they rolled to a 4-0 win and weekend sweep. Kristen Campell recorded her fourth straight shutout and seventh of the year.
No. 2 Boston College vs. Northeastern
On Friday, the game was decided in the third period. The Huskies were up 1-0 after the first thanks to Lauren Kelly's goal. Makenna Newkirk tied the game in the second before Tori Sullivan, the former BC player, gave Northeastern the lead just 1:30 into the third. Cairtrin Lonergan tied it up two minutes later for Boston College, but that's when Northeastern began to pull away. Andrea Renner scored the game-winner and Taytum Clairmont secured the 4-2 win for the Huskies.
Toni Ann Miano had four goals for Boston College on Saturday, including the overtime game-winner, to earn the Eagles a 5-4 win. Shelby Harrington scored twice for Northeastern in the loss.
Rensselaer at No. 3 Clarkson
Michaela Pejzlová had Clarkson up 1-0 after the first period before Blake Orosz tied the game for RPI. Elizabeth Giguère put the Golden Knights up again just a minute later. Jamie Grigsby forced overtime with a goal just 1:09 before the final horn. Loren Gabel potted one just 19 seconds into the extra period to give Clarkson the win.
Union at No. 3 Clarkson
Union was able to score in each period, but a four-goal outburst in the third helped seal the Golden Knights' 7-3 win. Rhyen McGill and Kristy Pidgeon each scored twice and had an assist for Clarkson. Katelynn Russ, Caitlyn McLaren, and Mikayla Mori were the goal-scorers for Union.
Harvard at No. 4 Colgate
These two traded goals until Colgate's Lauren Wildfang put the home team up 3-2 4:01 into the final frame. Colgate outshot Harvard, 38-27. Kat Hughes and Brooke Jovanovich scored for the Crimson.
Dartmouth at No. 4 Colgate
Bailey Larson and Shelby Perry put Colgate up in the first period, and they did not look back en route to a 4-1 win. Perry added another goal and Annika Zalewski also scored for the Raiders. Alyssa Baker was the lone goal-scorer for Dartmouth.
Vermont at No. 5 Minnesota
Vermont put just 11 shots on net Friday, but they made them count. Freshman Alyssa Holmes scored her first NCAA goals in a career game where she scored twice and added an assist. Taylor Flaherty and Eve Audrey Picard also scored for Vermont in the 4-2 win. Minnesota attempted to mount a comeback with third-period goals from Nicole Schammel and Sydney Baldwin, but it was not enough.
On Saturday, Vermont got on the board first with a goal from Mackenzie MacNeill just 55 seconds into the game. Olivia Knowles tied it up for Minnesota and the game would stay tied 1-1 until the third, when the Gophers erupted for five goals to earn a 6-1 win. Schammel led Minnesota with two goals and an assist.
Dartmouth at No. 6 Cornell
Cornell dominated the shots 31-17, and goals from Kristin O'Neill and Sarah Knee gave the Big Red a 2-0 win.
Harvard at No. 6 Cornell
Cornell used three first-period goals to earn a 4-3 win over Harvard. Jamie Bourbonnais opened the scoring for the Big Red and Emma Buckles responded for the Crimson. Madlynne Mills and Kristin O'Neill gave Cornell the lead at the end of 20 minutes. Brianna Veerman extended the lead in the second and third-period goals from Kat Hughes and Becca Gilmore weren't enough to close the gap.
No. 7 Providence vs. Boston University
On Friday, Providence outshot BU 30-22, but it was all Terriers as Nara Elia led them with two goals en route to a 5-1 win. Victoria Bach, Reagan Rust, and Jesse Compher also scored for Boston University. Brooke Boquist scored the lone goal for Providence. The Friars used a two-goal first period and three-goal third period to power themselves to a 6-3 win. Maureen Murphy scored three times for Providence. Victoria Bach and Rebecca Leslie each had a goal and an assist for Boston University.
No. 9 Robert Morris vs No. 8 Ohio State
Friday's game was all Ohio State as the Buckeyes cruised to a 5-0 win at home. Tatum Skaggs scored twice and added an assist, while Emma Maltais had a goal and an assist in the win. Robert Morris outshot Ohio State, 46-21, on Saturday, but it was the Buckeyes that earned the weekend sweep with a 5-2 win. Charly Dahlquist scored twice and had an assist in the first to help lead the Buckeyes. Amanda Pantaleo led the Colonials with two assists.
No. 10 Maine at Merrimack
Five different players scored for Maine in this 5-1 win. Tereza Vanišová led the Black Bears with a goal and two assists and Anna Zíková had three assists. Katelyn Rae was the lone goal-scorer for Merrimack.