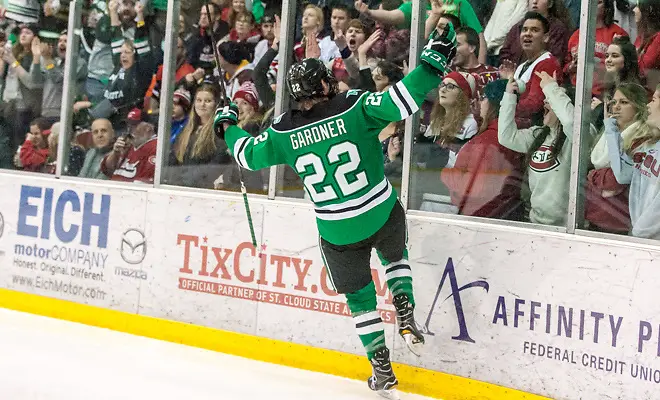 Starting the second half of the season in the friendly confines of Ralph Engelstad Arena would have seemed to be the best of all possible scenarios for North Dakota.
However, a 4-1 loss to Omaha in the first game of the second half threw a wrench in that plan. In three games at home, the Fighting Hawks have only gone 1-1-1.
As coach Brad Berry is quick to point out, though, some of that is due to the caliber of opponents.
Regardless, the loss to Omaha served as a reminder to his young team.
"I don't know if it was a wakeup call, but it kind of reminded us on how we have to play home or on the road," said Berry. "We had a hungry Omaha team, and it seems like every team that we play is playing red-hot at the time. You see what Omaha has done in the past few weeks. They came in and we were second on puck battles, we didn't play with a lot of pace, which usually we do, and then that's what happens. Then the next night, took a couple of players out of the lineup, switched our 'D' around, and Cam Johnson backed up Peter Thome, so we made a lot of lineup changes, which kind of resonated with our group and ended up winning 7-0 and kind of played vastly different from Friday night. Like I said, those games we had on Friday, we haven't had a whole lot of those."
Last weekend, North Dakota turned in a dominant 5-1 victory over Bemidji State on Friday, but Saturday could only muster a 2-2 tie, in part due to the play of Beavers goalie Michael Bitzer.
"Well, looking back at it against Bemidji, previous nine games playing them, tying three, winning six, we knew we had a tough opponent," said Berry. "They don't give up much offensively. They're led by Michael Bitzer, a top senior goaltender there, and we knew goals would be tough to come by, and I thought we generated a lot of offensive opportunities on Friday night, both power play and five-on-five, and we made the most of them. On Saturday night, we came home and we outshot them 12-3 in the first period and had five grade-A opportunities. We didn't capitalize on our chances in the first period and limited them to 16 shots in regulation time. So we didn't give up a whole lot, but didn't capitalize on our chances, and I think that was the difference in the game. Michael Bitzer played an unbelievable game."
North Dakota's offense has been inconsistent so far this season. In its two wins in the second half, the Hawks have scored nine goals; in the loss and tie, they have two goals. Even back to October, that inconsistent offense has been an issue.
Part of that could be losing two world-class forwards to the NHL in Brock Boeser and Tyson Jost. However, North Dakota doesn't have a single player averaging a point per game. Shane Gersich, who led the team in scoring last year with nearly a point a game, is down to .67 points per game.
"That's kind of a loaded question, but with Gersich and (Austin) Poganski, they've been playing the right way the whole year," said Berry. "Statistically, it hasn't shown for them as far as getting rewarded for how hard they've worked and what they're doing on a daily basis. As of late, it's coming a little bit better for them as far as scoring goals and getting offense for them. As far as us playing more defensively to compensate for it, I don't think so. We have a mindset here at North Dakota of hard play away from the puck, and we do that practice, we do that in games, and so that's just a staple of ours. That's how we play. We try to suffocate teams and not give them a lot of offensive opportunities."
This weekend, the Hawks are on the road against a resurgent Minnesota Duluth, a team that Berry feels has a lot of similarities to his.
"I mean, I think the first thing that leads into this weekend is both teams are vastly different from last year," said Berry. "They lost a lot of players, impactful players, and so did we. I think both teams were building their teams through the first half. They had some injuries the first half, so did we, and I think everybody is back in their lineup now, and they've got a group that has grown through the first half and is playing really good hockey right now. We're the same way. It should make a great weekend here, and every time that we play against each other I think both teams match each other as far as how they practice, how they play, and their mindset as far as the compete and mentality, so it should make for a great weekend."
St. Cloud looking to establish post-holiday consistency
Heading into the break, St. Cloud State was one of the hottest teams in the country, ranked No. 1 with a 12-2-1 record.
Since the break, the Huskies have struggled out of the gate, going 2-2-2. Some of that can be attributed to coach Bob Motzko being out at the World Junior Championship, but not all. This weekend against Western Michigan, the team gave up 11 goals in two games in a hard-fought split at home.
"We're just a tad off, and that's been our team," said Motzko. "We're 2-2-2 since Christmas, and you know also give credit to the teams we played that played very well. We're in dire need of just getting back to strong detail in our game. One thing that's hurt us, and I was told in Princeton and I can tell you from discipline is we took some very uncharacteristic penalties. And that led us to some goals-against on the penalty kill; so discipline. and we've got to tighten up our game.
"You do get off kilter when you take your two weeks off at Christmas, and I think we just need to get back to some strong practices and get back to good habits."
Against Western, both games were back and forth, with St. Cloud unable to hold a lead in either game. Saturday, they won 4-3 on a late goal after giving up a tying power-play goal at 11:14 of the third. Friday, they had a 3-1 lead at the end of the first, but gave up four goals in the second en route to a 7-5 loss.
"I like how we battled," said Motzko. "We were not on top of our game this weekend. You know, we're coming off an emotional weekend with Minnesota. (The break is) going to roll around, and it rolls around on your schedule every year. We had to battle through very slow starts. We stuck with it on Saturday, and it wasn't easy for us. Western played very hard and very good. So, that's the positive that I take away, is we weren't playing our A game. We just stuck with it and battled through, and it was very important. It was very easily a game we could have lost, and our guys battled through it."
One of the positives for St. Cloud has been the production of junior forward Mikey Eyssimont, who since the beginning of December has come on strong. He had a three-point night in a 5-2 win over Minnesota two weeks ago, and a three-point night in Saturday's win against Western.
"Well, there's no question Mikey is finding the offense come a little more consistent right now, and like all great scorers, when you get on a little bit of a roll they start to feel that juice and get that confidence," said Motzko. "It's a great place for a scorer to be, and Christmas might have been just what he needed, take a little break and step away, come back and get hot, and we need that. We put him in a lot of key situations for us offensively with power play and minutes played, and it's coming at a great time to get him going in the second half."
This weekend, the Huskies only have one game, a Saturday contest as part of Hockey Day Minnesota against Minnesota State. The game will be indoors at the Herb Brooks National Hockey Center, but the women are playing outdoors earlier in the day against Minnesota Duluth on Lake George in St. Cloud.
"We just have to have a good week of practice again," said Motzko. "I was gone for a long stretch there. I'm anxious to get back and get a good routine going again and the fundamentals of our play. I'll tell you honestly that's all we're looking at right now is just a solid week of preparation and in our game, our detail, to get us going."
NCHC players of the week
Offensive player of the week — Jake Randolph, Omaha: Randolph recorded six points in leading Omaha to a weekend sweep of Miami. Friday, in an 11-7 win, he had four points on two goals and two assists while earning the game's second star. Saturday, he scored the second goal and assisted on the game-winner in a 4-3 win while earning the game's first star. He finished the series plus-1.
Defensive player of the week — Corey Schueneman, Western Michigan: Schueneman helped the Broncos to a weekend split with St. Cloud State. Friday, he had a goal and an assist in Western's 7-5 win, scoring on a power play to tie the game 3-3 and assisting on Western's fourth goal while finishing plus-2 and helping the penalty kill go seven-for-nine. Saturday, he had another goal and assist and blocked two shots.
Rookie of the week — Phil Knies, Miami: Knies had five points on the weekend. Friday, in an 11-7 loss, he had three pints, scoring Miami's third and fourth goals and assisting on a short-handed goal while finishing plus-2. Saturday, he scored twice in the third period and earned the game's third star. He finished the weekend plus-3.
Goaltender of the week — Cam Johnson, North Dakota: Johnson helped North Dakota to a win and tie against Bemidji State, only giving up three goals on the weekend. Friday, he made 28 saves in a 5-1 win on the road, including 15 in the third period. Saturday in a 2-2 tie, he made 18 saves. He finished the weekend with a 1.44 goals-against average and .939 save percentage. His win Friday was the 52nd of his career, moving him to a tie for sixth all-time at North Dakota.