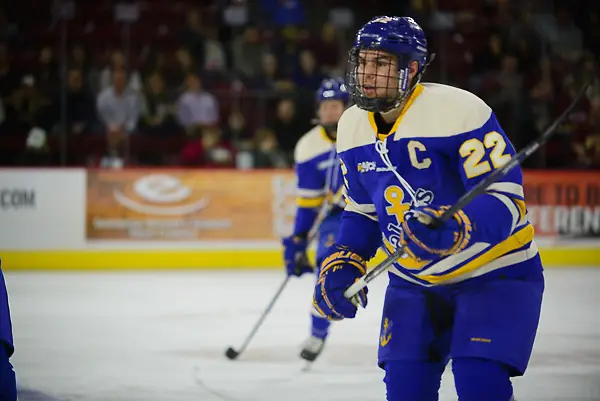 There is more than a month remaining in the regular season, but time is running short for Lake Superior State and Alaska Anchorage.
It might seem like an odd statement, but it's pretty close to reality for the ninth- and tenth-place teams in the WCHA.
For a quick refresher, the top eight teams make the playoffs and at this moment, the Seawolves and Lakers are dangerously close to falling too far behind before the calendar turns to February.
The Lakers have 15 points in 18 WCHA games, and are seven points out of playoff position. The Seawolves have 12 points in 16 league games, and only have two official NCAA wins (3-on-3 and shootout victories don't count) overall.
And both teams are heading into one of their biggest challenges of the season. The Lakers and Nanooks travel to a team in the top-three of the WCHA standings this weekend, and flip-flop opponents the following week.
It's four straight games where each team will be underdogs and if they don't get results, they officially could be left behind by before February.
That's the bad news.
The good news? Both teams have something to build on heading into high-pressure road series this weekend.
Lake Superior State defeated Ferris State 5-3 this past Saturday, winning for the first time since Dec. 2. On that same night, Anchorage defeated Alabama Huntsville 2-1, winning its first game since Nov. 4.
For the Seawolves it was they type of win they could build on heading to Bowling Green this weekend. In that 2-1 win Anchorage killed a pair of five-minute major penalties, and held strong in the third period when the Chargers pushed back with 13 shots.
"I was proud of our guy's effort," UAA coach Matt Thomas said after the win. "It was a gritty win. We had to kill penalties tonight, which makes the win even better."
Thomas won't be happy with major penalties against Bowling Green, who sits in third in the WCHA, but the coach can take solace in his team's penalty killing and ability to limit quality shots against Huntsville. Even late in the game, when the Chargers were holding the puck more often, the Seawolves defense did it's part in making sure goalie Olivier Mantha had a clean look at the puck.
Lake Superior State's recent win was a bit more electric — there were eight total goals, but it was a reminder that the Lakers are a dangerous offensive team, and they just need to even out their streakiness.
The Lakers have been shutout five times this season, but they've also scored four goals or more in five games. As a team with six double-digit point producers, there is an offensive arsenal, it just needs to click more often.
That's the Lakers lesson heading into this weekend against Northern Michigan, which recently jumped into second in the league standings — come out firing like they did when they scored three goals in the first period against Ferris State.
At this point the WCHA looks like a well-defined layered cake with three tiers. Three teams are already virtual locks to host first-round series, while five after that are clawing their way for the final home-ice advantage.
And at the bottom, it's the the Lakers and Seawolves.
They can't change that in one weekend, but they can start a key climb, and they have to, if they want to be playing after February.
While we are talking about playoffs, the Lake Superior-Northern Michigan tilt also comes with a trophy on the line. The Cappo Cup is awarded each year to the winner of the rivalry series, and after the teams split a non-conference series back in October, the Lakers could win a championship of sorts and keep their WCHA playoff dreams within reaching distance in one weekend.
Mavs participating in Hockey Day Minnesota
Minnesota's annual celebration of "The State of Hockey" will have some WCHA flavor this season.
Minnesota State will participate in the daylong marathon of high school, college and pro hockey Saturday afternoon when they take on instate rivals St. Cloud State for a clash of top-10 teams.
The Hockey Day Minnesota event, rotated between Minnesota cities, is in St. Cloud this season. The day typically revolves around some outdoor games between area prep teams — this year's high school games are on Lake George in St. Cloud — along with college games featuring Minnesota teams.
The Mavericks and the Huskies won't be playing outdoors — they're playing inside at St. Cloud State's Herb Brooks National Hockey Center following women's game between SCSU and Minnesota Duluth — but it's the first time the MSU men's team has appeared in the showcase event, which has been going since 2007.
The Mavericks played the Huskies once already this season — they met for a single game on Oct. 7 for the teams' season openers in Mankato. The Huskies won that game 4-0, and up until last weekend it was the only time the Mavericks have been shut out all season. The Alaska Nanooks handed MSU its second shutout of the season on Friday, when they won 5-0 in Fairbanks.
It was near the end of MSU's two-week-long trek to Alaska, and any signs that the long journey was starting to wear on the Mavericks were dismissed the next night. MSU won 5-1, with Brad McClure scoring a pair of goals.
All told, the Mavericks finished their journey to the Last Frontier with a 3-1 record and, following Saturday's win, became the first WCHA team to clinch playoff spot. They have 45 points in 20 conference games.
However, MSU must turn its attention outside the conference for its next two games. After Saturday's matchup with St. Cloud the Mavericks finish up their non-league schedule with a single home game against Minnesota Duluth on Tuesday. The Mavericks also lost their other meeting with the Bulldogs this year, falling 3-1 in Duluth.
Those two games represent some of the final chances the WCHA has to improve its non-conference record. After these two contests, the only other out of conference games is a series between Arizona State and Michigan Tech in mid-February in Houghton.
Right now, WCHA teams are 17-35-7 against the rest of the country. Last season, the league was 17-48-5. Neither is ideal, but a few more victories here can at least up the win total and maybe give the league an outside chance at an at-large bid if things go its way.
Ice Chips
— Alabama Huntsville recently completed a two-week trip to Alaska. The Chargers went 2-2 on the weekend with a pair of splits, setting themselves up well for the season's final stretch. Perhaps more importantly about last weekend, however — that Alaska trip represented their final road trip of the season. The Chargers' strange schedule this season saw them start the year with four straight road series before playing at home. They then got three home series before hitting the road again — this time for six consecutive weekends (give or take a few weeks off for a bye and holidays). And now, following a bye this weekend, the Chargers won't have to leave Huntsville again this season. They play their final eight games at home as they push for a playoff appearance. They'll host, in order: Bemidji State, Northern Michigan, Minnesota State and Bowling Green to close out the regular season.
— Alaska's 5-0 shutout of Minnesota State last weekend was the first of the season for the Nanooks. Sophomore goaltender Anton Martinsson turned away 26 shots in the game to earn his first career shutout.
— Three times this season that Bowling Green has forced overtime with an extra-attacker goal in the final 90 seconds of regulation: Nov. 25 vs. Miami (Alec Rauhauser with 0:38 remaining), Dec. 2 vs. Bemidji State (Lukas Craggs with 0:54 remaining) and last Saturday at Northern Michigan (Cameron Wright with 1:29 remaining).
— Bemidji State lost and tied against North Dakota last weekend to close out its nonconference slate. The Beavers were led offensively by senior Kyle Bauman, who scored the Beavers' lone goal Friday and added an assist Saturday. Bauman has at least a point in each of BSU's last five games. He currently leads BSU with 26 points (9g-17a) and is now tied with Minnesota State's Zeb Knutson for second in the conference in scoring.
— Northern Michigan went a perfect 4-for-4 on the power-play to open up a sweep against Bowling Green, including a pair of man-advantage goals by Troy Loggins, to win the opener 5-2. Darien Craighead's second-period power-play goal stood as the game-winner in the first game.
Players Of The Week
Northern Michigan junior Troy Loggins (Offensive), Alaska senior Zach Frye (Defensive), Northern Michigan junior Atte Tolvanen (Goaltender) and Ferris State freshman forward Coale Norris (Rookie).