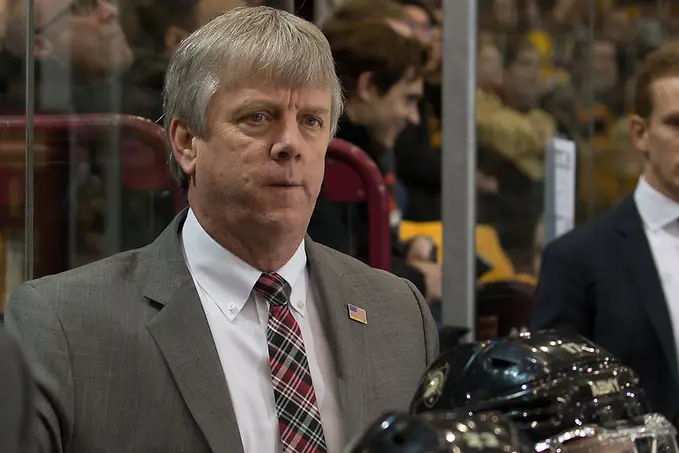 October kicked off the 2017-18 season with an expected face atop the Atlantic Hockey standings.
Army West Point sat on top, 13 points in its back pocket. The Black Knights swept their archrival Air Force for the first time in 14 years, earning a shutout along the way. After splitting with Niagara the next week, it seemed like the academy was ready to grab the mantle as the league's darling.
The good times didn't last, however, and the season's second month saw the team fall back into the pack.
Following a strong showing around the holidays, however, Army is back, roaring into the second half with a head of steam following four points in three games and an undefeated start to January. On the heels of a three-point weekend against Bentley, it stands to reason that the Black Knights, with a home-loaded schedule on the horizon, could fast become, once again, Atlantic Hockey's team to watch.
"We were impressed with Bentley," Army coach Brian Riley said. "They were a little banged up and shorthanded, but we had to battle back three times on Friday night. We played one of our best first periods on Friday, but (Bentley goaltender Aidan Pelino) was great in goal, so we didn't score. I had that feeling that it was going to be a dogfight, and it was."
Playing at Tate Rink for the first time in over a month, the Black Knights earned a hard-fought tie in front of their home crowd. A shorthanded goal by Brendan Soucie knotted the game at 1-1 in the second period, and Blake Box's first of the season tied the game at 2-2 after Falcon goals. In the third period, Conor Andrle scored what became the game-tying goal after the team surrendered a go-ahead goal four minutes prior. The emotional lift set a tone for the rest of the weekend, and Army bulldozed Saturday night with a 4-0 victory.
"Bentley deserves credit," Riley said. "But I give credit to our guys too where we battled back three times. That led to Saturday where we felt like we needed to win. Our guys got back to playing that complete game, and it started with special teams."
The concept of a complete game seems to be a recurring theme around Atlantic Hockey. It feels, at times, like a cliche, and it can appear as one of those "coachspeak" buzzwords used in media sessions. But it's holding true, a lesson learned earlier in the year when Army slipped up following its six-win start.
West Point split with Niagara a week after sweeping Air Force on the road. The win on Friday wound up as the team's sixth of the season, but it wound up as the team's last AHC victory for the entire first half of the year. A one-point weekend against Holy Cross begat a tie at Sacred Heart, which in turn preceded a pointless weekend at Canisius. Just like that, the first place Black Knights were a team in the middle of the pack.
"When we were losing in November, we weren't playing poorly," Riley said. "We were just always doing something that wasn't going to put us in a position to be successful. We just weren't playing a complete game. If it's one thing we've learned, to win is such a fine line between that and losing. You have to find a way to play for 60 minutes in the league this year – 40 minutes, 50 minutes, and even 58 minutes might not cut it."
It's a lesson the Black Knights learned when they stepped out of conference play. Army beat nationally-ranked teams when it beat Colgate at home and New Hampshire on the road, and even two losses on the road at Minnesota provided valuable lessons applied when it hit the ice at Nassau Coliseum against Sacred Heart to start the second half.
"That was the toughest five-game stretch that we've had since I've been here," Riley said of the nonconference slate, which also included a game at Merrimack. "We played Colgate when they were nationally-ranked. UNH was nationally-ranked. Merrimack plays in a tough place at (Lawler Rink), and then there are two games at Minnesota. We felt that beating Colgate and UNH, then going out to Minnesota in a 1-0 game with four minutes to go gave our guys confidence that we can compete with these teams and have success.
"That was important because we were in a rough stretch going into those games. We came out of it a better team."
That better team is now poised for a second-half run aided by the potential of playing at home for virtually all of January. The Black Knights hosted Bentley last weekend, then remain at Tate Rink for the next four regular-season games. Eight of the team's 13 second-half games are within its friendly confines, finishing up the season with Sacred Heart at the end of February.
"It'll only be good if we can win some of these games," Riley said. "There's no guarantees. It's great to be at home, and we like playing in front of our fans, but we're going to have Mercyhurst for two and Niagara for two. They're very good teams. We're going to be pushed and challenged to find a way to play the right way to win hockey games. It's good to be at home, but we know that these are going to be big challenges."
The Black Knights are technically off this weekend, though they travel to Canada to play the Royal Military College on Saturday. They return to league play next week when they host the Lakers on Friday and Saturday nights.
USA vs. Canada
That Army West Point-RMC Rivalry that renews this weekend is one of the very best in all of sports.
First played in 1923, West Point holds a 45-29-7 advantage over the Paladins, who last won, 3-2, during the 2001-2002 season. Last year, the teams played at Tate Rink, combining for 73 shots en route to a 5-3 win for the United States.
This year's game shifts to Ontario, where RMC is 17-16-6 against West Point. The Black Knights currently hold a four game unbeaten streak in Kingston, going 3-0-1 as part of a 6-2-2 stretch since 1992.
It's officially an exhibition game, and it won't count towards anything in the NCAA hockey season. But that's merely a footnote. It's the longest-running international sporting event contested annually in the world, and it's a unique chapter in the United States-Canada hockey rivalry permeating throughout the Olympics and IIHF competition.
"This has been the longest rivalry Army hockey has had," Riley said. "It's not like some teams who play Canadian schools at the beginning of the year and call it an exhibition. Their whole school will be at the game. It's going to be great because the atmosphere will force you to be at the top of your game. And any time Americans and Canadians play each other, there's an intensity that comes with that game. It's a rivalry game that brings out the best in the guys that play in it."
Leaders, Not Followers
So about that whole 60-minutes thing. Just in case you still believe it's nothing more than "coachspeak," here's some stats that should rock your world.
Teams scoring first have a .653 winning percentage this season with 76 victories. 10 league teams are over .500, including Canisius, who at 9-0-1 is the only AHC team yet to lose after scoring first. The Golden Griffins are tied with Air Force for most victories; the Falcons are 9-2-1 after lighting the lamp first.
On the back end, teams leading after the second period are virtually assured of victory. AHC teams have led 96 times after the second period this season and have lost only six times with a 74-6-10 overall record. Over half of the league's teams are undefeated in that respect, led by Air Force's perfect 11-0 run.
Canisius and Bentley are both perfect, going 6-0 and 4-0, respectively. AIC, Army West Point, and Holy Cross, meanwhile are undefeated. The Crusaders and Black Knights both have seven victories but have tied twice and once, respectively, while AIC is 6-0-1 after two periods.
The remaining five teams split the six losses in a weird carousel or round robin. Sacred Heart led Mercyhurst, 2-1, but lost 3-2 in overtime. Mercyhurst led Canisius, 3-2, only to watch the Griffins rally for five goals in a 7-3 defeat. Canisius also beat Niagara, 4-2, after trailing 2-1, but the Purple Eagles rallied for a win over RIT by scoring twice in a 4-3 victory. RIT rallied past Robert Morris, 5-3, after trailing, 3-2.
For what it's worth, there's only one non-conference third period defeat; Niagara lost to Cornell, 5-4, after leading 3-1. It's hardly a stain, though, since the Big Red have a solid case and argument for the No. 1 overall ranking in the national polls.
It goes beyond that. AHC teams are 64-20-7 when leading at the end of the first. Canisius once again leads the pack at a perfect 6-0, but Air Force, Army West Point and Bentley only have one loss when leading after 20 minutes. Air Force and Robert Morris hold the most wins, with eight apiece.
There's a simple point here.
Teams have to score early, then compete for the rest of the game to put their opponents away. It might be stating the obvious, but it's a lot more beneficial to fight for the full 60 than to expect to rally down the stretch.
Exercise Your Right!
Fan voting is officially open for the 2018 Hobey Baker Memorial Award, allowing an annual rite of passage where fans can have their say to the selection committee. 74 players are on the ballot this year, with nine players from eight AHC schools represented.
Three of the AHC nominees are underclassmen, including AIC freshman Brennan Kapcheck. Sophomore Noah Delmas will represent Niagara, and junior Dylan McLaughlin was named out of Canisius. The remainder are all seniors – Brady Ferguson (RMU), Scott Pooley (Holy Cross), Derian Plouffe (Niagara), Kyle Schmidt (Bentley), Jack Riley (Mercyhurst) and Myles Powell (RIT).
Fan voting closes on March 4 when the field is cut to 10 finalists. Voting is available at the Hobey Baker Award website.
Players of the Week
Here's the latest, with help from the release from the league offices back here in the Bay State, where the weather doesn't seem to know if it wants to snow or be 50 degrees already.
Player of the Week – Holy Cross' Danny Lopez: Lopez had three goals and two assists as Holy Cross swept a weekend series against Sacred Heart.
Defensive Player of the Week – Canisius' Cameron Heath: Heath had two goals in AIC's 6-1 victory over the Yellow Jackets on Saturday. He added three blocked shots on the weekend.
Goalie of the Week – Air Force's Billy Christopoulos: The junior made 55 saves on the weekend to lead all AHC goaltenders in save percentage and goals against average. Saturday's win was also his first career shutout.
Rookie of the Week – Canisius' Grant Meyer: Meyer had three points in the Golden Griffins' win over Sacred Heart on Saturday. His first goal was the game's first, and his empty net goal sealed off the final victory for the club.