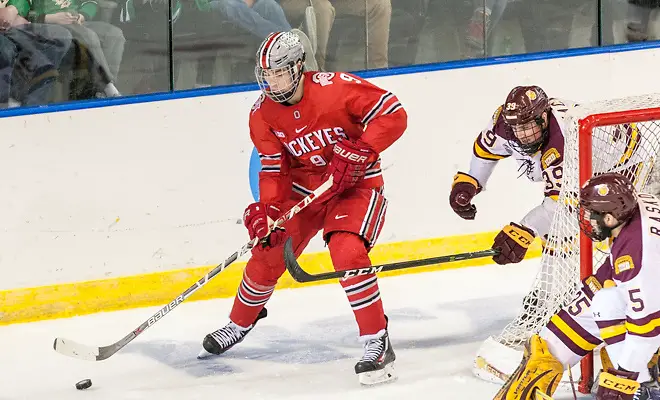 Over the past couple seasons, Ohio State has featured a competitive offense, but this year, the Buckeyes have unveiled a stout defense to accompany the scoring.
The Buckeyes and their fourth-ranked defense will welcome Michigan to Value City Arena this weekend for a two-game series.
Ohio State is averaging 2.12 goals allowed per game this season. Head coach Steve Rohlik attributed the uptick on the defensive side of the puck to Steve Miller and JB Bittner, who both joined his coaching staff last offseason.
"To be honest, it all started with sitting down with the new coaching staff," he said. "JB Bittner, Steve Miller and myself sat down and, you know, those guys had seen us play in the past and it was a new perspective on it just talking though things. We didn't want to change anything offensively but if we can buy in as a five-man unit and stay connected defensively to make it tougher on teams to score goals I think it gives a better chance day in and day out. That was the concept that we went forward with, we didn't have to change things we just had to buy in more and stay connected more, and not just our goalie or our defensemen."
The defense has bent at times this season, like the 5-2 defeat at the hands of Penn State in the last series the Buckeyes played, but always seems to rebound. This time the rebound effort was a solid 5-1 victory in Saturday night's game against the Nittany Lions.
"I thought both nights were closer than the scores (indicated)," Rohlik said of the series against Penn State. "Saturday, I thought our guys were relentless and determined. We did all the little things defensively and throughout all parts of the game to give ourselves the best chance to win. That's the way that you've got to play, you're probably not going to win a lot of games giving up five goals and our guys know that. It was a good bounce back on Saturday."
Ohio State scored four power-play goals against Penn State. If that unit can keep improving it should help the team improve its 23rd-ranked 2.00 goals per game.
"We didn't start out great (on the power play) in the beginning of the year but I think guys are starting to find a niche a little bit," Rohlik said. "Really, when you think about it, at every level the special teams really tell the tale of the tape. If you can win that special teams battle you'll probably give yourself a pretty good chance to win that hockey game. The power play and penalty kill are a huge part of that."
The Buckeyes had last weekend off and despite only playing one series since the holiday break, Rohlik said it was a good opportunity for the team to remain focused and "practice with the right habits." The Buckeyes will play four home games, four road games and then two more home games this season.
"Our focus is, obviously, one at a time starting with this Friday but to have a four-game homestand we have to take advantage and try and give it our best to play well from the first game on," Rohlik said.
Ohio State took care of business at Michigan in late November, winning 3-2 and 5-1, but the Wolverines have won four in a row coming into the weekend and have swept Minnesota and Penn State back-to-back.
"It's Michigan, they've got lots of skill and lots of speed," Rohlik said of Mel Pearson's squad. "They can get up and down the ice as well as anybody. It puts a lot of pressure on you, that's why you've got to stay disciplined in what you're doing. You can't just play loose.
"Certainly, when they've got a lot of young guys like (they do), they're going to continue to get better. You can see that from the beginning of the year to where they are now. Mel has done a tremendous job with that group and they're buying in to what they're doing. When you can do that and the young guys buy in, too, and that's what they're doing, you're going to continue to get better."
Badgers seek consistency after big win over Notre Dame
After its 5-0 win over Notre Dame at United Center on Sunday, a win that ended Notre Dame's 16-game winning streak, Wisconsin will seek to do something that it hasn't done since October; win consecutive games.
The Badgers will host Penn State this weekend.
"We just keep on demanding and keep on pushing forward," Wisconsin assistant coach Mark Osiecki said at the Badgers' Monday press conference. "At some point, it's going to lead to a little more consistent play, so you're not going to see the ebbs and flows. There's a been a lot of Friday nights that we don't play as well as we'd like of don't get the results that we would like and then the next night we turn around and play extremely well. You'd like to see that be a little more consistent."
The Badgers have also had a tough time finding consistency in net. Jack Berry picked up a 40-save shutout on Sunday against Notre Dame, but both him and Kyle Hayton have struggled to put up a string of strong performances. Berry has a 4-3-0 record and a 2.32 GAA. Hayton has an 8-9-3 record and a 2.77 GAA.
"It's kind of like our team right now, you don't know at times," Osiecki said. "You'd like to see the consistency from everybody, not just our goaltender or not just our defensemen, but everybody up and down the lineup. That's what a coach is always going to want from a player, whenever they're going to jump the boards you know what you're going to get."
Three stars of the week
First star – Michigan sophomore goaltender Hayden Lavigne: Lavigne backstopped Michigan to a sweep over Penn State last weekend. He stopped 34 shots in Friday's 4-0 victory and had a career-high 43 saves in Saturday's 3-2 win. This is his second career Big Ten weekly award.
Second star – Wisconsin sophomore goaltender Jack Berry: Berry stopped 40 shots in Sunday's 5-0 win over Notre Dame. This is his third career Big Ten weekly award.
Third star – Minnesota junior forward Brent Gates Jr.: Gates had four points last weekend and led the Gophers to a sweep of Michigan State. He had a pair of assists in Thursday's win and added a goal and assist at Madison Square Garden on Saturday. This is his second career Big Ten weekly award.
B1G in the poll
No. 1 Notre Dame, No. 6 Ohio State, No. 13 Minnesota, No. 14 Penn State, No. 17 Michigan and No. 18 Wisconsin represent the Big Ten in this week's USCHO.com Division I Men's Poll.
I asked Rohlik what it meant for the conference to have such a high percentage of teams represented in the poll.
"I give credit to all the coaching staffs," said Rohlik. "We know going into it that anybody can beat anybody, and it shows the quality of all seven teams. You add in Notre Dame in the mix and I certainly believe that we're confident that any team in our league can go out there and have an opportunity to win day in and day out. I think it's pushed each of our programs to continue to get better, and that's the key.
"We've come a long way and it shows where this league is going and it's pretty darn exciting."
My ballot
1. Notre Dame
2. Clarkson
3. Cornell
4. St. Cloud State
5. Denver
6. Ohio State
7. Minnesota State
8. Northeastern
9. Providence
10. North Dakota
11. Minnesota
12. Minnesota Duluth
13. Western Michigan
14. Penn State
15. Bowling Green
16. Boston College
17. Wisconsin
18. Omaha
19. Bemidji State
20. Michigan
This week's matchups
Michigan at Ohio State (Friday and Saturday, Value City Arena)
Notre Dame at Minnesota (Friday and Saturday, 3M Arena at Mariucci)
Penn State at Wisconsin (Friday and Saturday, Kohl Center)