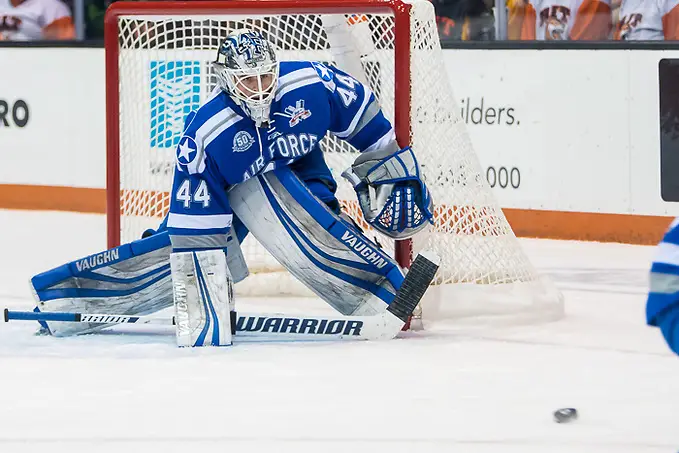 There are many unique aspects to athletics at the U.S. service academies, and unfortunately for Air Force, that meant the postponement of last Saturday's game between the Falcons and visiting Sacred Heart due to the government shutdown.
The teams had played the night before, with Sacred Heart coming out on top 2-1 to end a three-game winning streak for Frank Serratore's squad. The shutdown went into effect a few hours later. As things dragged on in Congress, the teams prepared for the second game on Saturday, hoping for a reprieve, but Congress wasn't able to reach an agreement in time.
A temporary settlement was reached Monday night.
"It is what it is," said Serratore. "It's not for me to say how or why. We had a team here but couldn't play. Our basketball team was already in Fresno, but couldn't play. It's above my pay grade."
Due to a different funding arrangement, Army West Point was able to play on Saturday, traveling to Canada for an exhibition game against the Royal Military Academy.
Air Force has a similar funding model for athletics, but according to Troy Garnhart, associate athletic director for information and communications at the Air Force Academy, it didn't allow for activities to take place in this situation.
"Our branch interpreted (the shutdown) as it applies to us differently than the other (service) branches," said Garnhart. "It' an interpretation of how the shutdown applies to national security."
The Falcons (11-11-3) were eager to get back on the ice after that tough Friday loss, where they dominated for long stretches, but could only beat SHU netminder Brett Magnus once.
"We out-chanced them 79-22," said Serratore. "They had 16 shots (on goal). They blocked 19 shots. I can't remember a time when a team had more blocks than shots."
A rash of injuries has made it difficult for the Falcons, who so far have lost 117 man-games to injury, including Jordan Himley and Tyler Ledford, who were both hurt over the Jan. 12-13 weekend in a pair of wins at Rochester Institute of Technology.
"(Injuries are) something you can't control," said Serratore. "When you look at guys that have been out, they're all-league guys, and you get to be all-league because you can put up points offensively. So we miss that.
"The good news is that we've got the largest roster we've ever had, and every guy has played. We've still got some healthy bodies to fill in the gaps. But that means you can struggle to score goals."
Junior Evan Giesler and senior Erik Baskin are the only skaters to have played in all 25 games for the Falcons. Giesler leads the Falcons in points (16), while Baskin's 10 goals are tops on the team.
Freshman Marshall Bowery has helped to pick up some of the load, scoring three of his four goals on the season in his last two games.
In net, junior Billy Christopolous is playing his best hockey of the season right now, allowing only five goals in his last five starts and posting a .958 save percentage over that span.
Air Force travels to Niagara (11-13-2) this weekend, looking to avenge a pair of home ice losses to the Purple Eagles back in early December.
"They're a big, strong team that can skate," said Serratore. "They manhandled us before Christmas. I like to think that we're playing better hockey since then. We took it to (Colorado College). The two games with Mercyhurst (1-0 loss and 5-1 win) we played well. And we battled through adversity at RIT."
Serratore says that while plans haven't been finalized, it looks like the game against Sacred Heart will be made up, most likely around Air Force's trip to Bentley in mid-February.
"We're thankful that the league is allowing us to make the game up and not having to forfeit," he said. "We will probably lose a home game, but it's out of our control."
Also out of Air Force's control is the threat of another shutdown, as Congress didn't resolve its budget impasse, instead putting in stopgap measures that extend funding until Feb. 8.
"I'd like to think we have a plan in place by then," said Serratore. "I'm optimistic."
Odd team out
Eleven teams means some odd scheduling, and that will continue to be the case down the stretch in Atlantic Hockey.
Here's what lies ahead for each team:
Air Force: The Falcons had the most uniform remaining schedule in the league, before the government shutdown forced a postponement of last Saturday's game with Sacred Heart. It will most likely be made up in mid-February.
American International: AIC will play just one game between Feb. 2 and Feb. 17 (on Tuesday, Feb. 6 at Mass-Lowell). The Yellow Jackets will play just three games over the final 17 days of the regular season.
Army West Point: The Blacks Knight had their final bye last weekend, when they traveled north of the boarder for an exhibition game with their Canadian counterparts, Royal Military Academy. It's smooth sailing from here on out, with 10 remaining games played over the final five weekends of the regular season.
Bentley: Bentley has just one game the final weekend of the regular season, a home game against AIC on Feb. 24.
Canisius: Nothing to see here. The Golden Griffins play every Friday and Saturday through the end of the season.
Holy Cross: The Crusaders will play just two games over the final two weeks of the regular season: Saturday Feb. 17 and Thursday, Feb 22. Both games are against AIC.
Mercyhurst: The Lakers are off the weekend of Feb. 2-3 and then play five games in nine days. That includes a makeup game with RIT that was postponed from late December due to weather.
Niagara: The Purple Eagles are off Feb. 16-17, the penultimate weekend of the regular season.
Rochester Institute of Technology: See Mercyhurst. That makeup game will have the Tigers playing five games in ten days in the middle of February.
Robert Morris: The scheduling challenges that remain for the Colonials aren't the dates they have left, but the times of some of their games. Over consecutive weekends at American International and Sacred Heart, RMU will play at 2:05 pm, 2:05 pm, 10:35 am (not a typo) and 2:05 pm.
Sacred Heart: The Pioneers have the weekend of Jan. 26-27 off before playing their final eight games over four weekends.
Most coaches will tell you that with the exception of needing a break to help players get healthy, they would prefer to roll through the season with few interruptions.
Having an even number of teams would of course prevent most of these challenges. The problem isn't unique to Atlantic Hockey. Hockey East also has 11 teams, while the Big Ten is comprised of seven schools for hockey.
Ten with ten
With the exception of Sacred Heart, this season's Atlantic Hockey rosters are dominated by upperclassmen. But several rookies have been able to make their mark.
Of the ten first-year players with at least ten points so far this season, four play for Sacred Heart (Marc Johnstone, Matt Tugnutt, Alex Bates and Jordan Kaplan), two for Bentley (Luke Santerno and Charlie Marchand) and one each for American International (Brennan Kapcheck), Canisius (Grant Meyer), Niagara (Eric Cooley) and RIT (Dan Willett).
Johnstone currently leads all Atlantic Hockey rookies in points (20). He's tied for 20th nationally among freshmen. Kapcheck's six goals is tied for second nationally among rookie defensemen.
Weekly Awards
Here's what the league came up with this week.
I'd throw in an honorable mention to Canisius's Dylan McLaughlin, who had two goals and two assists last Friday.
Also noteworthy was the performance turned in on Saturday by RIT goalie Ian Andriano, who stopped all 12 shots he faced for his first collegiate shutout.
Player of the Week –Derek Barach, Mercyhurst: Threes were wild for the junior forward last week. He posted three goals and three assists in three games to help the Lakers to a 2-0-1 record with a win over RIT and a win and tie against AIC.
Goalie of the Week –Brett Magnus, Sacred Heart: Magnus made at total of 75 saves in a pair of wins, a 4-2 victory against Bentley on Tuesday and a 2-1 win at Air Force on Friday. Friday's victory was the 30th career victory for the senior.
Defensive Player of the Week — Matt Abt, RIT: The senior blueliner had four assists in three games, including helpers on both RIT goals in a win over Canisius on Saturday. Abt now has 13 points on the season, second among Tiger blueliners.
Rookie of the Week — Brian Wilson, Niagara: Wilson posted his first career shutout last Saturday, stopping all 26 shots in a 6-0 win at Holy Cross. The rookie also stopped 25 of 27 shots in a losing effort on Friday. For the season, Wilson has a 2.65 GAA and a .905 save percentage.