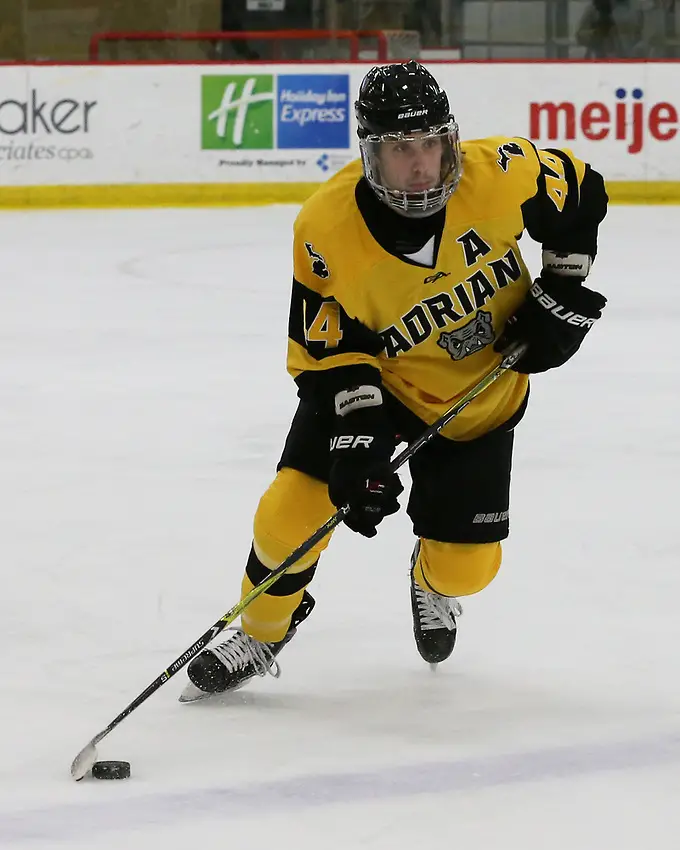 Cory Dunn isn't the biggest player on the ice. His coach, Adam Krug, calls him the biggest warrior on the team because of the toughness the two-time All-American defenseman brings to the ice.
"I've always been one of the smaller guys, and people have told me I'm too small to play; that's the one thing that drives me," Dunn said. "Being a smaller guy, I have to work that much harder and put my body on the line a little more to play at this level."
Anyone who thinks Dunn can't play this game at the NCAA Division III level is crazy. His stats prove as much. He has 72 assists in three seasons, including 20 this year, and he has punched in three goals as well. Dunn has 18 goals total his hockey career.
It's not about the stats, however. Sure, Dunn is thrilled with what he has accomplished up to this point, but he cares most about the way his team performs and what he can do to elevate that performance.
"My goal as a player is to do as much as I can for the team," Dunn said. "It's not necessarily about scoring goals as it is about making plays and being a leader on the ice."
Dunn has certainly achieved as much, as the Bulldogs are the top-ranked team in the USCHO.com poll and riding the high of a nine-game win streak.
"We feel pretty good about the way we are playing," Dunn said. "The big thing for us is to stick to our systems and trust the process. Our team has gone through some adversity, but we don't get too high or too low."
Adrian has scored nearly 100 goals, and 12 different players have tallied at least 11 points. Dunn is the team leader with 23. As if it's not enough that the Bulldogs have a potent offensive attack, they have one of the top goalies in the league as well in Kevin Entmaa, who has allowed just 20 goals in 12 starts. With so much talent, everyone's life is made easier, the pressure to rise up not resting on the shoulders of just one or two players.
"It's easy to go out and play and not have to worry about being the go-to guy," Dunn said. "We know that if one player isn't producing, someone else is going to step up. We play very well as a team."
Dunn is also a pretty good snowboarder, but those opportunities have been limited lately for the junior standout.
"Ever since I graduated from high school, I've taken a break from snowboarding," Dunn said. "Last year, I went one time because I missed it so much, but I didn't do anything crazy. It was just a casual ride."
Maybe down the road Dunn will get back to snowboarding. For now, his focus is on helping the Bulldogs take another shot at winning a national title. They were in the Frozen Four a year ago and fell a game short of playing for the title, losing 5-4 in overtime to Norwich.
"Last year was my first time there, and getting to that point was a great experience. We know what it's going to take to get back there," Dunn said. "We just have to stick to the process and work hard. Our team has been saying to get that much better every day. If we stick to that, we'll be in good shape."
Tight race in the MIAC
Three points separate the top four teams in the conference heading into the first weekend of February, and no team is hotter at the moment than St. Thomas, which has rattled off five consecutive victories and sits in second place with 22 points.
The Tommies have thrived off stellar defensive play, allowing only six goals during the win streak. They haven't been bad offensively either, scoring 19 goals. Johnny Panvica leads the way with 11 goals this season. He's dished out 11 assists as well.
Augsburg is still hanging onto the top spot in the conference with 24 points. The Auggies play their final four games of the season on the road. They are 6-5 in road games this season.
Gustavus Adolphus and Saint John's are tied for third in the conference standings. Both teams have 21 points, and a lot is still left to be decided for those two teams, especially with the two squaring off in the final weekend series of the regular season.
First win for Yellow Jackets
Wisconsin-Superior finally got its first WIAC win of the season, topping Wisconsin-Stout, 4-2, Friday night. The Yellow Jackets got two goals from Andrew Durham. His season total now stands at six.
Wis.-Superior is 8-9-2 overall and 1-2-1 in the conference and has already matched last season's win total. With one more win, the Yellow Jackets will have nine victories for the first time since the 2015-16 campaign. The Yellow Jackets need two more wins to get to double digits for the first time since 2013-14, when they won 11 games. They have four games remaining in the regular season.
Ian Ecklund leads the offense with 14 goals and eight assists. Daniel Litchke has 11 goals and 10 assists.
In the poll
The top three teams in the country are all from the West. Adrian remains the top-ranked team in the country, while Wisconsin-Stevens Point is ranked second. St. Norbert is third. They are the only three West teams ranked in the top 15 this week.