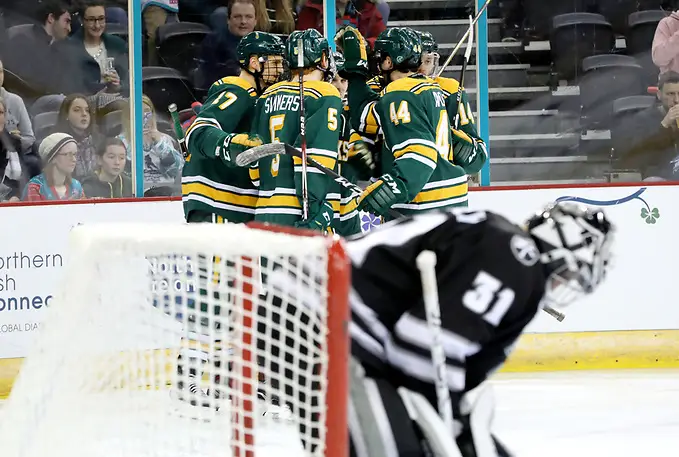 Things have been going great for Clarkson as the Golden Knights sit No. 3 in the current USCHO Poll with a 19-4-3 overall record.
After a 15-game unbeaten streak was snapped on Jan. 20 with a loss to Dartmouth, Clarkson got back to its winning ways last weekend with a 4-1 victory over Yale before skating to a 2-2 tie with Brown.
Still, the Golden Knights are feeling the ups and downs of the regular season like the other 11 teams in the conference as the calendar turns to February.
"We are battling sickness right now, but we are trying to grind through," Clarkson coach Casey Jones said. "It is what it is; we just have to grind through here. Teams are coming at us with everything they got. We need to play a little more complete right now, but we certainly played some games that we didn't get a 'W,' but we very easily could have."
He hopes the sickness bug, which has been hanging around the locker room the past two weekends, has run its course.
With the season the Golden Knights are having, one would expect to see a roster full of upperclassmen, but that's not exactly the case. They have nine freshmen and eight sophomores on the roster.
With 17 of the 27 players in their first two years of college hockey, Jones says his team hasn't hit a wall. He reiterates to his team from here on out that there won't be any easy games on the schedule.
"There's no one in our league that you can't play well and beat," Jones said. "That's a fact — our league is deep. It's a competitive league and it's well coached. On any given night, you can't expect not to have your depth going for you, not having all facets of your game, that your attention to detail and preparation isn't good. You aren't going to get away with that in our league."
Jones said both in the Dartmouth and Brown games, the Golden Knights had their chances offensively and they just couldn't capitalize.
Clarkson is 2-2 in one-goal games this season.
With Quinnipiac and Princeton on the docket this weekend, Jones hopes to get back to a simple game and tighten things up.
"It's a tough grind this time of the year," Jones said. "It gets tougher and tougher to win hockey games. We got to take another step here to make sure we are doing just to stick with our process and make sure that's the case. So be it if we have a good night and we do everything in our power to prepare properly, if somebody beats us, that's the game. We want to make sure we are doing things the proper way and preparing the proper way down the stretch."
Things don't need to change too much as the Golden Knights are averaging 3.38 goals per game, which is tied for eighth in the country. They are second in the country in goals allowed with 1.54 per game, only behind Cornell. The power play is fifth in the nation at 26.09 percent and the penalty kill is ninth at 85.33 percent.
Harvard trying to find the back of the net
In probably the most important weekend to date, the results weren't what Harvard was looking for last weekend against Cornell and Colgate.
The Crimson fell to the Big Red on Friday night 3-0 and the following night 2-0 to the Raiders. It was a chance for Harvard to close the gap on the top three in the standings, but are now six points behind Cornell, which has 25 points and five behind the Golden Knights for second place.
Harvard still remains in striking distance for third place as the Crimson sit one point behind Union.
For Harvard coach Ted Donato, his team needs to play with a little more hunger.
"Hopefully, we come out of it, but we need to find another gear, execute on the special teams better, and we got to find a way to play with a lot more conviction in front of the net," Donato said to the media after the Colgate game. "It's something we will get to work in practice this week. These kind of games can certainly suck the life out of a team when you go a weekend without scoring. You got a lot of guys who are use to putting up offense."
Harvard has scored 61 goals so far this season and Ryan Donato has been involved in nearly half of them as he has 20 goals and nine assists. The Crimson will have to find another player to go to for most of February as the Bruins' second-round draft pick in 2014 heads to South Korea to be a part of the United States Olympic Team.
Junior Lewis Zerter-Gossage and freshman Jack Baldini are tied for second with seven goals each. Even with losing his son for a couple weeks, Ted Donato knows it's that time of the season for the team to create opportunities.
"We will be soon, if we aren't there already, we will need to find a way to break through," Donato said last Saturday night. "You got to cause commotion in front of their net. Whether it's stuffing the puck or wrapping it around and creating some rebound opportunities. Maybe if we are a little bit crisper on the power play, we can create a couple more looks where we can get the goalie moving or get some rebounds."
Colton Point stopped all 51 shots in Colgate's 2-0 win Saturday, while Matthew Galajda stopped 35 shots on Friday in Cornell's victory.
Harvard starts the final month of the regular season traveling to Hanover, N.H., to face Dartmouth on Friday and then starts defense of the Beanpot on Monday facing Boston University.
Players of the Week
Cornell's Anthony Angello, who had a hat trick against Harvard and a total of four goals and an assist, was named the ECAC Player of the Week. Galajda was named ECAC's Rookie of the Week with the shutout over Harvard and a 3-1 victory over Dartmouth. St. Lawrence's Arthur Brey won Goaltender of the Week with wins over Brown and Yale, with the Yale win a shutout.