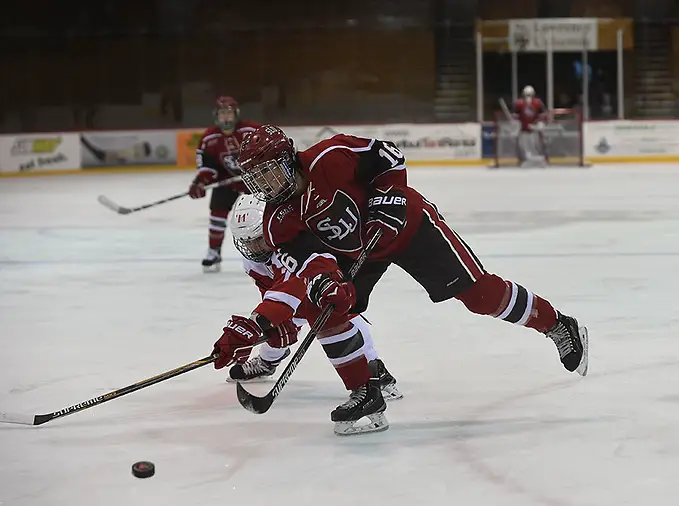 The St. Lawrence Saints returned to the NCAA tournament for the first time in five years last season. They had been a consistent presence in the postseason tournament, earning a bid every year from 2005-2009, but the 2012 appearance had been their last for a few seasons. With five Frozen Four appearances to their credit, St. Lawrence is a program that has been storied, but perhaps a bit dormant in the past few years. The Saints are looking to build on last season and create another legacy like the one from nearly a decade ago.
Last season's squad was an offensive behemoth, outscoring opponents 115-58 on the season and averaging 3.2 goals per game, good for seventh in the country.
That's not how this year's Saints are built. Despite returning a number of their top scorers, including Patty Kazmaier top-10 finalist Kennedy Marchment, St. Lawrence has put an increased emphasis on defense.
"Our team has more of an offensive flair last year; this year, we've kind of focused on the defensive aspect of our game," said Marchment. "Not many of our games have been very high scoring."
The new shift to a more defensive style hasn't been difficult to adapt to, she said.
"I don't think it's changed my game too much. From freshman year to senior year, I think my game has overall become a bit more defensive. Last year, there was a bit less pressure because we scored more goals and were a bit more successful around the net, but I don't think it's changed my game."
It's down to little things, like beating opponents to the puck and being able to use their speed to get out of the defensive zone and into transition. The Saints have focused on things like using the boards and their pace to break out.
The new style seems to have been tailor-made for rookie Skylar Podvey, who's currently seventh on the team in scoring as a defenseman. More of an offensive defenseman, something she feels is much more prevalent in the changing game of women's hockey, Podvey is listed at 5-foot-3, but her diminutive size is something she's turned into an advantage. She's able to sneak into plays without the opposing team noticing as easily, and she's learned how to adjust her training to help compensate for any limitations her lack of height might bring.
"I'm not your typical hockey player stature," she said. "Something that's always been extremely important to me since I don't have that height is just making sure that I'm just as strong. Quickness — being first to the puck, not losing battles, that's something you can control, regardless of how tall or small you are."
The evolving team philosophy toward defense has actually opened the ice for the blue liners to get more involved on the offensive end. Where last year's team got most of their scoring from the highly-talented top line, the burden is much more widely shared this season. With closer games and thinner margins, the focus on defense takes some pressure off the need to score. It also puts more focus on a team effort. Everyone is playing defense. They're getting back, marking up and generally making defense a team effort. That takes the pressure off players like Podvey and gives her more freedom to use her speed to get up the ice in transition.
Being able to contribute as a rookie has been important to Podvey's growth as a player.
"I definitely came into this season wanting to make an impact, even as a rookie," she said. "I wanted to come into this season in the best shape and put myself in the best position as possible. Girls are bigger, faster, and stronger. That was one of the biggest hurdles I had to get over."
The Saints just went through their toughest weekend of the year, falling to No. 2 Colgate and No. 6 Cornell. Now they head into the final six games of the season against teams that sit below them in ECAC standings.
Though the losses were difficult, Podvey said going through adversity is an important part of a successful season. They also serve as a challenge the Saints are willing to step up to, showing them the things they can focus on in practice through the final weeks of the regular season.
The Saints have maintained a top-four spot in the conference, something that was a goal for their season. Earning home ice for the ECAC playoffs is something Marchment said will be beneficial to the team.
Their next six opponents will be looking to push their way into better postseason position. Quinnipiac, Yale, Harvard, and Princeton all sit within six points of St. Lawrence and Cornell, who are tied at 21 points for the fourth spot in the ECAC right now.
If the last two games were challenging and provided a place to grow from, Marchment said the final three weeks will give the Saints the opportunity to grow and gain some confidence back heading into the postseason.
"These last six games are really important for our team to build momentum going into the playoffs," she said. "It would be nice to come out with a six-game win streak, which I think our team is capable of doing. No game is going to be easy."