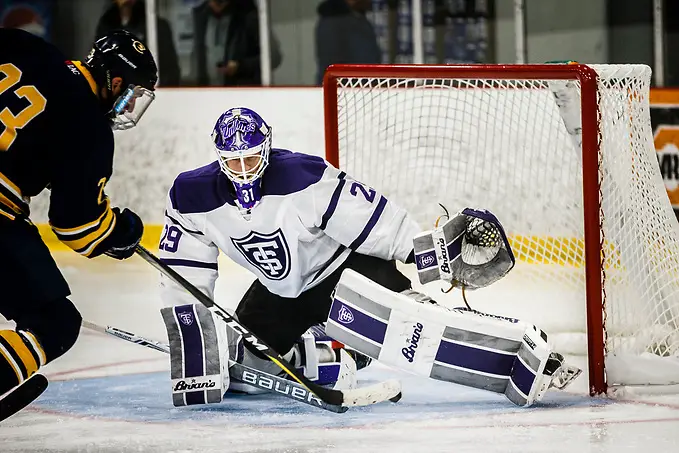 Benjamin Myers was an All-American a year ago. The St. Thomas goalie is on pace to be one again this season, but the hype surrounding him isn't something he puts too much stock into.Sure, he was humbled by the honor and appreciates the recognition, but he also knows that was last year. So he just goes out and does his job and does his part to keep the 13th-ranked Tommies in contention for the MIAC championship."Everything has stayed the same for me this season," Myers said. "I had a great season last year, and things are going well for me this year, but I give most of the credit to the defense and how we are playing as a team. Everyone is playing with confidence up front, and as long as they do their job, they trust that I'll do mine."Myers has started all 19 games this season in goal, fashioning a 1.83 goals-against average. He has 12 wins, four of which have come via shutout.His effort has been instrumental in helping the Tommies string together seven consecutive wins and climb to the top of the conference standings with a 9-2-1 record. They are 14-6-1 overall."It's been a good run," Myers said. "We started off slow because it took us time to find our identity, but we've embraced the success, and at the same time, we've stayed even keel. We're focused on taking it one game at a time."The junior out of Milwaukee has already matched his win total from a season ago and points to his mentality and consistency as the biggest improvements he has made this season."I've really improved the mental part of my game, and I've been more consistent," Myers said. "I feel like I'm more mentally prepared for games, and it's paying off."Myers has always loved the game of hockey, but he was a pretty good baseball player in high school, too, helping his team win a conference championship."I did think about playing baseball (in college) because my dad played a little college baseball," Myers said. "But as my senior year got underway, I paid more attention to hockey, and there were more opportunities there."Landing at St. Thomas after his junior hockey career was a decision he is glad he made."I'm definitely honored to be a part of this great program, and I'm getting a great education at the same time," Myers said. "It's awesome to wear the purple and play in the MIAC."St. Thomas has been dominant during its streak, winning twice by shutout and allowing just 10 goals in all. Offensively, Johnny Panvica has been a huge spark to the offense this year, punching in 13 goals to go along with 13 assists. Brett Gravelle has tallied 13 goals as well, while Cullen Willox has come through with 11.Four games remain on the schedule, including two this weekend against rival Saint John's. The rivalry is one of the best in all of college athletics, particularly in football, and the excitement and energy generated by it has carried over to the rink."I love the school spirit involved in it, and the fans have a good time with it," Myers said. "It's such a big series, and I love the atmosphere of it. I have a lot of fun playing in it."The Tommies lost in the MIAC tournament title game last year and didn't play in the NCAA tournament. They are hoping for a different outcome on both fronts this year."Our confidence is high, but we have to stay humble and put in the work because we are a workhorse team," Myers said. "If we lose sight of that, we lose our identity. We have to work to get better every day, and if we do that, good things will come our way."
Blugolds looking for strong finish
Wisconsin-Eau Claire has two games remaining in the regular season, including the finale against Wisconsin-Stevens Point, and currently sits in second place in the WIAC standings. They could tie for the regular-season title, but at the very least they are looking to stay in second place.Balance has been key to the Blugolds' success. Five players have at least 12 points, including Colton Wolter, who has four goals and 13 assists. Wis.-Eau Claire has tallied 69 goals in all and has scored five goals twice in its last three games.
Cross steps up for Sabres
Clay Cross racked up four assists in Marian's two games against Lawrence over the weekend, pushing his season total to eight. He has scored five goals as well this season for a Sabres team that has won its last five and is nationally ranked for the first time this year.Cross is only a sophomore and has made significant strides since last season when he scored five goals and dished out five assists. He played in a total of 26 games as a freshman and has appeared in 18 games this season.Already assured of a Harris Cup berth, Marian closes out its regular season with road games against St. Scholastica and Northland.
In the poll
Adrian, St. Norbert, and Wisconsin-Stevens Point remain the top three teams in the country. The Bulldogs received 16 first-place votes. The Green Knights, who are back up to No. 2 after sitting in third last week, and Pointers, who fell from second to third, received two points apiece. St. Thomas jumps into the poll this week at No. 13 in the country, and Marian checks in at No. 14 after being unranked last week.