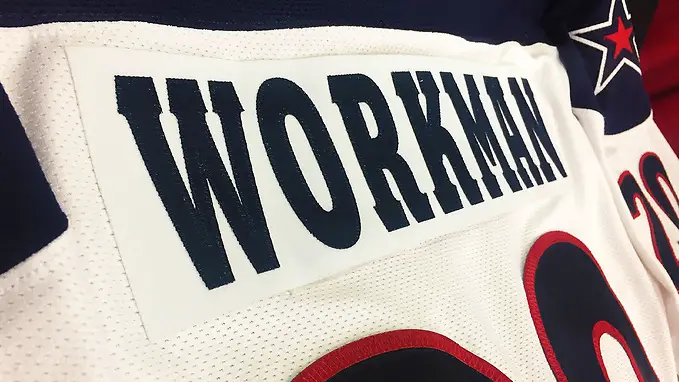 The Robert Morris men's team has been playing with former associate head coach Mark Workman on its mind and took to the ice for warmups on Friday night wearing nameplates recognizing him and his fight.
The Colonials recently learned that Workman was diagnosed with liver cancer just before the start of 2018 and has been undergoing treatments since the beginning of the year.
The news hit the Colonials staff and student-athletes hard, as Workman spent seven years with the Robert Morris program and played an integral part of not only coaching, but recruiting many of the current players.
"Like any good coach, Mark left a positive impact on the people he coached, recruited and worked with," said RMU coach Derek Schooley in a news release. "Robert Morris players, alumni and staff wanted to show our support for Mark and the guys felt this would be a tribute of support for him."
"When our team heard the news about Coach Workman, it was pretty shocking and tough for the guys to take in," added Robert Morris senior alternate captain Timmy Moore. "'Worky' coached our 2018 senior class for two seasons and he is the reason a lot of us are here at Robert Morris, doing a lot of the recruiting for the younger guys."
Workman began his tenure as an assistant coach at Robert Morris in 2009 and remained on the staff through the end of the 2015-16 season, spending his final three years at RMU as associate head coach. Workman departed the Colonials and joined the NHL's Vegas Golden Knights as an amateur scout, where he's worked the last two years.
During Workman's tenure, RMU reached its first NCAA tournament, winning the Atlantic Hockey postseason championship in 2014. The Colonials continued that success, winning regular-season league crowns in each of the next two seasons, setting a program record of 24 wins in back-to-back campaigns in 2014-15 and 2015-16.
The Colonials posted a 132-99-34 record from 2009-2016 while Workman was on staff.
"I really appreciate all the support from the RMU community," said Workman. "It really helps in this fight."
"Our thoughts and prayers are with Mark in this battle and we are looking forward to seeing him at a Colonials game in the future," Schooley added.
"Personally, 'Worky' is very close with my family and has always been willing to go above and beyond to help Evan and I," Moore said, acknowledging his older brother and 2016 graduate Evan Moore, who was a defenseman under Workman during his time at RMU.
"This is just a little something from the team and staff to show our support for him and that we are all behind him as he takes on this battle."