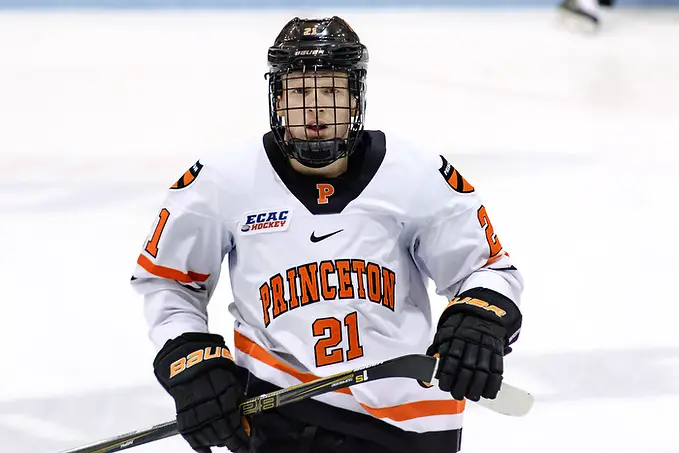 The expectations for Princeton were high coming into the 2017-18 season after a respectable seventh-place finish in 2016-17.
The coaches ranked the Tigers to finish fifth in the conference, while the media had slightly higher expectations as they slotted the Tigers to finish in fourth place.
There was a lot to like about the Tigers coming in with eight of their top scorers returning and four defensemen returning. The only question was if Princeton would find someone quickly enough in goal to replace Colton Phinney, who paid property taxes in the Tigers' crease with 6,413 minutes in four seasons.
And that's why they don't play the games on paper.
Ron Fogarty's squad looked like it was going to take a step back this season, as opposed to a step forward, as the Tigers got out to a 6-10-3 start to the season.
It may have taken a little over half the season, but the team on paper finally started to show up as Princeton is 5-1-0 in its past six games.
What has been the key to the turnaround?
"We have been taking care of the puck better in the neutral zone and getting more timely goals," Fogarty said. "We are still giving up a little too many against and another big component is our power play playing very well."
He also said the team has been doing a better job at the task at hand and not focusing on what happened in the previous game or looking ahead to the next game.
The Tigers have scored 29 goals in the six-game stretch, while the power play is fifth in the nation at 26.09 percent.
Some of those timely goals include Ryan Kuffner's tying and game-winning goal against St. Lawrence on Feb. 2. The following night, it was David Hallisey who got the tying marker and Reid Yochim with the game winner in a 4-3 win over third-ranked Clarkson.
With Max Véronneau (12 goals and 23 assists) and Hallisey (15 goals and 14 assists) most of the attention, Kuffner has been going quietly about his business with 19 goals and 14 assists.
"Ryan Kuffner has 19 goals – he's up there in (the nation) in goal scoring," Fogarty said. "He's someone in speaking in the media gets passed over, but he's very consistent in his play. He has a great shot and a knack for the net. We need him to score consistently down the stretch for us to be successful."
His 19 goals match last season's totals and puts him tied for seventh in the nation this season with Omaha's David Pope and Robbie Payne of Northern Michigan.
With getting 10 of 12 points the past three weeks, the Tigers have put themselves back in the conservation to host a first-round ECAC tournament series for the second year in a row. They're currently in a three-way tie with Dartmouth and Yale for sixth place with 17 points.
As the Tigers dug themselves an early-season hole, Fogarty feels like the season has been one long postseason run.
"It feels like we've been in playoffs since November with the ECAC," Fogarty chuckled. "It's so tough. Different teams bring different tendencies to the table each and every game, so you have to adjust. A sweep or getting swept feels like two or three places in the standings. It's a good preparation for the playoffs each and every weekend in the ECAC."
Princeton finishes the year with home games against Rensselaer and Union this weekend and on the road against Clarkson and St. Lawrence.
Colgate sees teams in their rear-view mirror
Colgate has been sitting comfortably in fifth place in the conference for most of the season.
With the playoffs around the corner, the Raiders are feeling the heat as four teams are within two points of them. Part of the reason with the log jam in the middle of the pack has been the play of the Raiders, as they are 2-6-1 since Jan. 13.
If you want to extrapolate it even more, they are 3-9-1 since the start of December. The answer may be found with how the roster was constructed this season. The team has five seniors and two of them are goaltenders that have served as backups. The Raiders only have five juniors on the roster.
"We're a little inconsistent, which has a lot to do with being young," Colgate coach Don Vaughan said after Friday's 5-2 loss to St. Lawrence to Colgate's athletic website. "We've put ourselves in a position to be playing at home in the playoffs, and that is good for this young team. People had us picked to finish last in the league. We're still battling, and we'll battle to the end and there's some hockey left to be played. Our goal is to play at home in the playoffs, and it's still there if we find a way to get some offense."
Unlike Princeton, Colgate's inconsistencies have been the ability to score goals. Their 67 goals this season is 55th in the nation, but 11th in the country among goals allowed with 69 so far this season.
If Colgate wants to host a first-round playoff series, the Raiders will need their leading scorer Bobby McMann to be on the top of his game. McMann had two goals in a 4-4 tie over Clarkson after going pointless in the previous three games.
"Obviously, Bobby McMann was a man among boys out there for a lot of tonight," Vaughan said after Saturday's game to Colgate's athletic website. "Our freshmen played well; [Trevor] Cosgrove was really good on the back end. It's not a win, but it feels like that sometimes. In the way we came back, it's a pretty special night for a lot of our guys."
Vaughan later said of McMann, who has 15 goals and nine assists this season, that this is the right time to heat up offensively.
"You hope that Bobby realizes what he's capable of doing," Vaughan said. "If it's going to come, this is the perfect time for it to happen. What we all saw just reinforced what he's capable of doing in a game. He can take it over and he did that tonight. He could have had the game-winner right after he tied it with the turnover right in the slot, he had the goalie dead to rights but just put it over the top of the net. He's a pretty special player."
Ted Donato heading to PyeongChang
The Olympics, for some, is a once-in-a-lifetime experience.
Who knows that statement better than current Harvard head coach Ted Donanto who donned the red, white and blue at the 1992 Games in Albertville, France, where the United States finished fourth, losing to Czechoslovakia in the bronze medal game?
Now with his son, Ryan, on this year's squad, he wasn't going to miss his son's moment in PyeongChang, even in if the Olympics are taking place during the tail end of the regular season.
As he said, some things in life trump being a coach.
"I am going to go down there on the weekend," Ted Donato told the media after 5-4 victory over Boston College in the Beanpot consolation game Monday. "I am trying to get over there in a spot where I wouldn't miss any of our games, just miss the practices. It's not exactly like heading over to Bajko Rink in Hyde Park (Massachusetts), in terms of travel time, but it's one of these events that happen in life that you need to be there for."
He will leave after the Crimson host St. Lawrence and Clarkson this weekend at home. He hopes to see at least one of Ryan's games next week before flying home for the final weekend of the regular season.
The quarterfinals begin next Wednesday.
His younger son, Jack, who scored his first collegiate goal in Monday's overtime victory, may be just pushing his father to leave earlier as it appears to be good luck to have a parent in the air flying to halfway across the globe.
"The first thing I thought of was mom (Jeannine), who would've been most excited, was probably somewhere over the North Pole on her flight over to South Korea," Ted Donato said on Monday. "She left (Monday) morning to go to South Korea. I was real happy for (Jack). He has worked hard, and it was nice. I thought he played an excellent game."
Players of the Week
Cornell freshman Matthew Galajda racked up the Rookie of Week and Goaltender of the Week honors with two shutouts. On Friday, he kept pucks out of the net in a scoreless draw with Clarkson. On Saturday, he backstopped the Big Red to a 1-0 win over St. Lawrence.
Dartmouth's Shane Sellar took home the Player of the Week honors with two goals and four assists on the weekend. Five of those points came in a 7-3 win over RPI, where he had two goals and a helper.