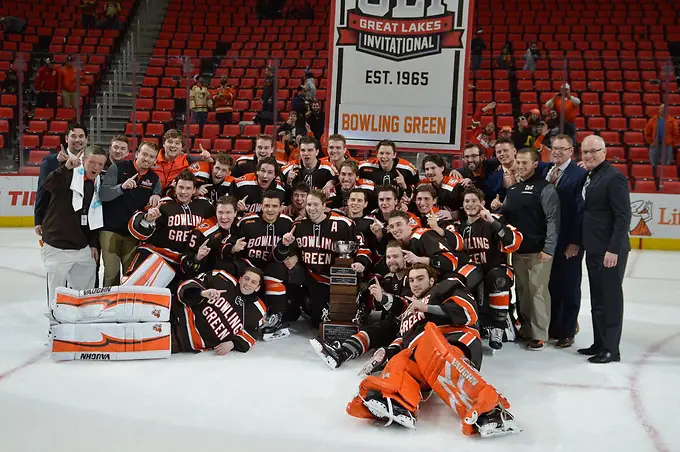 Other teams might have found last weekend agonizing.
Bowling Green, sitting in third place in the WCHA standings, had to sit and watch as both teams ahead of the Falcons in the race for the MacNaughton Cup title were in action.
The Falcons had a bye week, while first-place Northern Michigan and second-place Minnesota State both swept their series, furthering the distance between themselves and the Falcons with six valuable league points.
But BGSU coach Chris Bergeron didn't look at it that way.
For a team that's been playing non-stop since just after Christmas, the Falcons were glad for the rest. The bye week, he said, came at the perfect time for them to rest and relax. One Falcon player got the flu and a few others were nursing varying other illnesses and injuries last week.
The only negative, Bergeron said on his weekly coaches show, was having to stew about losing to Michigan Tech 4-0 at home back on Feb. 3.
"At this time of year, there's not many negatives, other than you want to get back on the ice to make amends for losing 4-0," Bergeron said. "But I think the positives outweigh the negatives, and that's rest. This group needed a rest. We've been playing a bunch of hockey since Dec. 28 and the beginning of the second half. We were dinged up a little bit. It's hopefully a recharge for what we want to be a good push here to finish our year."
Bowling Green (17-9-6) hits the ice again this week with a Thursday-Friday series against Alaska Anchorage. The Falcons left Tuesday for the Last Frontier and will be glad to get back on the ice after that 4-0 loss against the Huskies two weeks ago. That loss came on the heels of a 7-2 win the night before. It also snapped the five-game winning streak they'd been on since being swept at Northern Michigan earlier in January.
Although it was only their fourth loss since the holiday break, it may prove to have been a costly one. They're currently eight points behind Minnesota State and nine points back of league-leading Northern Michigan. A win against Tech might have moved them five and six points back, respectively.
Now, if they want a show at winning the MacNaughton Cup title, the Falcons will need more help.
"That might be a little bit of a stretch because of how well Minnesota State is playing. And Northern is right on their heels too," Bergeron said. "It's one of those things where we want to control what we can, which is ourselves, and if it's meant to be we'll get some help. If not, third place is where we'll be."
The good news for BG is that NMU is off this weekend, putting them in the same position the Falcons were in last week. Minnesota State, however, hosts Ferris State. The Mavericks need just one point to regain control of first place.
The Falcons can also make sure they finish no lower than third place this weekend. They're being chased by fourth-place Bemidji State, and are seven points ahead of the Beavers.
Bergeron said the coaching staff hasn't mentioned the standings specifically to the Falcons, but they know the players know what's at stake.
"We don't talk about it much in front of the team, but we know that everyone's looking at it," he said. "We're seven points up on Bemidji with the same amount of games played. We're in a good spot. I think we want to solidify third first. You know, you get home ice and now you want to finish as high as you can. Second place is a big deal because you could potentially host a semifinal round if the home teams win. We want to be at home as much as possible. I still think that's in our grasp."
The first step is taking care of business against last-place Alaska Anchorage. The Seawolves were eliminated from playoff contention last weekend when they were swept by Lake Superior State. They have just two wins on the season, but Bergeron and the Falcons won't be overlooking them.
"I don't totally believe the cliches of 'They've got nothing to lose.' From a standings perspective, maybe that's true, but these are proud kids and they're going to want to try as hard as they can and win these games," Bergeron said. "We need to take care of our business. We have no room for error in terms of the standings, in terms of wanting to catch the teams above us."
WCHA Olympic connections
Although the NHL decided to pass on this year's Olympics in Pyeongchang, South Korea, there are a few WCHA connections in this year's games.
No current WCHA players are in the mix this year — some, like Bemidji State's Zach Whitecloud, were under consideration to play for their national teams but were not selected — but there are five players who played at WCHA schools who will be participating in this year's Olympics.
Alaska Anchorage has two former players participating — Canada's Mat Robinson and Slovenia's Luka Vidmar. Robinson, a Seawolf team captain in 2008-09, currently plies his trade for CSKA Moscow of the KHL. He's been playing in Russia for five seasons. Vidmar, who played in Anchorage from 2007 to 2011, plays for Fehérvár AV19 of Hungary. He had an assist in Slovenia's 3-2 overtime win over Team USA on Wednesday.
The other three players are alumni of three different schools.
Former Ferris State All-American Chad Billins — currently playing for Linköping HC of Sweden — is a member of Team USA while former Northern Michigan captain Erik Gustafsson will suit up for Sweden. Gustafsson — not to be confused with the Chicago Blackhawks player with the same name — appeared in 91 NHL games with the Philadelphia Flyers from 2010 to 2014. He now plays in the KHL with HC Neftekhimik Nizhnekamsk.
The final WCHA connection to the Olympics has perhaps the most interesting story of the five. Matt Dalton, a former Bemidji State goaltender, is all set to be South Korea's No. 1 goaltender for these games. You might have heard his story a bunch of times in the run-up to the Olympics.
Dalton, who is a native of Clinton, Ont., signed with the Boston Bruins organization after leading Bemidji State to the Frozen Four in 2009. He bounced around the Bruins system, suiting up in a couple games but never appearing in the NHL, before going to play overseas. He played in Russia for a few seasons before finally landing with Anyang Halla of the Asia League in 2014.
The Korean hockey federation, knowing they were hosting the 2018 games, offered Dalton and a few other North Americans playing in Korea dual citizenship to help make sure they had a respectable showing as the host country.
At least in the first game, that strategy paid off for the Koreans. The South Korean team, behind 38 saves from Dalton, made a game of it and lost to the Czech Republic just 2-1 — a score that bodes well for them in the rest of these games.
Players Of The Week
The WCHA's players of the week were Lake Superior State junior Anthony Nellis (offensive), Northern Michigan sophomore Philip Beaulieu (defensive), Michigan Tech senor Devin Kero (goaltender) and Bemidji State freshman forward Ethan Somoza (rookie).
Ice Chips
— Four WCHA skaters are among the top-15 top-scoring defensemen in the country. Bowling Green's Alec Rauhauser is second at 0.97 points per game, Minnesota State's Daniel Brickley (0.93) is fourth, Alaska's Zach Frye (0.93) is fifth and Northern Michigan's Philip Beaulieu (0.82) is 13th.
— Lake Superior State has rallied back intoto playoff contention with consecutive sweeps at Bemidji State and Alaska Anchorage. The Lakers allowed just three goals in that span. Junior goaltender Nick Kossoff, who has started both Friday night games, has a 0.98 GAA and a .967 save pct. (59-for-61). Freshman netminder Mareks Mitens has a 0.50 GAA (1 goal allowed) and a .983 save pct. (58-for-59).
— Michigan Tech won the MacInnes Cup as Winter Carnival champions for the sixth straight season after defeating Bemidji State 5-1 Saturday at the John MacInnes Student Ice Arena. The Huskies outscored the Beavers 7-5 on the weekend to capture the trophy after BSU won 4-2 Friday.
— Minnesota State leads the country in 10 different categories: wins (23), goals (117), goals per game (3.90), goal margin (+53), goal margin per game (+1.77), power-play goals (39), power-play percentage (.273), fewest shots allowed per game (22.00), shots on goal margin (+369) and shots on goal margin per game (+12.30). Also notablE for the Mavericks, senior forward C.J. Suess reached the 119-point mark on the weekend (52 goals, 67 assists). He's now tied with NHL All-Star David Backes for sixth on the program's D-I era scoring charts. Suess is tied for the team lead this season with a career-high 35 points (17 goals, 18 assists), tied for 10th-best nationally.