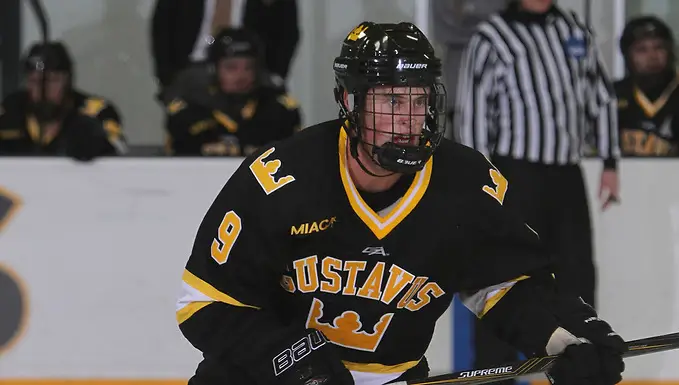 Winning a conference championship was always the goal. It just remained out of reach for Gustavus Adolphus.
Until now.
For the first time since the season before Jake McCann and his senior teammates arrived on campus, Gustavus will play for the MIAC championship. The Gusties made three consecutive title game appearances between 2012 and 2014, winning once, but had missed the postseason the last three years.
"It means a lot, especially as a senior," McCann said. "Our goal has always been to play for a championship, and the last three years, we really underachieved. To get there, it feels good, and we're looking forward to a shot to take home the title."
Standing in the way of the crown will be Augsburg, and the game will be played at Augsburg at 7 p.m. Saturday.
However, the Gusties won't be fazed by the pressure. After all, they got here by winning a pair of intense one-goal games, including a 4-3 overtime win over regular-season champion St. Thomas on the road, their fourth win in their last five games.
"We knew we were the underdogs in the situation, but drew upon the success we had against them earlier in the year, and it definitely gave us a lot of confidence going into the game," McCann said. "We played with a lot of focus, and it's a rewarding feeling knowing we get to play for the conference championship."
This is a Gustavus team that won only five games last season. They have 12 wins this year.
McCann has played a key role in the team's success, scoring six goals and dishing out five assists. He's one of eight players on the team with at least 10 points. Colin Hernon leads the way with eight goals and nine assists.
"We're getting a lot of scoring from every line, which has been huge for us," McCann said. "We don't have that player with 30 points, or even 20 points. We just have a lot of depth."
McCann is in the midst of the best season of his collegiate career. The Minnesota native had never reached double digits in points until this season. His goal total is a career high. He's already matched his assist total from last season.
"I've simplified my game," McCann said. "I have worked to get in front of the net and try to put the puck in the net or make plays and let my linemates use their speed and go to work. I've been fortunate to play with great linemates this year."
The fact that the third and fourth seeds are playing for the championship is hardly a surprise in a conference like the MIAC, where parity is the norm.
"In our conference there is so much parity, and you have to bring your A game every night," McCann said. "Anyone can win or lose on any given night. You have to stay focused and play a full 60 minutes."
Gustavus and Augsburg are no strangers to each other. They've played each other three times, with the Auggies winning two of the games. Both losses have been by a goal. Their lone win in the three meetings was by a 4-1 score.
"Augsburg has been a dominant team in our league and has a lot of offensive talent," McCann said. "You have to be able to take their time and space away and limit opportunities."
The Gusties know a lot is riding on this game, but aren't treating it as if it's different than any other game.
"We're preparing like we would any other week, keeping things as even as possible," McCann said. "We're obviously excited, but we're also focused."
Playoff showdowns
Adrian and St. Norbert will square off for the NCHA title Saturday. The Bulldogs and Green Knights are ranked first and second, respectively, in the nation.
The Bulldogs come in looking to avenge last season's Harris Cup final loss to the Green Knights. They are red-hot, having won 16 consecutive games, and have outscored the opposition 76-22 during the streak. Adrian will be seeking its eighth league tourney title.
The Green Knights have won eight consecutive games.
In the two meetings in the regular season, Adrian won 3-2 in overtime back in January after losing 4-3 in overtime to St. Norbert in November.
Wisconsin-Stevens Point and Wisconsin-Eau Claire will battle for the WIAC championship Saturday. The Pointers have won back-to-back championships and have scored 102 goals.
The Blugolds have tallied 92 goals and are seeking their first win of the season over the Pointers, the third-ranked team in the nation. Wis.-Stevens Point won, 5-2, in January and skated to a 4-4 overtime tie against Wis.-Eau Claire in February.