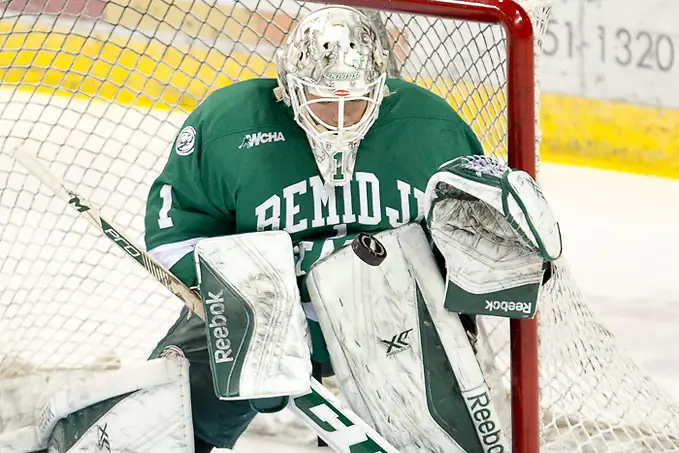 The regular season is over.
Minnesota State, thanks to an 11-game unbeaten streak to end the season, clinched its third MacNaughton Cup in four years. In their final regular-season series against rivals Bemidji State, the Mavericks beat the Beavers 4-2 to clinch the cup then rallied from a 2-0 deficit the next night to salvage a 2-2 tie.
"It was a pretty special night," MSU coach Mike Hastings said following their title-clinching victory on Friday. "It was a long road. That trophy is hard to win. We're very blessed, happy for the guys because of the work they've done. They put themselves in a good position and found a way to get it done."
The Mavericks, with a 26-7-1 overall record, are a virtual lock not only to make the NCAA tournament but also a top seed. But first, they have to get through the gauntlet that is the WCHA playoffs.
Since realignment, the top seed in the WCHA has only won the tournament once — that was back in 2015, when the Mavericks edged out Michigan Tech for the league title and went on to beat them in the Final Five championship game.
And this year, even though the Mavericks have unquestionably been the best team in the league, the WCHA playoffs feel as wide open as ever. The race for the newly-created Jeff Sauer WCHA Championship Trophy — created this year to honor the late WCHA coaching legend — will be tight. As long as a team is still alive at this point in the season, they have a shot.
Some — like Northern Michigan and Bowling Green — are playing to make sure they can extend their season even longer even if they don't necessarily win the title. Both the second-seeded Wildcats and the third-seeded Falcons are on the NCAA tournament bubble, but a deep run in the WCHA playoffs can further their cause for an at-large bid.
Depending on how things play out this season, the WCHA has the potential to be a two (or, if we're getting crazy, three) bid league when all is said and done. Will that happen this year, after a few years of being a one-bid conference?
Maybe.
Or maybe we'll see a Cinderella run from a team like Alabama Huntsville — a team making its first playoff appearance since 2013-14.
Here's a rundown of all four quarterfinal playoff series:
No. 1 Minnesota State vs. No. 8 Alaska
Minnesota State's run to the MacNaughton Cup encountered few hiccups, and was punctuated by that 11-game unbeaten streak to end the season. However, Alaska might be able to play with some confidence, knowing that they're the last team to beat the Mavericks. That Nanooks hung a 5-0 shutout on the Mavs on Jan. 12 in Fairbanks — one of just two times MSU was shut out this season. After that game, though, the Mavs went on a tear. They beat Alaska 5-1 in the series finale before going on their run to end the year. The Mavericks, who possess the top scoring offense in the nation (132 goals in 34 games), also boast six 30-plus point scorers, including Winnipeg draftee CJ Suess, who has 21 goals and 19 assists.
The Nanooks, meanwhile, have seen their up-and-down season hurt by a six-game winless streak to end that season. That included last week's loss to instate rivals Alaska Anchorage — a team that won just twice before sweeping the Nanooks. Alaska clinched their playoff spot thanks to two losses by Lake Superior State last weekend.
About the Mavericks
Record: 26-7-1 (22-5-1 WCHA)
Top scorers: CJ Suess (21-19-40), Zeb Knutson (13-25-38), Marc Michaelis (16-21-37), Jake Jaremko (12-23-35)
Top defensemen: Daniel Brickley (9-21-30), Ian Scheid (8-14-22)
Top goalie: Connor LaCouvee (20-3-1, .917, 1.72)
X-factor: On a team with so many offensive weapons, it's hard to pick just one. But Minnesota State's top defensive pairing of Brickley and Scheid is likely the best two-way D-pairing in the league, if not the nation. They've combined for 52 points. It's one of the reasons MSU's power play is so deadly — 44-for-164 (26.8 percent).
That's a fact: For the first time for its NCAA DI-era, Minnesota State has six players with at least 30 points. There were four players to accomplish the feat in 2002-03 and four players on each team in 1996-97, 1997-98 and 1998-99.
About the Nanooks
Record: 11-20-3 (9-17-2 WCHA)
Top scorers: Zach Frye (10-21-31), Steven Jandric (4-19-23), Kylar Hope (8-12-20), Colton Leitner (9-10-19
Top defensemen: Frye, Justin Woods (9-10-19)
Top goalie: Anton Martinsson (19-17-3, .893, 3.01)
X-factor: Like Minnesota State, Alaska's blueliners seem to be their most consistent players. In the case of the Nanooks, Frye and Woods also provide them with some valuable senior leadership on a team mostly full of underclassmen. Frye has the most goals of any defensemen in the WCHA. Woods, the Nanooks captain, has already surpassed his career highs in every category. If the Nanooks are hoping for ny sort of result this weekend, they'll be relying on their two seniors tro lead the way.
That's a fact: This is a rematch of last season's playoffs, when the third-seeded Mavericks swept the sixth-seeded Nanooks in two games. Alaska hasn't won a playoff series since 2010-11, when they beat Michigan State in the CCHA first round.
No. 2 Northern Michigan vs. No. 7 Alabama Huntsville
Northern Michigan led the WCHA for almost a month. The Wildcats surged in the second half of the season and finally took possession of first place in the conference in late January. They led Minnesota State for a few weeks but because the Mavericks had two games-in-hand on them, were unable to stay on top thanks in part to MSU's own insane tear to finish the season. But second place in the conference and the No. 2 seed in the playoffs is pretty good, considering the Wildcats were the No. 8 seed a season ago. This is NMU's first winning season since 2010-11 and its first 20-win campaign since 2009-10.
The Chargers, meanwhile, are back in the playoffs for the first time since 2014. They've managed to earn some solid wins against the top half of the league this year, including two wins against NMU and victories against Bowling Green, Michigan Tech and Bemidji State. UAH went 5-7-0 in their final 12 games — it seems like they're playing their strongest hockey of the season right now. Don't expect an east series for the Wildcats.
About the Wildcats
Record: 21-12-3 (19-7-2 WCHA)
Top scorers: Adam Rockwood (8-30-38), Troy Loggins (17-20-37), Darien Craighead (17-14-31), Robbie Payne (20-9-29), Zach Diamantoni (5-14-19)
Top defensemen: Philip Beaulieu (9-22-31), Ryan Black (0-17-17)
Top goalie: Atte Tolvanen (19-7-1, .905, 2.41)
X-factor: Northern Michigan's top six forward group is among the best in the league. Take, for example, the case of Robbie Payne: The senior was, at one point, the top goalscorer in the nation. But then other teams started keying in on him. He's scored just four goals in the second half of the season. No matter, though. Players like Troy Loggins, Darien Craghead and Joseph Nardi have been able to fill in and get the timely goals. If NMU is going to make a run, they're going to need lots of production from those players.
That's a fact: NMU is hosting a playoff series for the first time since 2011-12 in the CCHA. The Wildcats went 13-2-0 at home, and their last loss in Marquette was Dec. 2. The team that handed them said loss? Alabama Huntsville.
About the Chargers
Record: 11-21-2 (10-16-2 WCHA)
Top scorers: Josh Kestner (21-7-28), Tyler Poulsen (9-15-24), Christian Rajic (9-6-15), Brennan Saulnier (8-7-15)
Top defensemen: Kurt Gosselin (5-10-15), Cam Knight (0-11-11)
Top goalie: Jordan Uhelski (11-16-2, .911, 2.92)
X-factor: With 511 penalty minutes in 34 games, UAH is among the most penalized teams in the country. Although their penalty kill is nothing special, they have been able to net five shorthanded goals this season. Two of them came from the stick of Madison Dunn. In general, UAH's special teams hasn't been great — their power play is 25-for-168 (14.9 percent). Still, f leading scorer Josh Kestner can get a clean shot, he's lethal with the man advantage. Her's scored eight of his team-high 21 goals on the power play.
That's a fact: Kestner, a native of Huntsville, is the first UAH player to score 20 or more goals since 2004-05. He has at least a point in seven-straight series for UAH and has scored nine goals and three assists since Dec. 29
No. 3 Bowling Green vs. No. 6 Ferris State
Bowling Green and has finished no lower than fourth since they joined the WCHA in 2013-14. Unfortunately for the Falcons, they'd also finished no higher than third. This year was more of the same for Bowling Green — a strong team that was just behind Minnesota State and Northern Michigan for the league title race. Still, they're definitely in the conference's upper tier and their Pairwise position (18th) means they still have a very realistic chance of making the NCAA tournament field as an at-large bid. However, the Falcons — who haven't been to the NCAAs since 1990 — would rather not leave that to chance. Their first-round opponent is one they know well in Ferris State.
The two teams met in the playoffs last year, with BG sweeping that series. The Bulldogs managed to qualify for the playoffs this season despite some major second-half struggles — they won just five games since January, but sweeps against Michigan Tech and Lake Superior State helped them clinch a WCHA playoff spot for the fifth straight season.
About the Falcons
Record: 20-10-6 (17-6-5 WCHA)
Top scorers: Alec Rauhauser (8-27-35), Brandon Kruse (6-25-31), Mitch McLain (16-11-27), Max Johnson (10-15-25), Stephen Baylis (9-16-25)
Top defensemen: Rauhauser, Connor McDonald (4-6-10)
Top goalies: Ryan Bednard (12-6-4, .912, 2.25); Eric Dop (8-4-2, .901, 2.52)
X-factor: The Falcons, much like the Mavericks, have a lot of offensive weapons but they'll need to be solid on defense to make a run. Goaltender Ryan Bednard has seemed to cement his status as BG's No. 1 goalie after rotating with Eric Dop to start the year. Both have played well but Bednard has two shutouts since the start of the year to go along with a 2.26 goals against average and a .910 save percentage.
That's a fact: With a 20-10-6 overall record, it marks the fourth consecutive season that the Falcons have reached the 20-win milestone, making them one of just three programs in the nation to do so in the last four years (Providence and Minnesota State being the other two). The Falcons, though, haven't been able to make the NCAA tournament in that span.
About the Bulldogs
Record: 14-21-1 (11-16-1 WCHA)
Top scorers: Mitch Maloney (15-10-25), Corey Mackin (10-15-25), Coale Norris (10-8-18), Andrew Dorantes (5-11-16)
Top defensemen: Ryker Killins (8-13-21), Nake Kallen (5-12-17)
Top goalies: Darren Smith (8-10-1, .909, 3.07), Justin Kapelmaster (6-11-0, .909, 3.10)
X-factor: The Bulldogs have a solid top line — Mitch Maloney and Corey Mackin are a formidable one-two punch along with Andrew Dorantes — but Ferris will need secondary scoring in order to hang with the Falcons in this series. Freshmen Coale Norris and Lucas Finner have both been able to contribute in the second half of the season, but FSU needs more of that.
That's a fact: This year will represent the Bulldogs' 21st consecutive postseason playoff appearance, including the fifth-straight in five seasons in the WCHA. It will also mark Ferris State's 36th trip to the postseason in program history. FSU has advanced past the quarterfinal round in three of its previous four WCHA postseason appearances.
No. 4 Bemidji State vs. No. 5 Michigan Tech
Bemidji State wasn't able to defend their MacNaughton Cup title but did manage to secure home ice advantage after spending much of the first half of the season in the bottom half of the conference. They obviously were not quite as dominant this season as they were last, but did enough to secure home ice for the second straight season. Michigan Tech finished second in the conference last season but they, too, couldn't overpower any of the top three teams in the league this season.
That leaves us with an intriguing 4-5 matchup that looks extremely even. Both teams had their ups-and-downs this season but on the whole did more good than they did bad. Plus, they split with one another in their only meeting of the season — that was less than a month ago in Houghton. If anything, this should be the best series on the weekend because the teams seem to match up well.
About the Beavers
Record: 16-12-8 (13-9-6 WCHA)
Top scorers: Kyle Bauman (9-20-29), Adam Brady (8-16-24), Gerry Fitzgerald (6-17-23), Jay Dickman (14-8-22)
Top defensemen: Justin Baudry (7-9-16), Zach Whitecloud (4-12-16)
Top goalie: Michael Bitzer (16-11-8, .913, 2.14)
X-factor: The Beavers don't take a lot of penalties — they happen to be one of the least penalized teams in the country — but when they do, don't expect an easy time scoring on them. BSU has allowed just 15 power play goals all season. That's third overall nationally. Overall they're 109-for-124 (87.9 percent) on the penalty kill.
That's a fact: Since joining the WCHA in 2010-11, BSU is 6-14 in postseason play including a 5-13 mark in the first round/quarterfinals. Last year's series against Northern Michigan was just their second playoff series since joining the league.
About the Huskies
Record: 17-15-5 (12-11-5 WCHA)
Top scorers: Jake Lucchini (13-16-29), Gavin Gould (12-13-25), Alex Smith (8-14-22), Brent Baltus (11-10-21)
Top defensemen: Mark Auk (7-19-26), Mitch Reinke (2-18-20)
Top goalies: Patrick Munson (7-7-3, .896, 2.93); Devin Kero (6-5-1, .913, 2.37), Robbie Beydoun (4-3-1, .903, 2.63)
X-factor: The Huskies have been able to score at a decent clip but they never really had anybody claim the title of No.1 goaltender. Transfer Patrick Munson and freshman Robbie Beydoun have seen stretches in net this season but recently it seems that senior Devin Kero has occupied the net. He's started each of Tech's last five games; he gave up 10 goals and made 129 saves in those games, for a 3-2 record. The Huskies know they're going to see a strong goaltender in the other net in Michael Bitzer. If they want any hope of advancing, they'll need to have strong netminding of their own.
That's a fact: Michigan Tech has advanced past the WCHA quarterfinals for three straight seasons. They have made the NCAA tournament in two of the past three seasons and won the WCHA playoff title once — last season.