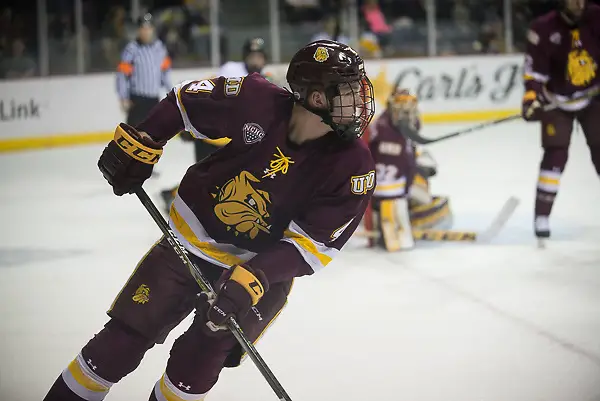 Considering that they don't have a single player averaging a point a game or higher, Minnesota Duluth's 14-goal explosion for a road sweep of Western Michigan, by 8-0 and 6-1 scores, could be looked at as an oddity.
Not for Duluth coach Scott Sandelin, though, who feels it's how his team is built.
"I think there are some teams that have the top line and some go-to guys; I think we still have some of those," said Sandelin. "When your team gets balanced scoring, it helps. You're chipping in here and there, whether it's 'Wolffy' (Nick Wolf) or 'Peruny' (Scott Perunovich) or Dylan Samberg getting his first goal. Those guys help when they do that. Last weekend was a good recipe. If that's something that we can continue to get some different guys, different lines contributing, then that's going to help us have some success. I'm not expecting going into any weekend thinking you're going to score 14 goals. I mean, it was a good weekend for us, but you know how things are now; it's tight, but it certainly helps our confidence no question, and that's kind of how we're built."
The sweep of Western was also important because it secured home ice for the first round of the playoffs for Duluth, something that may have seemed unlikely at the midpoint of the season for a then-struggling team.
Since the break, however, Duluth has gone 10-4-1.
"When you look at where we were at Christmastime, we weren't in a very good position, and when you look at the standings at midpoint of the year, St. Cloud and Denver were clearly the two best teams," said Sandelin. "The goal was to try and put together a good second half and make a run at being in the top four and our guys have a good second half, and we've done that. It means a lot to be at home and not have to travel, and hopefully, we can take advantage of that. But after this weekend, it's a new season, so everybody starts over.
"It doesn't matter what you've done, but it's nice to be at home, and I think our guys have earned that by having a strong second half."
Part of the reason for that success has been the strong play of sophomore goaltender Hunter Shepard, who took over the starting role by the midpoint of the year. Against Western Michigan, Shepard set a new season record for both Minnesota Duluth and in the NCHC with his sixth shutout of the year. Shepard's play has given the entire team a boost.
"I think any time you get good goaltending, solid goaltending, consistent goaltending I think that certainly gives your team a lot more confidence," said Sandelin. "I think since probably November he's grabbed the net and grown with the position. I think the second half obviously he's been really good for us. He's given us a chance every night, and he's made timely saves and key saves, and that's all you can ask of your goalie. Obviously we had some games where we didn't give him any offensive support, which sometimes you feel bad for the goalie when that happens because they played well enough to win a game for you and give you a chance to win."
This weekend, Duluth closes at home against Omaha, a team the Bulldogs split with back in December, dropping a 7-5 decision in the first game and rallying to win 6-2 the next night. Sandelin feels that staying out of the penalty box will be the key to success.
"Their power play is number one in the country," said Sandelin. "Obviously, they've kind of had our number in the last couple of years, and that's because they score a lot of power-play goals. So number one, stay out of the box, and two, make sure we're doing a good job when we have to kill, but just don't give them a lot of opportunities. They're a dangerous team offensively. I don't know whether they could have everybody back, but it doesn't matter. They've got a team that can skate. I think they've got a lot of skill if (David) Pope's in the lineup; he's a dangerous player, (Jake) Randolph, (Tyler) Vessel, Zach Jordan's playing well for them, so they've got a lot of weapons.
"I think for us offensively we've got to find a way to do what we did at Western, try and create some offense. Sometimes you're going to get in games where it's tight, and you just have to capitalize on a couple of opportunities."
Colorado College makes a final push
Thanks to a tie last weekend on the road at Omaha, the Colorado College Tigers find themselves in unfamiliar territory: tied for the fifth place in the ever-competitive NCHC, and with a chance to get home ice for the first round of the playoffs.
The Tigers (and Omaha and Western Michigan) trail North Dakota by three points for that final home ice spot.
"I think it's a huge step forward here," said CC coach Mike Haviland. "I think when you're in the last weekend in this conference and you have a chance to get into fifth place and you're tied for fifth and you still have that chance to maybe get home ice, I think it shows you the growth and the progression of this program in the last couple of years, and the guys are embracing it. They love the process, and they know what's at stake."
After playing well in back-to-back weekends against North Dakota and Denver, CC goalie Alex Leclerc struggled Friday against Omaha and was replaced with freshman Alec Calvaruso, who has also started some important games for the Tigers. Haviland believes having two reliable goalies is a huge plus with the postseason looming.
"Certainly, we feel like we have two number one's, which is a great feeling to have," said Haviland. "I think Alex has been outstanding. We had to pull him on Friday night, and Calvaruso came in. He's done that a couple of times this year; he's played very well. He played great against Duluth on Saturday night that second game at home here, and it was a 2 1 game, he got injured on the goal they scored, and we had to take him out, and they went on to beat us. Looking at the series on Friday night and Leclerc's played a lot of games, we felt Calvaruso deserved that start on Saturday, and I thought he played extremely well.
"What that does is it gives you two goaltenders, and that's a good problem to have. I think they should push each other, but as we go into the weekend, right now I don't think we have made up our mind yet."
As shown by taking five of six points from Denver at Magness Arena this season, in some ways CC's improved record this year comes down to being a tough road team to play.
"I think we play well on the road, I really do," said Haviland. "I don't know if it's because we're with each other so much in the four days you're on the road, but we seem to be focused, and we play well on the road. We've won games and won in some big buildings in Denver and Western this year, North Dakota, so I think that belief is there for sure that wherever we play, we feel we could give ourselves a chance to win and believe that we can win."
This weekend, the last of the regular season, CC will be at home hosting one of the two teams it is tied with, Western Michigan. The Broncos have struggled to a 1-7-1 record since an overtime come-from-behind win against CC on Jan. 19. Western currently owns the tiebreaker over CC, so for the Tigers to finish higher than the Broncos, they need a win and a tie/win this weekend, or two shootout/3-on-3 OT wins. Omaha also owns a tiebreaker over CC, so to finish fifth, CC has to hope Omaha loses to Minnesota Duluth this weekend.
"Well, we have to play desperate, to be honest with you," said Haviland. "You know, we're fighting for that fifth spot, and who knows what can happen after that. So we have to play desperate. We have to play playoff hockey. We have to play with that for six periods. I know they'll be desperate. I know Andy (Murray) will have that team ready to go. It's unfortunate, the injuries; it happens to everybody, but certainly I know they'll be ready to go. I think they are a very good hockey team. I don't look at standings when it comes to the games because I still believe in this conference, anybody can beat anybody. Look around, it happens every weekend, and you need to be ready, and there's a lot on the line for both teams.
"I'm sure it's going to be a hard-fought weekend."
NCHC players of the week
Offensive player of the week ⸺ Tristan Keck, Omaha: Keck had a four-point weekend in helping Omaha earn a win and tie against Colorado College. Friday, he had three points and earned the game's first star in a 4-2 win, opening the scoring in the first period and assisting on Omaha's second goal and fourth goal while going plus-2. Saturday, he had an unassisted short-handed tally that put Omaha up 2-1 in a game that finished in a 2-2 tie while earning the game's second star. He finished the weekend plus-3.
Defensive player of the week ⸺ Scott Perunovich, Minnesota Duluth: Perunovich led Duluth at both ends of the ice in the team's road sweep of Western Michigan. Friday, he had an assist on Duluth's first goal and scored the sixth goal in an 8-0 win and helped the penalty kill go 3-for-3. Saturday, he had two assists, including again on the game-winner. He finished the weekend plus-5 and helped the PK go 6-for-7. He leads all NCAA freshman defenseman with eight goals and 21 assists.
Rookie of the week ⸺ Dávid Hrenák, St. Cloud State: Hrenák helped St. Cloud State capture the Penrose Cup on home ice with a win and tie against Denver. Friday, he made 25 saves and only allowed one goal, late in the third period, in a 1-1 tie, and Saturday he made 25 saves in a 4-2 win that clinched the Penrose Cup. He finished the weekend with a .943 save percentage and 1.44 goals-against average. On the year, he has a 10-4-1 record with a 1.89 GAA and .929 save percentage.
Goaltender of the week ⸺ Hunter Shepard, Minnesota Duluth: Shepard continued his strong play of late in leading Minnesota Duluth to a sweep of Western Michigan on the road. Friday, he notched his third straight shutout, stopping 22 shots, including 10 in the first period, while earning the game's second star. It was his sixth shutout of the year, which set both a new NCHC single season record and new UMD single season record. Saturday, he followed up with 19 saves in a 6-1 win; the only goal he gave up was on a power play. He earned the game's third star, and his shutout streak was stopped at 222:00 minutes. He finished the series with a .976 save percentage and 0.50 goals-against average. He leads the NCHC with an 18-11-1 record and is third with a 2.04 GAA and .924 save percentage.