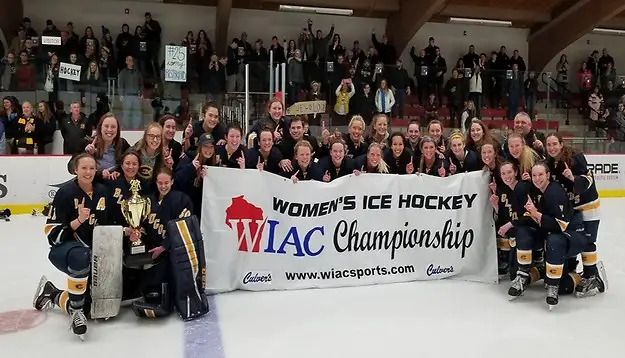 Winning the first conference championship and earning the first NCAA tournament bid in program history would be a proud moment for any senior class. For the five seniors on the Wis.-Eau Claire roster, it's something of a miracle.
When they were freshman, the squad managed a paltry 5-21-1 record. They won a single conference game. They gave up nearly four goals a game while scoring fewer than two. It was such a miserable experience that senior Lauren Norgren told campus media this year that her freshman season made her hate hockey.
However, she stuck it out.
Before her sophomore season began, Erik Strand took over as head coach. He'd been an assistant on the men's side, and he inherited a team with low morale and not much to show for their first 15 seasons on the ice — just four winning seasons and never finishing higher than fourth in their conference.
The first year saw minor improvements as the BluGolds went 9-13-5. The past two seasons, Wis.-Eau Claire has had back-to-back 18-win seasons, a new program record. They won their first ever conference championship last weekend in double-overtime against WIAC rival Wis.-River Falls and in doing so earned a bid to their first-ever NCAA tournament. Fittingly, the championship-winning goal was scored by a senior. Maria Czech stuck with the program through the bad and helped propel them into the tournament.
It's been a remarkably quick turnaround orchestrated by Strand, who not only had to get his current players to buy in and recover from the experience of their freshman season, but also had to convince recruits that Eau Claire was not going to be a program defined by the past. It took an incredible amount of trust and buy-in, but it paid off.
"Our seniors have been a big part of the steps we have taken forward as a program. From the moment I took the program over a couple years ago, they instantly bought into and started living the expectations that were set," said Strand.
Strand is a Wis.-Eau Claire alum who played for the men's team from 1998-2002 and returned to his alma mater as an assistant coach for the men's team in 2005. They won a national championship in 2013. He brought passion not just for hockey, but for BluGolds hockey to the women's game, and it's paid off.
Though getting a bid to the NCAA tournament has been a team goal since the off season, it definitely wasn't assured. Expectations were high, especially when they earned their first-ever national ranking in late October.
The BluGolds started a bit slow, starting 2-2-1 with back-to-back conference losses to Wis.-River Falls and Wis.-Superior. They came back from the winter break to suffer two losses to Augsburg before reeling off four impressive wins against the likes of Lake Forest and Adrian. It seemed like things were on track for Wis.-Eau Claire, but they came away from a weekend series with Wis.-Superior with just one point after a loss and a tie.
That weekend ended up being a turning point for the BluGolds. There was a team meeting after the disappointing results against the Pointers, and the team has not looked back since. They have not lost since, amassing a 7-0-1 record.
"The emotions are hard to even describe," Strand told the Eau Claire Leader Telegram. "Just the raw emotion for everybody, including the classes I've been fortunate enough to recruit, each one of the players took a chance on becoming a BluGold under this message of competing for WIAC championships and NCAAs. And to have it happen as fast as it has is truly such an unbelievable and tough feeling to describe."
No matter what was happening on the ice, Strand has been fully committed and convinced that his team had what it took. Two weeks ago in this column, I picked Wis.-River Falls as a clear choice for an at-large bid to the tournament, and coach Strand reached out to say that while he agreed that the Falcons were the best team he'd played this season, he also thought, respectfully, that his team was better.
Over in the Division I tournament discussion on Wednesday Women, we talked about the search for a great story — the underdog that shook things up and kept the Frozen Four from being the same as it had been.
No need to look for such a story in D-III. Strand knew that it wouldn't take much more than a couple of fortunate bounces for his team to make history this year. Call him Nostradamus — or maybe just a coach who believes in his team. Either way, his prediction from last week came true.
"The Cinderella story with a little puck luck will be coming out of Eau Claire."