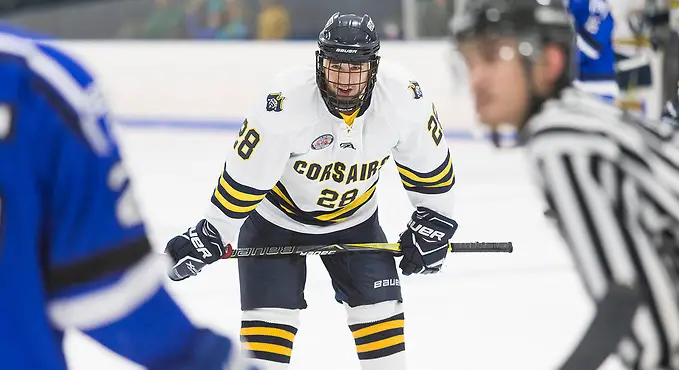 UMass Dartmouth junior forward Jonathan Ruiz has been named the 2017-18 MASCAC Player of the Year and headlines the All-Conference First Team as voted on by conference coaches.
Ruiz finished the season second in the conference with 45 points on 27 goals and 18 assists while averaging 1.67 points per game. His 27 goals were the most in the league.
Fitchburg State freshman Sascha Figi is the MASCAC Rookie of the Year. He finished third in the league in total points with 21 goals and 19 assists for 40 points, leading all freshmen in scoring.
Dean Fuller of Fitchburg State has been chosen MASCAC Coach of the Year after leading the Falcons to a 16-6-3 regular season mark (11-4-3 in conference play) and the second seed in last week's tournament.
FIRST TEAM ALL-CONFERENCE
F: Jonathan Ruiz, Jr., UMass Dartmouth
F: Ryan Stevens, Jr., Plymouth State
F: Nick DiNicola, Jr., Fitchburg State
D: Jerry Laakso, Sr., UMass Dartmouth
D: Victor Bergstrom, So., Plymouth State
G: Jason Pucciarelli, Sr., Salem State
SECOND TEAM ALL-CONFERENCE
F: Mike Moran, Jr., Worcester State
F: Matt Volonnino, Jr., Plymouth State
F: Sascha Figi, Fr., Fitchburg State
D: Tim Perron, Jr., Plymouth State
D: Carl Greco, Jr., Westfield State
G: Evan Morelli, Jr., Plymouth State