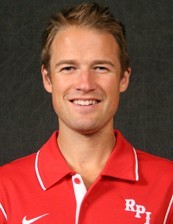 On March 6, Rensselaer assistant coach Nolan Graham was walking out of a Rite-Aid in Troy, N.Y., and was struck by a vehicle.
The driver did not see Graham and his nephew and Graham succeeded in keeping his nephew safe at the expense of his own safety.
Graham suffered skull fractures and minor brain injuries/bleeding and is in ICU at Albany Medical Hospital and will remain in the hospital for the foreseeable future. The medical staff is optimistic about a full recovery in 6-12 months.
A GoFundMe account has been created for Graham, his wife Crystal and his daughter Ellie.
As of Friday evening, more than $25,000 of the $30,000 goal had been reached after the account was only started early Friday.
"Our thoughts and prayers are with Nolan, Crystal, Ellie and his entire family as he recuperates from this serious injury," said RPI associate VP and director of athletics Dr. Lee McElroy in a statement. "The outpouring of love and support for them has been overwhelming.
"The entire Rensselaer community stands with the Grahams as Nolan progresses toward a full recovery."