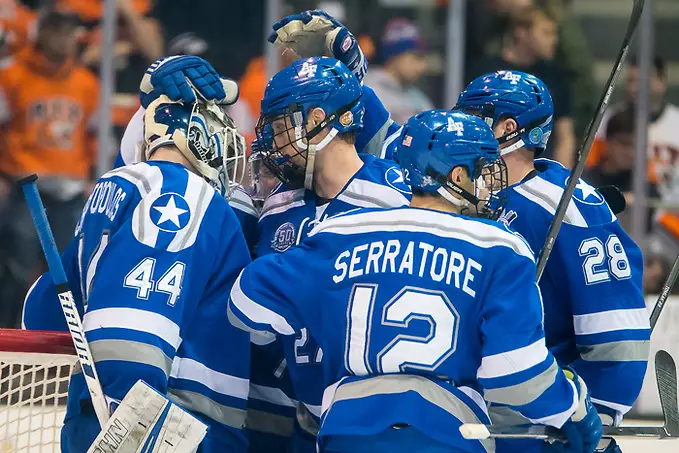 Each week during the season, we look at the big events and big games around Division I men's college hockey in Tuesday Morning Quarterback.
Jim: After an interesting weekend of playoff hockey, we now have the pairings set for four league championship tournaments and two league title games.
Of the 18 best-of-three series, eight went to a winner-take-all Game 3 and four of those went to overtime. So it was certainly a razor-thin margin on the ice.
But when all was said and done, we didn't have a tremendous amount of upsets. All four top seeds advanced in Hockey East (via sweeps) and all four also advanced in the NCHC, though two needed three games. Princeton's upset over Union was the only one in the ECAC, though in Atlantic Hockey, two perennial playoff teams went on the road to advance as Robert Morris swept Holy Cross and Air Force knocked off Army West Point.
Minnesota State was probably the biggest upset of the weekend, though. The Mavericks have been pretty dominant in the WCHA this season, but defending champion Michigan Tech won Games 2 and 3 (Sunday's Game 3 in overtime) to create an all U.P. title game between Tech and Northern Michigan.
While all of this playoff excitement set up league championships, it also added a lot of clarity to the NCAA tournament picture.
With Minnesota State eliminated, an at-large spot will be taken away (along with the Atlantic Hockey champion, that moves the current cut line in the PairWise to 14). And I think the bubble teams are pretty well defined.
Basically, it seems, barring any further postseason upsets, North Dakota and Boston College will fight it out for the final at-large bid. If either Princeton or Harvard win the ECAC or Boston University wins Hockey East, the cut line will move higher. And if both leagues have upset winners, you could see teams like Clarkson or Minnesota watch NCAA hopes wash away.
Paula: It was a really exciting weekend of hockey with so much in the PairWise at stake, and yet – as you point out – with so few upsets, there really isn't much for the top dozen teams or so in the PWR to worry about.
I spent a good deal of time playing with the PairWise Predictor to see what it would take to knock out Minnesota, currently thirteenth in the PWR, and even when I programmed in nearly all upsets, there are still some specific upsets (as you point out) that would eliminate the Golden Gophers as well as the Golden Knights.
It's interesting to me to see that two bubble teams most likely to be competing for the same at-large bid are North Dakota and Boston College, two teams that for many years dominated college hockey to the point where it was almost a given that one or both of them would make a Frozen Four appearance. The Fighting Hawks are tied with Boston University for third-most Frozen Four appearances (22), and with 25 appearances, the Eagles are top among all D-I programs.
Also, the way each team's season led to this situation at this point in the season is interesting. North Dakota had a strong first half and a shaky second, while BC was just the opposite. Of course, each team has a legitimate chance at its conference's autobid as well just as it's staring NCAA tournament elimination in the face.
One of the most exciting tournaments this season is, in my opinion, the Atlantic Hockey playoff tournament. As you said, neither Robert Morris nor Air Force lacks playoff experience, but the AHA was so tight this season that at midseason, seven teams legitimately looked as though they could capture the regular-season title. Mercyhurst glides into the AHA tournament with six straight wins and 14 of the Lakers' 21 overall wins in the second half. Robert Morris entered the AHA playoffs winless in their previous six games. Air Force was 3-1-0 against Canisius in the regular season, with all but one of those games very close.
Personally, I'm excited to see the WCHA final as an all-Michigan affair, and anyone who knows me knows how happy I am to see two former CCHA foes duke it out for the Big Ten title.
Jim: As teams get eliminated, this becomes the time of year where, unfortunately, some head coaches lose their jobs.
The first announced was Matt Thomas at Alaska Anchorage. I never like to say these changes are predictable, but a four-win season this year following a seven-win effort a year ago makes this move not-so-surprising.
But Sunday, I think the college hockey world was dealt one of the least predictable firings in recent memory when Merrimack announced that Mark Dennehy was let go after 13 seasons behind the bench.
It shocked me as Dennehy brought this program from near-extinction to a Hockey East title game appearance and NCAA tournament. His team's success helped raise funds and raise the overall profile of the college. They renovated one of the worst buildings in college hockey to make it a passable Division I facility and Merrimack continually was a pretty competitive team in a Hockey East league where absolutely any school should feel fortunate to finish in the top four.
Personally, I feel like this is a short-sighted move.
This tiny school with a relatively low overall operating budget doesn't seem to have any sort of feel for what their potential is in the overall college hockey landscape. Sure, there will be seasons where you can go on a run and maybe reach some high-profile games, but they compete in a league where there are universities with overall annual operating budgets in the billions of dollars. That's not Merrimack.
The sad thing is this school will lose a coach, one they just signed to a contract extension 13 months ago, who was invested in the program. He operated a team that was not just competitive on the ice but was extremely successful in the classroom.
It's difficult to predict where the future lies for Merrimack, but I feel like it will be difficult to find a coach as qualified as Mark Dennehy to lead this team.
Paula: I agree completely, Jim.
Dennehy's firing caught me completely off-guard and I can't understand why Merrimack would want to lose a coach as talented, respected, and completely invested in the program. I've never heard a single bad word spoken about him, and I know Merrimack fans who have been happy with his tenure and who are now devastated by his firing. I don't know anything about the decision behind this, nor do I know why Merrimack thinks it can do better than Dennehy. It is something that completely baffles me.
We both know that collegiate sports are a business, but our specific sport is so small that we both know the ripple effect that occurs when a coach loses his job. Even when a coaching change is in the best interest of a given program, we know so many people affected by it that it's tough to witness. I don't traffic in rumor and innuendo, but I wouldn't be surprised to see turnover in a couple of programs before the start of next season. I don't look forward to the news that someone else has lost his job before he meant to leave.
A Tip of the Cap…
Jim: … to a couple of really impressive individual performances under the pressures of the postseason.
First, Mercyhurst's Jonathan Charbonneau, who posted five of Mercyhurst's seven goals on the weekend, including the overtime game-winner on Saturday night that sent the Lakers to Rochester. Charbonneau now has 17 goals and 29 points in 32 games for the Lakers.
Additionally, U.S. Olympian and Harvard junior Ryan Donato picked a great weekend – and particularly Sunday's Game 3 against Dartmouth – to explode. Donato had eight points on the weekend (four goals, four assists), but on Sunday, he personally carried the offense, scoring three of Harvard's four goals, including an insurance goal on a coast-to-coast rush where he fired an aerial pass to himself. Donato has 26 goals in 28 games this season.
How good is Harvard's Ryan Donato you ask? Here's him scoring his 3rd goal of the night tonight. Unbelievable. pic.twitter.com/CmmWcXpwKM

— Mike Grinnell (@MikeGrinnell_) March 12, 2018
Paula: With his five-goal performance on the weekend, Charbonneau reached a career-high 17 goals for the season so far, one more than he registered each year as a sophomore and junior.
His Friday hat trick was the first of his collegiate career and broke his four-game goal-scoring drought.
Donato now has 26 goals on the season and leads all D-I players in goals per game, averaging 0.93. He's also fifth in the nation for points per game.
Very nice performances, indeed.