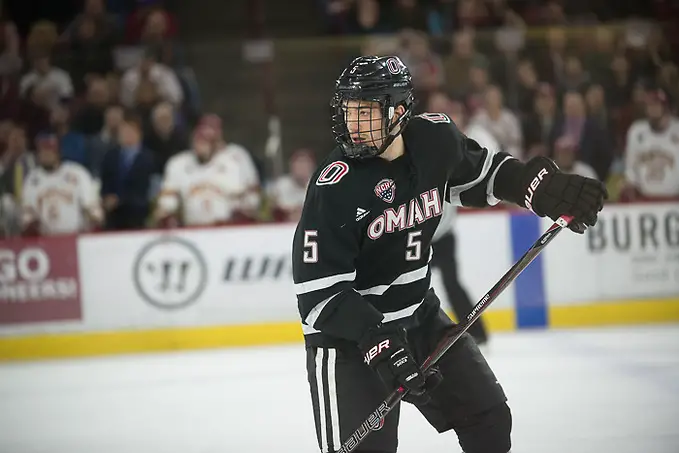 Omaha senior defenseman Joel Messner has been selected as the recipient of the NCHC's third annual post-graduate scholarship.
Messner will be recognized at the NCHC awards celebration March 15 in St. Paul.
Messner carries a 3.54 grade-point average in the School of Business while majoring in marketing and management. He is a four-time NCHC Academic All-Conference Team member and is an NCHC Distinguished Scholar-Athlete this season. The team captain is set to graduate with a degree in Business Administration this May.
"NCHC students always seem to impress us in the classroom and this is certainly the case with Joel Messner," NCHC commissioner Josh Fenton said in a statement. "We are proud to select Joel as the conference's post-graduate scholarship winner for 2018, as he continues his studies in the area of Business Administration."
In addition to his NCHC academic honors, Messner is a finalist for NCHC Defensive Defenseman of the Year this season. He also earned the Maverick Muscle Award from Omaha last year and helped lead Omaha to the program's first-ever Frozen Four as a freshman. For his career, Messner played in 135 games, tallying 42 points on seven goals and 35 assists, including career bests of five goals, 18 assists and 23 points this season, plus a team-best 70 blocked shots.
"It's great to get something like this from the NCHC," Messner added. "It's been such a pleasure to play in this conference and to get recognized in such a great league is a good feeling. In the future, the scholarship will be a great asset. In the business world, if you want an upper management position, you need to further your education, and this will help me do that."
The scholarship is funded by a grant from the El Pomar Foundation in Colorado Springs, which has also supported the NCHC by providing its office headquarters on the grounds of the Penrose House and helping cover the cost of the Penrose Cup. Messner's 2018 scholarship award amount will be $7,500.
To be eligible for the scholarship, the student-athlete must be a senior on the official NCAA hockey roster with at least a 3.5 cumulative grade-point average, who plans to continue his academic studies beyond his undergraduate degree. The recipient must enroll in a post-graduate school within three years of receiving the scholarship to collect the financial aid. The winner is chosen by a vote of the NCHC's faculty athletics representatives from among the nominees submitted by each school.