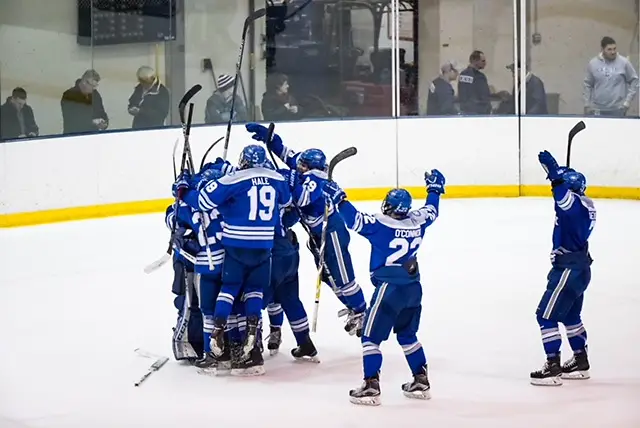 Colby not satisfied with just getting to Lake Placid
The Colby men's hockey team is truly on one of those magical end-of-season runs, but according to coach Blaise MacDonald, they are not just satisfied with making it to the Frozen Four — they want more.
"This run has been amazing and fun," noted MacDonald. "We aren't going to be satisfied with just getting here, we want to go as far as we can this weekend."
How they got here
Entering the NESCAC tournament as a No. 6 seed, the Mules received the autobid into the NCAA tournament after defeating Amherst, Wesleyan, and last-year's national runner-up, Trinity, to win their first NESCAC title. They defeated their Maine rivals from the University of New England in the first-round game, 4-2. Last weekend, Colby upset Geneseo on the road, 2-1, on a Justin Grillo goal in the final two seconds of regulation.
Key performers
The Mules are led offensively by sophomore Kienan Scott (11-15-26), senior Phil Klitirinos (8-18-26), senior Cam MacDonald (15-10-25), and junior Nick O'Connor (11-13-24). The power play is effective at just under 19 percent, while the penalty kill is successful at just above 82 percent.
Senior goaltender Sean Lawrence (25 games played, 2.01 goals-against average, .941 save percentage, 3 shutouts) has saved his best hockey for the stretch run in the playoffs where he has surrendered just six goals in six games played.
Outlook
This team suffered through a dismal 1-6-0 stretch in January and worked through the issues collectively as a team and coaching staff to start their strong and consistent play. This is Colby's first appearance in the Frozen Four, but one familiar experience is the travel by bus that they have done the last six weeks, including their drive to Lake Placid tomorrow night. Being the road team has galvanized this team, and backed by Lawrence's strong goaltending and opportunistic scoring, they are a threat to any team, including experienced national contenders like St. Norbert.
Coach speak
"I really didn't expect this from this team," stated MacDonald. "They have totally bought into everything we have asked them to do to turn our game around from January, and each and every player has contributed to our success over the last few weeks. We have been road warriors, so another weekend on a bus isn't going to phase these guys. It is our first trip to the Frozen Four, but this team wants to do more than just show up. If we keep getting great goaltending and grind out those important goals, this could be a really special weekend."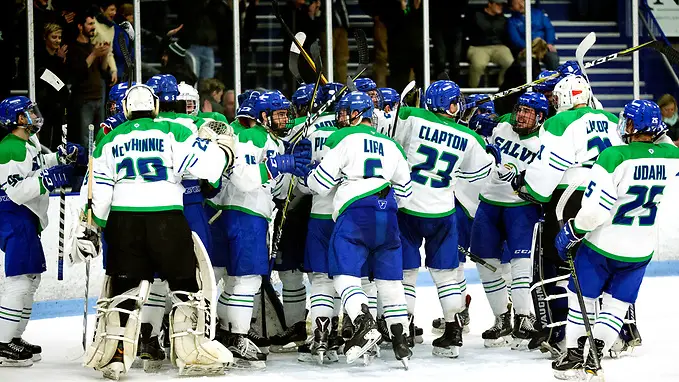 Seahawks looking forward to big challenge
As the first team from the CCC to make it to the NCAA Frozen Four, the Salve Regina Seahawks don't think they are going to fly under the radar for any opponent in Lake Placid. They have several big wins over nationally ranked teams this season that garnered a lot of attention, including that of national pollsters and NCAA tournament committee.
"After a three-week layoff, we are just so excited to still be playing," said coach Zech Klann. "We know we are playing a playoff-tested and experienced team in Wisconsin–Stevens Point, but this team has risen to those kinds of challenges all season."
How they got here
After winning the regular season battle, the Seahawks entered the post-season as the top seed in the CCC tournament. Following a quarterfinal win, salve Regina was upset by Nichols in the conference semifinals and awaited their fate for a possible at-large bid. With a schedule that included wins over nationally ranked opponents like Norwich, Adrian, Endicott, University of New England, Nichols and Massachusetts-Boston, the Seahawks received both the bid into the tournament and a first-round bye. The three-week layoff ended with a quarterfinal win over Nichols, 4-3. The win avenged the previous playoff loss and earned the Seahawks a spot in this weekend's Frozen Four for the second time in the past three seasons.
Key performers
The Seahawks are led offensively by sophomore Jack Billings (19-26-45), freshman Danny Eruzione (10-25-35), sophomore defenseman Vincenzo Renda (2-20-22), senior Colin Clapton (13-8-21), and a pair of freshman snipers in Erik Udahl (12-9-21) and Paul Boutoussov (14-6-20). The power play is connecting at just under 20 percent, while the penalty kill is successful at just under 84 percent.
Junior goaltender Blake Wojtala (26 games played, 2.07 GAA, .933 save percentage, 2 shutouts) has big-game experience in picking up wins over several ranked teams this season and has experience to build on from his freshman year when Salve Regina appeared in the NCAA tournament for the first time.
Outlook
The layoff didn't appear to put too much rust on the Seahawks' game, and they had the added benefit of rest and healing up some of the minor bumps and bruises the full season puts on everyone. This team commits to a game plan and then goes out and executes it for the full 60 minutes, or longer, if needed. Wojtala can steal a game, but will need to out-duel the Pointers' Max Milosek, who is also among the nation's best goaltenders. Billings didn't register on the score sheet in the win over Nichols, but figures to be a key to the Seahawks offense.
Coach speak
"It was a great win over Nichols," noted Klann. "It was a see-saw battle and really went right down to the final buzzer, as we needed to hold them off after scoring late in the third period. The big sheet of ice in Lake Placid will challenge our disciplined approach to the game. It is easy for forwards to get lost out there with so much room, so we will need to pay attention to our spacing and gaps with the defense. We don't play a lot on big surfaces, so we will need to stay focused and stick to our game plan to have success against a team that has been there before and won there before."