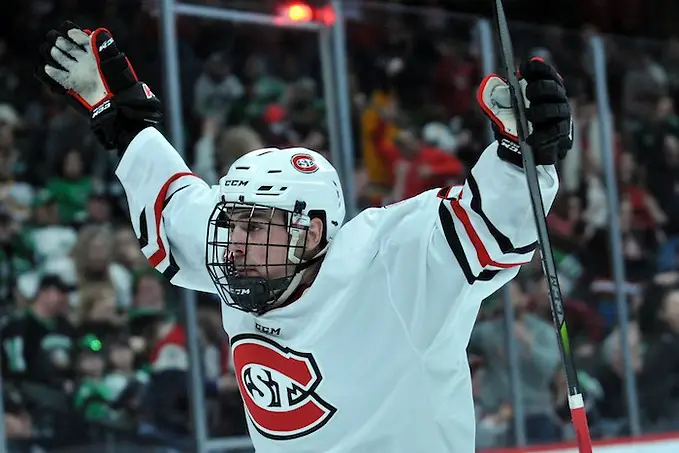 West Regional
At Denny Sanford PREMIER Center, Sioux Falls, S.D., March 23-24
• Friday: St. Cloud State vs. Air Force, 4 p.m., ESPNU
• Friday: Minnesota State vs. Minnesota Duluth, 7:30 p.m., ESPN3
• Saturday: Friday winners, 9 p.m., ESPN2
No. 1 St. Cloud State
Overall record: 25-8-6
NCHC record: 16-4-4-1
Playoff results: Beat Miami in three games in the NCHC quarterfinals, beat North Dakota in the semifinals, lost to Denver in the final
How they got in: At-large bid
Why they will advance to the Frozen Four: If SCSU gets past fourth-seeded Air Force, the Huskies will like their chances having gone a combined 4-2 this season against Minnesota State and Minnesota Duluth. St. Cloud won three of its four games against UMD and split with MSU, including a one-goal loss.
Why they will not advance to the Frozen Four: The Huskies have gone to overtime 10 times this season, and while they've only lost once there, the longer a game stays tight, the more it becomes a toss-up.
Notable quotable: "I love this building. A lot." – St. Cloud State coach Bob Motzko on the Xcel Energy Center in St. Paul, a building the Huskies previously won a North Star College Cup championship in 2016 and which will be site of this year's Frozen Four
— Matthew Semisch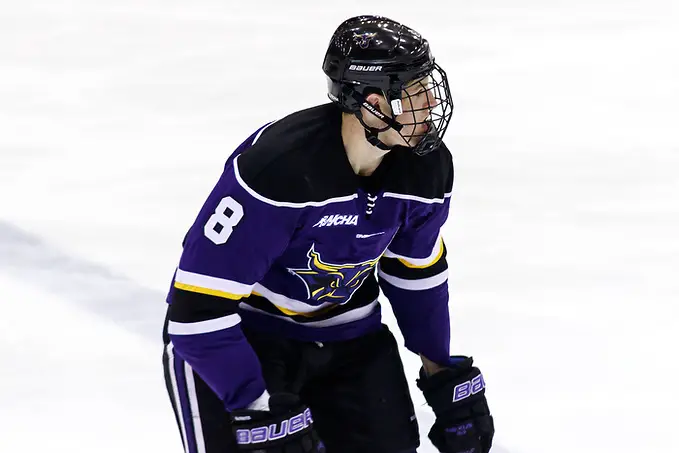 No. 2 Minnesota State
Overall record: 29-9-1
WCHA record: 22-5-1
Playoff results: Beat Alaska in WCHA quarterfinals, lost to Michigan Tech in WCHA semifinals
How they got in: At-large bid
Why they will advance to Frozen Four: The Mavericks are the scariest offensive team in the tournament. They've scored the most goals of any team in the country this year. They have two 40-plus point scorers in C.J. Suess (the WCHA's player of the year and a Hobey Baker Award finalist) and Zeb Knutson as well as three more forwards who scored more than 30 (Marc Michaelis, Jake Jaremko, Parker Tuomie). They also have two of the best scoring defensemen in Daniel Brickley and Ian Scheid.
Why they will not advance to the Frozen Four: Possibly the only thing standing in their way is a stacked regional that also features instate rivals St. Cloud State and Minnesota Duluth. The Mavericks' loss to Michigan Tech in the WCHA semifinals cost them a chance at a No. 1 seed and an easier regional draw.
Notable quotable: "We're turning another page. We've been anticipating this for a while. To finally know we'll be in Sioux Falls and not on a plane but three hours away is great.
"We stubbed our toe last weekend (against Michigan Tech); we wanted to be playing last night. I think I have some motivated young men who want to accomplish something that hasn't been done in our Division I era." – Minnesota State coach Mike Hastings in an interview with the Mankato Free Press on Sunday
— Jack Hittinger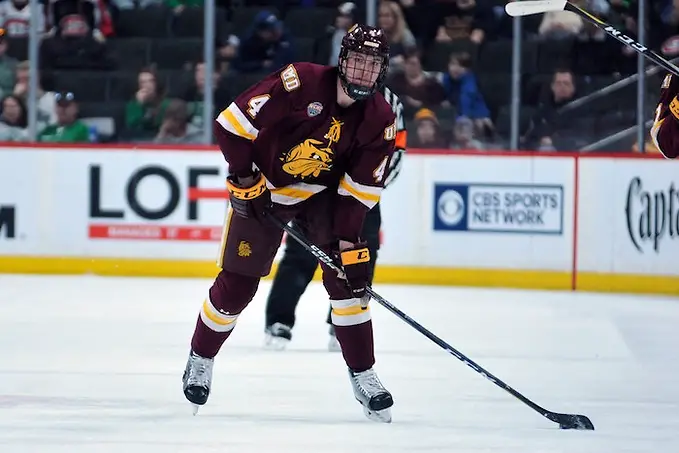 No. 3 Minnesota Duluth
Overall record: 21-16-3
NCHC record: 13-11-0
Playoff results: Swept Western Michigan in the NCHC quarterfinals, lost to Denver in the semifinals, lost to North Dakota in the third-place game
How they got in: At-large bid
Why they will advance to the Frozen Four: UMD lost its two games at the NCHC Frozen Faceoff by a combined 7-2, but if goaltender Hunter Shepard gets back to the hot streak he was on before heading to St. Paul, look out. The sophomore has all 21 of the Bulldogs' wins this season and had five shutouts from his last eight games before a 3-1 semifinal loss to Denver.
Why they will not advance to the Frozen Four: A starting goalie getting hot again doesn't come guaranteed, and the Bulldogs only went 2-4 earlier this season against the rest of the West Region field.
Notable quotable: "I think that's kind of been one of our goals, is to make the regional tournament all year and be one of the last 16 teams standing, and I think if we get there, anything's possible. I think we can learn a lot from this weekend, too, especially with our young group, just how hard these games are." – UMD senior forward Karson Kuhlman after the Bulldogs' 4-1 NCHC third-place game loss to North Dakota.
— Matthew Semisch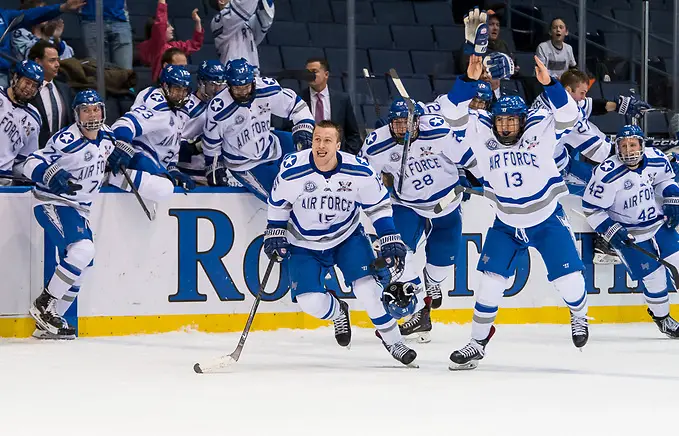 No. 4 Air Force
Overall record: 22-14-5
Atlantic Hockey record: 13-11-4
Playoff results: Defeated Army West Point in three games in AHC first round, defeated Canisius in the semifinals, defeated Robert Morris in the championship game
How they got in: Won Atlantic Hockey tournament
Why they will advance to the Frozen Four: The Falcons were a goal away from the Frozen Four last season, upsetting Western Michigan and pushing Harvard to the limit. Frank Serratore's team returned almost intact with goaltending the big exception. Junior Billy Christopoulos has proved more than capable in net and was MVP of the Atlantic Hockey tournament, allowing just one goal in the final two games.
Why they will not advance to the Frozen Four: The 16th seed usually has the hardest draw, and this year is no exception as Air Force will be in Sioux Falls with three Minnesota teams.
Notable quotable: "I said (after the loss to Harvard last season) that we'll be back (to the NCAA tournament) and we will. That was the plan. We came in with high expectations to get back to the NCAA tournament and win another (AHC) championship. All the guys stepped up to make that happen." – Falcons senior captain Dylan Abood
— Chris Lerch