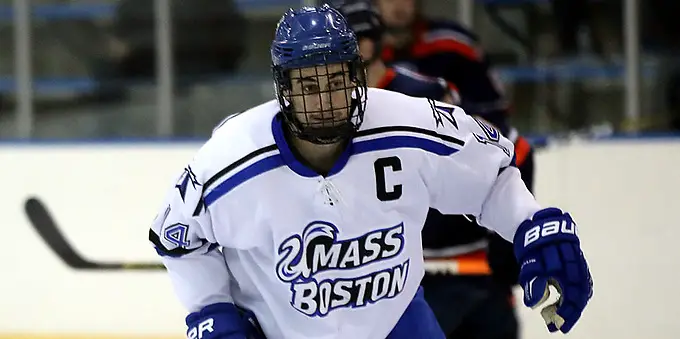 UMass Boston senior forward Colin Larkin has been chosen as the 2018 winner of the Sid Watson Award, symbolic of the best NCAA Division III men's player.
Larkin scored 24 goals among 46 points in 27 games this year, finishing his career with a line of 64-84-148 in 111 career games.
He is now a two-time NEHC Player of the Year, two-time first team CCM All American, and was just named winner of the Joe Concannon Award by the Gridiron Club of Greater Boston as the best American-born Division III player in New England.
"Everyone has seen what Colin has accomplished on the ice, including being the first UMass Boston player ever to sign an NHL contract (with the Edmonton Oilers)," said UMass Boston coach Peter Belisle in a statement. "Yet Colin's character is what truly sets him apart. A young man of integrity, compassion, courage, and leadership who uses his talents to enrich, empower, and encourage others to emulate his example.
"When Colin entered as a freshman, the heckling from the other teams about 'not being as good as his brother' (NHLer Dylan) began immediately and only intensified as his career went on. In the face of all the extra attention, Colin never took a retaliation penalty and handled himself with the utmost class, letting his play do the talking for him. Even unbiased NHL scouts took notice of Colin's ability to play through an awful lot."
An active member in the community, Colin volunteered his time with the Special Olympics and Read for the Record and last summer, gave back to over 250 members of his home community of Waterford, Mich., through the Larkin Summer Hockey School.
Larkin is set to graduate with a degree in Marketing from the College of Management.
The runner-up for this year's award is Wisconsin-Stevens Point junior forward Tanner Karty.