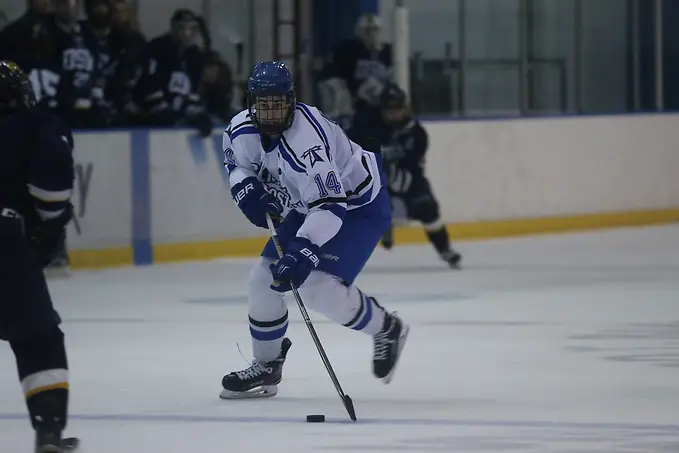 Following a brilliant senior season that has already earned Massachusetts-Boston forward multiple postseason honors, including All-American status, the Joe Concannon Award, and the Sid Watson Award, Colin Larkin is the USCHO D-III player of the year. The Waterford, Michigan, native capped off a brilliant four-year career with the Beacons before signing two professional contracts with the NHL's Edmonton Oilers.
"It is just so great to see Colin get recognized like this," said coach Peter Belisle. "He has earned it with everything he did on and off the ice here at Massachusetts-Boston. It is a terrific recognition for him and the program he helped make better every year since his arrival. He worked so hard to make himself and the players around him better."
This season, Larkin played in 27 games where he recorded 24 goals and 22 assists for 46 points. He finished his career as a Beacon having played in 111 games with 64 goals and 84 assists for 148 career points. He earned his second consecutive NEHC Player of the Year honor along with his third first-team all-conference designation. In addition, he was an AHCA first-team All-American and won the Joe Concannon Award as the best American-born player in New England at the D-II/III level and the Sid Watson Award as the national player of the year.
"Colin is one of those guys that just loved to play the game and came to the rink every day to be a better hockey player and teammate," noted Belisle. "He has been a key building block of the program and a big reason why we were able to reach the Frozen Four during his time here. We are all excited to see what he can do at the next level and will be rooting him on in his professional career, which has already begun with the Bakersfield Condors in the American Hockey League."
Larkin hopes to follow the footsteps of his younger brother, Dylan, who plays for the Detroit Red Wings, when he shows up to Edmonton's training camp this summer in preparation for the 2018-19 season.