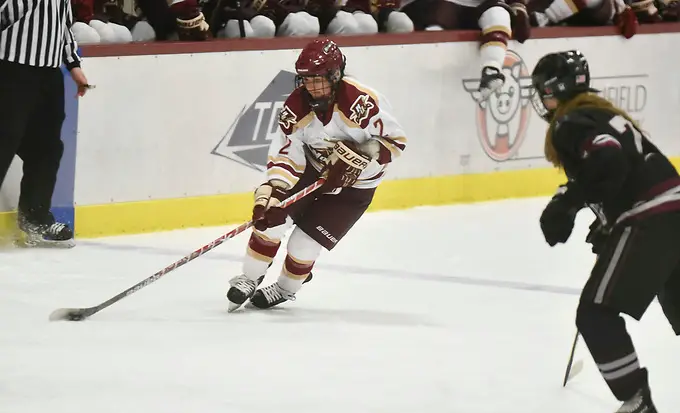 Amanda Conway of Norwich is the USCHO Division III women's hockey player of the year.
The Norwich sophomore helped lead the Cadets to their second-ever national title with a goal and an assist in the title game as well as in the team's semifinal match. While she was not named national player of the year by the ACHA, she is the USCHO pick in part because of how vital she was to Norwich's success in the postseason.
Coaches need their best players to step up in high-pressure situations, and Conway did just that in the playoffs, tallying eight goals, including a hat trick in the NCAA quarterfinals. Though she was impressive all season, Conway seemed to find an extra level as the season wound down. She tallied 13 of her goals and seven assists over the final 10 games of the season and was plus-16 over that same stretch.
Conway led all D-III scorers with 34 goals and 59 assists, both of which also set new single-season program records for Norwich. She was named the New England Hockey Conference Player of the Year, the New England Hockey Writers Association Player of the Year, and was an American Hockey Coaches Association First Team East Region All-American. She was also named to the NCAA All-Tournament team.
Conway was especially effective on the power play, scoring eight goals with the extra attacker. She was also responsible for six game-winning goals for the Cadets. Her 147 shots led the team. Over her first two seasons with Norwich, Conway is averaging a goal per game in her career with 52 goals in 52 games played.
"Amanda has always been a dynamic scorer, but she has become very much the complete player," Norwich coach Mark Bolding told the Eagle-Tribune. "She has high hockey intelligence and she can move the puck as well as anyone. She has two talented wingers, and she has confidence in them. They complement each other, and it's a tough line to stop."
In just her second year of play, Conway made herself invaluable to the Cadets, and it could be argued that Norwich would not have gone as far as they did without her stepping up her game and becoming the team's offensive leader this season. Conway's sophomore campaign blew her rookie season out of the water, increasing all her numbers exponentially. If she continues to show growth, she'll be nothing but a nightmare for opponents for the next two years.