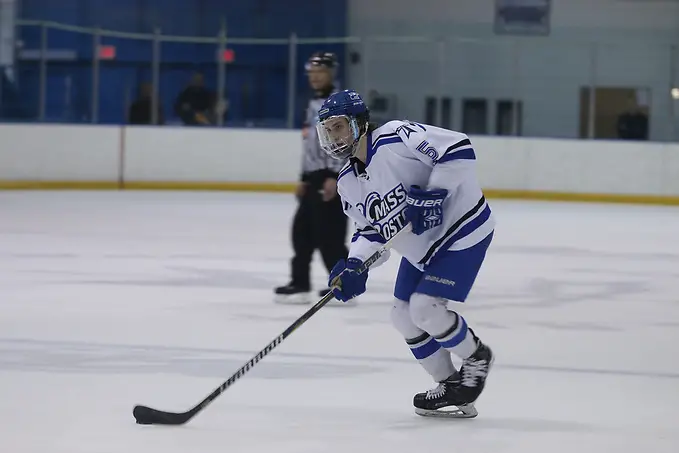 Massachusetts-Boston freshman defenseman Nick Albano emerged from a great crop of freshmen players nationally to earn the USCHO rookie of the year honors. Albano, from Beverly, Massachusetts, was a key defender and offense producer for the Beacons this season, finishing with a plus-8 rating on the season.
"We had very high expectations for Nick when he arrived here," noted coach Peter Belisle. "He exceeded those expectations quite a bit and really showed a lot of maturity in his game as a freshman from the very first game of the season. He was a real complete defenseman, and his numbers reflect just how important to our team he was this season."
Albano finished third in the nation for defense scoring behind Utica's Dalton Carter and Endicott's Logan Day. He played 27 games where he scored eight goals and added 27 assists for 35 points. He received NEHC first-team and All-Rookie team recognition as well as being named an AHCA second-team All-American in his first season –- one of just two freshmen to earn All-American status.
"Nick was a special player that played in all situations for us," noted Belisle. "He quickly established himself among the elite players in our conference and in all of D-III with his dedication and commitment to our program. He has a great future ahead, and if he turns out to work to improve anything like Colin Larkin did here in his four years, he will be a very special player that we will be talking about for a very long time."
With the departure of just one senior, D-III Player of the Year Colin Larkin, Albano will be expected to help lead the young Beacons into next season in the extremely competitive NEHC.