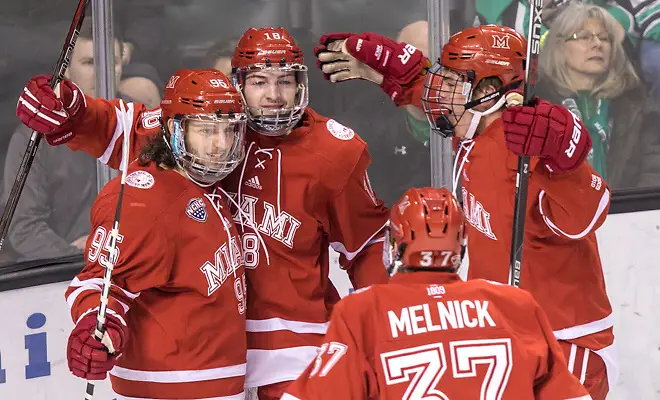 According to The Athletic, Miami sophomore forward Carson Meyer's production decrease in 2017-18 was due to a tapeworm living in his body.
He went from 10 goals and 26 points in 2016-17 to five goals and nine points this past season, along with a minus-22 rating.
Meyer reportedly lost his appetite, lost weight and fell asleep during practices last season. Even after numerous tests showed nothing abnormal, his teammates thought he had cancer or mono and the school asked him to seek out a psychiatrist.
Losing your appetite, tons of body mass and even falling asleep during practice isn't normal whatsoever, so when Carson Meyer started experiencing these types of symptoms during his 2017-18 season with the Miami Ohio RedHawks, he knew something wasn't right with his body.
In February, while using the restroom, Meyer said a 25-inch tapeworm – complete with a head, neck and 50 segments – fell out of him into the toilet.
"I Face-timed my mom and was like, 'What the hell is this thing?'" Meyer said in the report. "I was freaking out. Absolutely freaking out."
"I was trying to be calm," Holly Meyer added. "He showed me everything and I remember saying, 'You have to get that to the trainer and figure out what it is so they can get you fixed.
"And I did say at that moment, 'This is why everything has been the way it's been, Carson. This was it.' It was scary, but it was a relief."
The term used to describe the parasite is called diphyllobothrium latum. It can be caused from eating raw or undercooked fish, pork or beef on a regular basis.
The Athletic report states Meyer is going to transfer from Miami to play at Ohio State, but may need to sit out a full year because of NCAA regulations, unless he can prove that Miami didn't properly diagnose him with the parasite.
On Thursday night, Meyer announced via Twitter that he is set to enroll at OSU.
I'm excited to announce my commitment to The Ohio State University. I'd like to thank Miami University along with my coaches, trainers, teammates and friends and wish them luck in the future. I'm excited to continue my career back home in Columbus. #GoBucks

— Carson Meyer (@Cmeys18) May 24, 2018
Meyer was drafted by Columbus in the sixth round (179th overall) in the 2017 NHL draft.