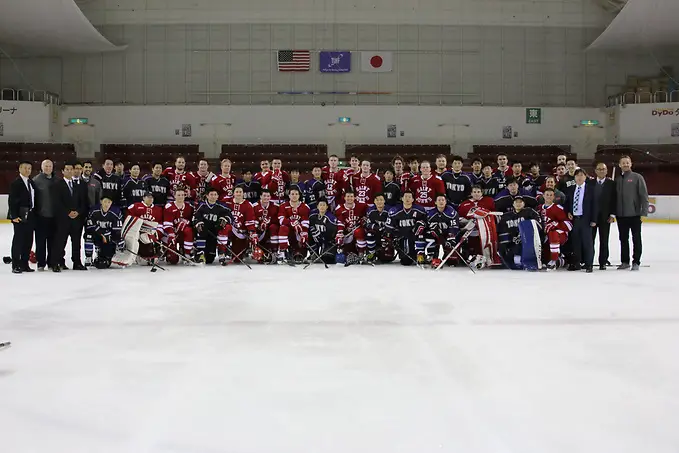 Saint John's rising senior Evan Okeley had no idea what to expect when he and his teammates flew out to Japan for a 10-day trip in late May that was highlighted by hockey and, maybe more importantly, the cultural experience of a lifetime.
"It seems like a dream that we went there," Okeley said. "Flying out, I didn't know what to expect. It was crazy to be there. It was something I'll never forget."
Saint John's coach Doug Schueller said he plans a trip like this every four years, using it as a recruiting tool, and for student-athletes who have a busy schedule, this gives them the opportunity to see another country.
"We have a very international school where many of our students study abroad, but our guys have a limited ability to do so, so I make a point to have a trip like this every four years. We want our guys to have that life-long experience."
The planning of the trip was headed up by alum Tom Haeg. While there, the Johnnies played three games against all-star teams featuring players from the Tokyo area. However, that wasn't the primary focus of the trip.
"The hockey was better than expected, but it wasn't our main reason for going over there," Schueller said. "It was more about giving players the chance to experience Japanese culture. It was an unbelievable experience for the guys. We mixed in time in Tokyo, which is a crazy and fast-moving city, and we also spent time in Karuizawa, which was slower moving and more traditional."
The Johnnies also had a chance to take in a baseball game, checking out the Yomiuri Giants one night in the Tokyo Dome.
As for the games on the ice, the Johnnies played their first less than a day after landing in Japan against the Kanto University All-Star C team. The Johnnies won, 3-2, using a 36-25 shot advantage to help nail down the victory.
The second game was played against Kanto University All-Star B team. The Johnnies won, 5-3, outshooting their opponent 42-19. They lost the final against the All-Star A team, 3-2.
"It was interesting because after the first game, the other two teams requested that we play more physical. They wanted us to hit and not take it easy," Schueller said. "The next two games were pretty physical and competitive. It was a lot of fun."
Okeley said seeing the contrasting styles of hockey was one of the more interesting aspects of the three games.
"The hockey was really cool," Okeley said. "They play a different style over there. Their game is more skill and more fluid, where ours is more rugged and physical. But it was an awesome experience. I'm glad I had a chance to play over there."
The fact that Saint John's had an opportunity to play three games in what is typically an off season for them also excited the players. Okeley added that playing three games in Japan made it feel as if the season never ended.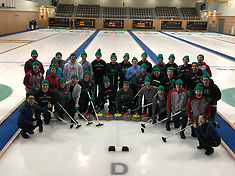 "Our season ended earlier than we would have liked, but because we had extra practice time and played games in May, it felt like our season never ended," Okeley said. "The trip just felt like a continuation of it, and that was a great thing. It gave us a little more time together as a team."
There is no question that is a big deal for the Johnnies, who will go into another season this winter hoping to contend for a MIAC title and playoff berth once again. What will pay off even more for Saint John's in that quest is the fact that it grew closer as a team. Team chemistry, after all, can't be taught.
"Hockey-wise, those games won't benefit us a ton, but the camaraderie was great from start to finish," Schueller said. "We are a tight group as it is, and I think us going on that trip benefited us the most in that we were able to become even closer as a team. When you spend 10 days in a foreign country, you really come together as a group, and we want to carry that tight-knit feeling into next season."
Okeley agrees the team drew much closer during its time in Japan. He said the players stayed in a hostel, with six players to a room, and were able to check out the sights and sounds of Japan and have an opportunity to play the sport they love.
"It was very cool seeing how the cultures are different, and we had a great experience being there," Okeley said. "And not only were we able to play competitive hockey, but we are a tighter group now than we were before the trip. Those 10 days together were huge, and we feel like that is going to benefit us this season."