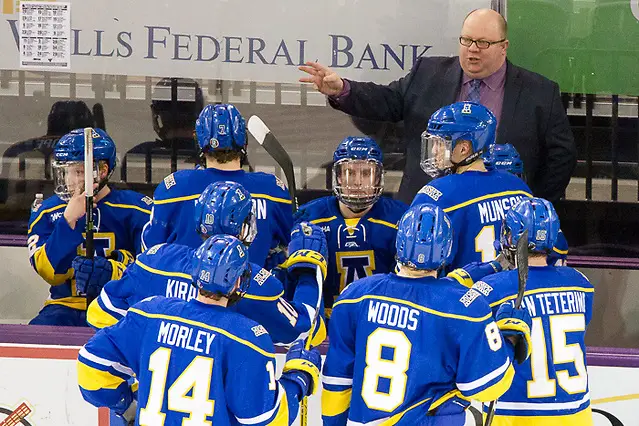 Denver has named Dallas Ferguson the team's new assistant coach.
Ferguson was the head coach of the WHL's Calgary Hitmen during the 2017-18 season, posting a 24-37-9-2 record.
Prior to joining the Hitmen, Ferguson was head coach at Alaska from 2008 to 2017.
"Dallas has an immense amount of experience at the Division I and junior level," DU coach David Carle said in a statement. "We are very excited to add a person of his character and intelligence to our program. Dallas will connect with our student-athletes at a high level as well as support them in becoming great people and hockey players."
Ferguson began his coaching career as an assistant with the NAHL's Fairbanks Ice Dogs, then returned to Alaska to serve as an assistant with the Nanooks from 2004 to 2008, working under Pioneers assistant and then-head coach Tavis MacMillan from 2004 to 2007.
"I was particularly drawn to the high expectations Coach Carle and the University of Denver have for the hockey program and its student-athletes," added Ferguson. "It is exciting for me and my family to be a part of an environment that demands such greatness and I am looking forward to getting on campus and getting started."
Ferguson played four seasons with the Nanooks from 1992 to 1996, compiling 104 points (17-87–104) and 64 penalty minutes in 138 games. He graduated with a bachelor's degree in business administration.